Training teaches Las Vegas law enforcement, medical staff to spot signs of strangulation
August 10, 2016 - 4:30 am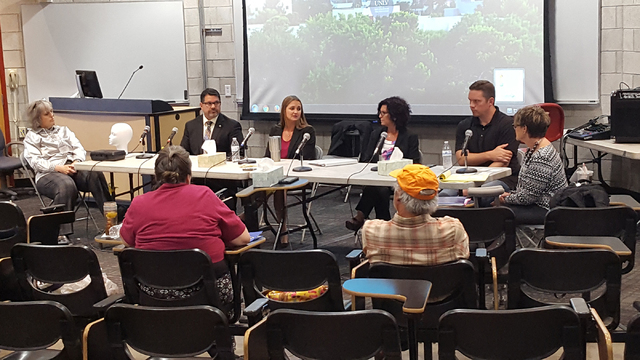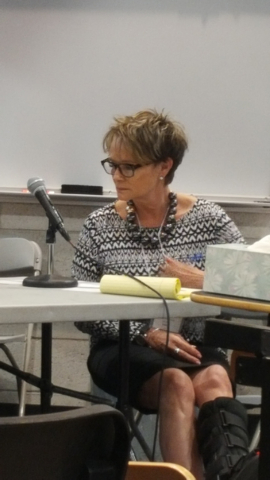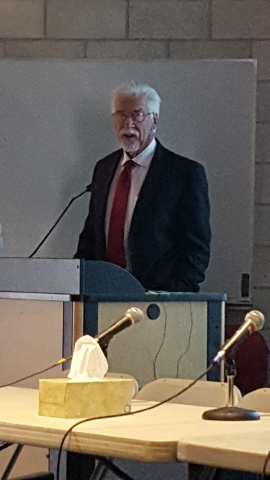 About 40 people attended a Strangulation Seminar in July at UNLV to learn what to look for to identify strangulation in victims. According to the Metropolitan Police Department, Nevada saw about 700,000 reported cases of strangulation in 2014.
The seminar was hosted by the Academy for Career Enhancement, a local business that offers classes for medical professionals. Jeri Dermanelian, co-owner of the academy, said it is the first time they've held a seminar focused on strangulation.
"I was just seeing way too many strangulation cases with sexual assault (cases)," said Dermanelian, a sexual assault nurse examiner.
Strangulation is often incorrectly identified as choking, which takes about 35 pounds of pressure, explained Dr. Dale Carrison, chief of staff of University Medical Center. Strangulation affects the brain, or "computer," which can interrupt or change someone's behavior and emotions, he explained. It can also cause post-traumatic stress disorder, which can lead the victim to coping in ways that are self-harming or dangerous.
In February, Dermanelian attended a four-day seminar in Texas that trained medical and law enforcement professionals how to recognize signs of strangulation cases and accurately document them. After that, she decided she wanted to bring some of the experts and training to Las Vegas.
One of them was Kelsey McKay, assistant district attorney for Travis County in Texas, an advocate for strangulation training for medical and law professionals.
"If you don't train people about it, we're absolutely missing it," she said.
Dermanelian said the goal of the seminar was to get people who work with strangulation victims educated and trained in dealing with cases.
Dr. Lisa Gavin, a forensic pathologist medical examiner for Clark County, said it takes 4 to 5 pounds of pressure for strangulation to occur. Sometimes, visible signs of bruising and redness are delayed, so observing a change in a person's voice, coughing, or trouble swallowing can be symptoms that a person was strangled.
She added that while the majority of cases involve men strangling women in domestic violence cases, it isn't exclusive to just one gender or situation.
"The fact that women can't strangle men is a fallacy," she said. "When we investigate this, and from a medical standpoint, when dealing with victims, it is so important we understand the emotional disruption because the 'computer' is being disrupted in particular areas of emotions."
Metro Sgt. Blake Smith said the majority of strangulation cases in Las Vegas are domestic-violence related, but a case is dependent on how much experience the officers have with strangulation, and they don't have a mandated training session focused on the subject.
He said a lot of the mentality in law enforcement is that strangulation isn't that serious of a crime, not at the fault of the officers but because of lack of training.
Fifty percent of cases have no visible injuries, he said, and they found 3 percent of victims seek medical attention after being strangled, which can make it difficult for first responders or law enforcement to identify strangulation.
The best way to help law enforcement officers recognize the signs is to enforce procedures, or implement pocket cards, which could serve as a checklist of questions to ask victims to identify signs of strangulation, he said.
Chief Deputy District Attorney Lisa Luzaich said Nevada Revised Statute 200.481 allows prosecutors to try a strangulation case as a felony. A bill introduced in 2009 made it possible.
"It takes a whole different kind of person to actually take their hands and put them around the neck of somebody else, look them in the eye and squeeze," she said. "Those individuals have to face greater accountability."
But the messages the speakers wanted to send was the same: It takes everyone from the 911 operators to the prosecutor to do their part in recognizing the signs of strangulation because it could lead to a domestic violence-related death.
Luzaich said the best thing that people can do is document everything, from letting the victim talk about everything that's happened to them, to photographing the scene where he or she was assaulted, to getting written statements from neighbors or eyewitnesses.
Luzaich said while Nevada has the legislation to charge a person with a felony, it could be improved by escalating the penalty through repeat offenses. But most of all, medical professionals and law enforcement officers need to be aware of the situation.
"We have the legislation. We just need everybody to be trained so we can use it effectively," she said.
Dermanelian said she is already gathering a list of speakers for next year.