Trifecta Gallery owners prepare to bid farewell
January 27, 2015 - 4:00 pm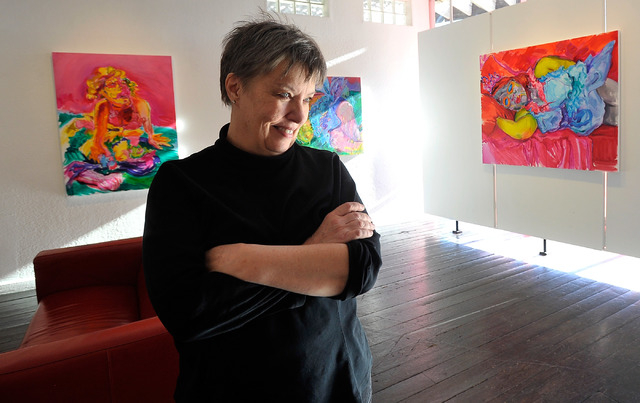 Marty Walsh cried the first night she was in Las Vegas because it wasn't the place she'd hoped it was.
Now, almost a quarter-century later, as she prepares to move and shutter her Trifecta Gallery in The Arts Factory, 107 E. Charleston Blvd., she's driven to tears nearly daily because she'll miss the town she helped change.
She and her husband, Pete Walsh, moved to Las Vegas in 1999, seeking carpentry work for Pete and a new place to explore for a pair who had a lot of wanderlust and interest in art and beauty.
"We pulled into town with a car loaded with everything we owned and stopped at about the first place we saw," Pete said. "We ended up in a discount motel across the street from an adult book store. It wasn't a great introduction to the city, but things got better when the lights came on and we saw how beautiful the Strip could be."
Marty had an art background, and in 2003, she was sharing a gallery and work space with two artists, Steven Spann and Jennifer Main. It was Pete who suggested they call the space Trifecta, a name that was meant to evoke success, luck and chance and reference the three artists in the space.
A year later, Marty had moved to a smaller space near the building's primary entrance. Her former gallery mates were more interested in creating and displaying their own work, but Marty was showing work by others and creating a financially and creatively successful gallery. The Arts Factory was already the center of the art scene and served as the de facto headquarters for the 18b Arts District. What it lacked was the sort of simple business practices that welcomed patrons outside of the art cliques.
"I ruffled a few feathers because I kept pushing people to have regular business hours and websites," Marty said. "I felt — and I still do feel — that the more places that did that, the more it would help all the spaces here and bring in more customers, but people have different motives for having their spaces, and you can't force people to do that, so I tried to lead by example."
Many of the spaces in The Arts Factory and the 18b Arts District have followed suit, and it's rare to visit the building and not see new and returning visitors. There are many factors that led to the Arts District's success, but it may be hard to argue that Marty's persistence and consistency were not among them.
"Putting up the monthly shows is a treadmill, but I mean that in a sweet sense," Marty said. "It takes about three months to put together each show, so I'm always working on three at once, and once a show goes down, I begin working on another."
When a larger space facing the busy Charleston Boulevard became available in 2010, Trifecta shifted there — its third and final location at The Arts Factory.
"I was super happy in that second room, but I needed more space," Marty said. "I like to think of it as a calculated mistake. The economy was bad, which is part of the reason we could afford the larger space. I love the room. It's so big and bright. I spent more time here than I did at home."
Pete lent his carpentry skills to sprucing up the gallery and adjusting the place to work more effectively. One of his more visible additions is a trio of rotating walls near the big picture window facing Charleston Boulevard. Much of the time, the tall narrow walls form a single wall that displayed signage and art for the current show, but they could be turned on a vertical pivot to open up the room to the full southern light or pivoted partially to create three separate display walls on an angle.
Marty set up a small store area inside the space, with $5 to $20 prints, cards and other items for browsers she hoped would come from the bus stop in front of the building and bring an influx of locals and tourists. She continued to bring in emerging and serial art for the store.
She took full advantage of the larger space, bringing in bigger art, bigger concepts and bigger names.
"With the bigger space, I could bring in pricier and more intellectual art that was still within my own aesthetic," she said. "I could get more well-known artists because I'd established myself and earned trust."
Walsh also used the larger space as a meeting place for lectures, informal artist talks and other events, including UNLV's Neon Lit reading series.
"The gallery closing will be a big loss," said Melissa Petersen, president of the Contemporary Arts Center. "On a professional level, Marty always provided a space for UNLV students and guided them. On a personal level, I'm losing one of my best friends and one of my best co-working buddies."
The Walshes have decided that the time has come for them to simplify their lives and move to a rural area outside of Dublin, Ireland, where Pete grew up and his family still lives. They plan to build a small farmhouse, just a few hundred square feet of living space abutting a greenhouse. Among the issues they're still trying to resolve is what to do with their personal art collection.
"This is the longest we've ever had the same address, and Vegas is the last place I expected to live," Marty said.
The gallery's final show is by artists from Cirque du Soleil, on display until the end of January, when the gallery is scheduled to close.
"We chose to go out with a group show that was a little more detached from us," Marty said. "I don't have to pick the last art showing here, so that will be a little less sad. We've had the annual Cirque shows here several times before, and they've always brought wonderful and interesting art."
The Walshes haven't set a date for moving out of town, but they said they're excitedly planning their new life and working out the details for their new living space. It will be a different lifestyle, and while they are looking forward to the new challenges and joys, they're already nostalgic about their time here.
"At Trifecta, I have new art on my walls each month," Marty said. "How am going to survive without that?"
Petersen said she also will have to adjust to the change.
"The hole they leave behind will be filled but will not be the same," she said.
Contact East Valley View reporter F. Andrew Taylor at ataylor@viewnews.com or 702-380-4532.