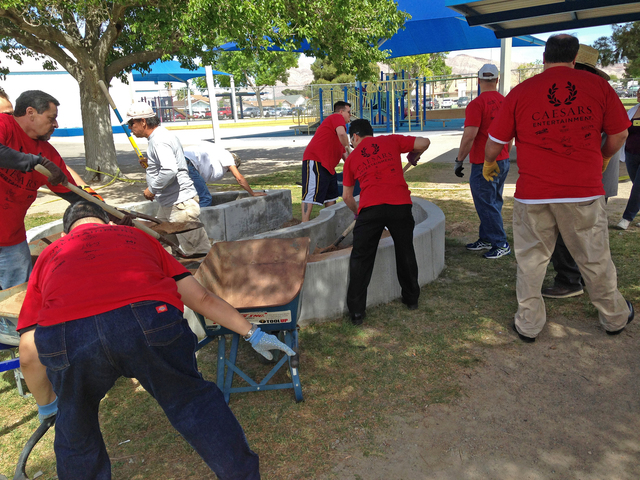 On Sept. 30, United Way of Southern Nevada hopes to bring together more than 1,200 volunteers for its largest, one-day, community-wide volunteer event celebrating the spirit and value of volunteering. The inaugural event is hailed as the Day of Caring.
"This event brings together the collective power of the community on one day with a united purpose of lending a helping hand to make a difference," said Bob Morgan, United Way of Southern Nevada president and CEO. "Volunteers who join us will have the opportunity to transform nonprofit organizations and schools, improve neighborhood safety and build morale to create a better community."
Chris Cappas, vice president of volunteer engagement and human resources for United Way of Southern Nevada, said that the event will have volunteers participating in 99 projects. She added that her organization has partnered with 23 other nonprofits and 16 elementary and middle schools. While the event will bring volunteers to locations across the valley, it is all set to run from 7:30 to 8:30 a.m. at Town Square Las Vegas, 6605 Las Vegas Blvd. South.
"We'll kick off at Town Square where volunteers will receive their T-shirt and a water bottle and snacks for the day," Cappas said. "There will be a light breakfast, photo taking and a lot going on. Mark Shunock of 'Mondays Dark' is hosting the event. Afterwards, attendees will be eligible for raffle prizes."
All of the hoopla surrounding the event is designed to get the volunteers excited to lend a hand on half- and full-day volunteer projects, starting at 9:30 a.m. and ending at 12:30 or 3:30 p.m.
"We have a lot of corporate teams participating," Cappas said. "Organizations are backing this and allowing their employees to go out on this day. They know the importance of volunteering in the community and what it can do in one day when we pull together and bring 1,000 volunteers.
Among the organizations involved with the project is Outside Las Vegas Foundation, which plans to bring volunteers to Brooks Tot Lot, a neighborhood park in North Las Vegas.
"It's a mini-park for local school children," said the foundation's executive director, Mauricia Baca. "We're asking the school children to come together and help us with a little bit of beautification. We're going to be painting walls, doing some planting and general cleanup."
Baca said that the foundation's mission is to connect the community to special outdoor places. It does that through education and volunteering programs along with other outreach efforts. Last year, the foundation worked on more than 70 projects.
"We get so many phone calls from people wanting to get out and help," Baca said. "It just goes to show how much the people of the community really care."
Other volunteer opportunities during the Day of Caring range from beautification projects, planting gardens, creating murals, assembling dental kits, and cleaning books. Opportunities are available indoors and outdoors, for full or half days, and all across the valley.
To be a Day of Caring volunteer, visit uwsn.org/caring or call 702-892-2300. For more information about Outside Las Vegas, visit outsidelasvegas.org.
To reach East Valley View reporter F. Andrew Taylor email ataylor@viewnews.com or call 702-380-4532.
Day of Caring
Volunteers are set to gather from 7:30 to 8:30 a.m. Sept. 30 at Town Square Las Vegas, 6605 Las Vegas Blvd. South, before dispersing to volunteer projects across the valley.
Visit uwsn.org/caring or call 702-892-2300.