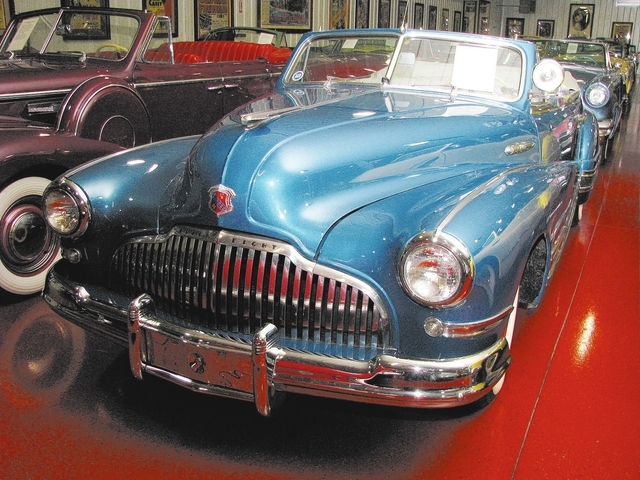 At the end of Classic Cars Lane, near Cashman Center there is a small complex of buildings and a warehouse that are unremarkable from the outside. But inside, there are nearly 300 classic cars, including one warehouse packed with 150 convertibles.
"Jim Rogers started putting his car collection in here about 15 years ago," said Bill Price, who works on restorations for the collection. "When he started, his main interest was to get the cars he remembered from his childhood."
Rogers owns KSNV-TV Channel 3 and Intermountain West Communications Company. He has donated a significant amount of money to charities and universities over the years. He has also bought a lot of cars.
"We got involved in one car, and that led to another," Rogers said. "Pretty soon, it's a mental illness."
Among the first cars in the collection was a 1940 Ford, the kind of car he had in high school.
"These cars have special meaning for him," Price said. "The 1949 Buick Riviera is the car that Jim can remember his parents moving from New Mexico to Las Vegas in."
Rogers' father moved the family to Nevada in the early 1950s when he came here to be the general manager of the Nevada Test Site.
Mike Pratt, director of transportation for Rogers' collection, said the complex started at a building at 1480 Gragson Ave. The property had a diverse history, having spent time as a church, a bar and as the headquarters of the Clark County Sheriff's Office's Jeep Posse, a volunteer group that did search and rescue and civil defense exercises until it was disbanded in 1986. Rogers leveled the decaying structure and built the complex from the ground up. The project started 13 years ago, and outbuildings and warehouses were added to grow the collection.
"We do all of the restorations here," Pratt said. "We take care of all the new (vehicles) owned by Channel 3, and we work on the classic cars when we're not doing that."
Members of the small staff also act as tour guides by appointment, usually for small groups or nonprofit organizations, when the staff doesn't have pressing mechanical work.
The name of the street was changed from Fantasy Lane at Rogers' request a few years ago. Neither Rogers nor his staff can remember when it became official, but it was recent enough that most printed and online maps haven't caught up to the change yet.
"We figured since there aren't any other buildings on the road, there was no reason to keep the old name," Price said. "We thought the name change would let people know what's down here."
There is no room left in the warehouse for more cars, and Rogers said that in recent years, a few were sold to make room for different cars he was more interested in owning. There are cars from 1932 to 1971 in the collection, with a few later-model Rolls-Royces that bring the collection up to the 21st century.
"There's over $18 million in cars there," Rogers said. "It's a good collection. We spent a lot of time on it. We didn't collect for anybody else's pleasure. We just collected because that's what we wanted."
The collection is not likely to change much anymore. Rogers' plans are to give it away.
"I'm going to give it to the state when I die," Rogers said. "I've already talked to (Gov.) Brian Sandoval about it."
Rogers said he will require that the collection not be sold or broken up and will provide the money to support it.
"I want it to be made open to the public," he said. "I think the public will like what they see."
Arrangements can be made to tour the collection by calling Channel 3 at 702-642-3333. Rogers doesn't expect the museum to enter the public sector soon.
"I'm just trying to stay alive," he said. "I go into work every day about 7 o'clock. That's my plan. Keep breathing."
FANTASY LANE WAS SITE OF WHIMSICAL PARK
Classic Cars Lane was Fantasy Lane for about 50 years. The road was named for Fantasy Park and at one time included playground equipment that featured characters from fairy tales and a decommissioned locomotive that was used as a climbing structure.
When the park was demolished to make room for the Sawyer State Office Building, the locomotive was moved to the Clark County Museum in Henderson.
"They built tracks to the park when they were bringing it in," said Mark Hall-Patton, administrator for the museum. "When they were moving it to the museum, that wasn't an option."
The museum sought assistance from the National Guard to move it.
"We worked with the unit that hauls tanks," Hall-Patton said. "They came out with a couple cranes and loaded it up on a trailer and it started blowing tires. They ended up having to be much more cautious and drive extremely slowly to get it out here."
A new Fantasy Park was built on the edge of the property on which the state building sits. Although it borders the entirety of the west side of the former Fantasy Lane, it is accessible only from the state building side. There is a walking trail but no playground equipment.
Contact Paradise/Downtown View reporter F. Andrew Taylor at ataylor@viewnews.com or 702-380-4532.