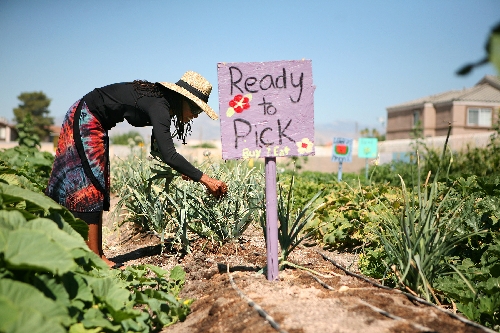 Growing fruits and vegetables is part of the vision behind Vegas Roots, a community garden near downtown. The other part deals with growing community, which founder Rosalind Brooks believes is evident in the garden she started two years ago.
"The most rewarding part of this garden is the bringing together of community," Brooks said. "It doesn't matter what color or religion or age you are. We all have this common goal of working together."
Brooks founded Vegas Roots, 715 N. Tonopah Drive, in March 2010 with the idea of providing a place where residents could grow or purchase fresh produce, volunteer and learn about sustainable living. Since then, the 5-acre garden has expanded from seven to 37 plots owned by various community groups and residents. A plot at Vegas Roots costs $500 per year, which owners typically pay by a quarter system, and covers the costs of water and soil, among various other elements.
Beverly Pope, a participant in the Body and Soul program at the True Love Missionary Baptist Church, 1941 N. H St., said having a plot at Vegas Roots allows her to introduce fellow church members to healthy eating habits.
"It's good to get the church involved in planting natural stuff," Pope said. "This (project) helps encourage the congregation to eat healthy, eat more fruits and vegetables. The kids really enjoy coming out here and seeing what's growing in the garden."
Reaching out to children is something Brooks emphasizes through her work at Vegas Roots. She leads Nevada's Farm to School program, an initiative encouraging schools to include locally grown produce in meals served to students. Being a former schoolteacher, she's also a proponent of fighting childhood obesity, leading classes on the topic and encouraging children to spend an hour or two in the garden a couple of times a month.
"The garden is really great for families, especially people with children," Brooks said. "It's good to be able to expose them to something like this. With the (rising) childhood obesity rate, we need to start changing their palates. It's great exposure for the kids because they get sun, fresh air, exercise and they learn about eating healthier."
The summer months, however, are the most challenging in drawing children and residents to the garden, Brooks said. Those who visit Vegas Roots on a regular basis are few and far between.
"Everyone that comes out here are not regulars," Brooks said. "People come out once a month or once a quarter and are amazed at how much has grown. I'm thankful that the people who have come out and donated money and time see that their labors are not wasted."
Vegas Roots, however, has gained enough popularity to spark the passing of a Las Vegas City Council bill in May allowing community gardens in select residential, commercial and industrial areas. Brooks said other people throughout the valley have taken interest in starting community gardens, but challenges arise in developing them.
"One issue is getting land, and another issue is getting people to work at those gardens for free," Brooks said. "It's not really realistic for people. Community gardens are generally owned by the city, but we don't have that. We pay for everything here."
Brooks initially invested $3,000 of her own money into the project when the garden was "all dirt and all trash." Thanks to the donations of community members, she's been able to watch her vision take shape.
Though she focuses most efforts on the garden, Brooks has goals in mind to expand beyond the 5-acre oasis downtown.
"We'd love to put gardens in schools and inspire and rally other neighbors," Brooks said. "Since the beginning, it's been trial and error, and now that we have the basic knowledge, we want to give it all away and do some good things for other communities."
For more information on Vegas Roots, call 636-4152 or visit vegasroots.org.
Contact Paradise/Downtown View reporter Lisa Carter at lcarter@viewnews.com or 383-3686.