Veterans Resource Center offers Las Vegas Valley vets one-'start' shop for resources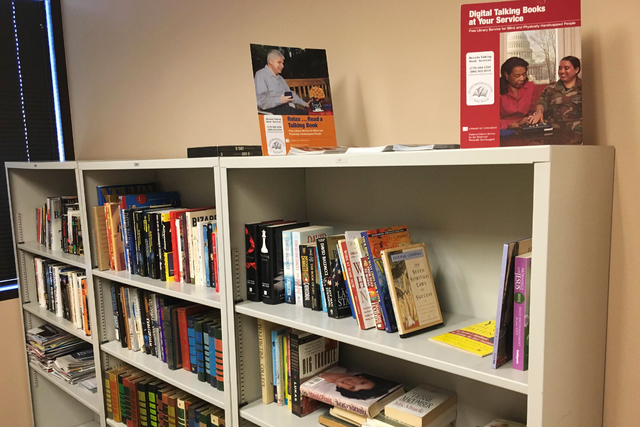 It's no secret that military service is demanding and dangerous, and while one may survive its risks, those hoping to find peace and comfort inside their newly civilian uniform may find it's not an easy transition.
To easily connect veterans with resources and services, the Veterans Transition Resource Center, 2550 Nature Park Drive, Suite 200, in North Las Vegas, opened its doors this month.
"The goal is really to fill in the gap of veteran services so that they do not fall through the cracks," said Eva Secchiari, the center's executive director. "People still forget that the culture between military to general society is completely different. They can't turn it off like a switch."
The 15,000-square-foot space is made up of a network of government, nonprofit agencies, military organizations and for-profit businesses and offers a one-"start" shop for all components of the veterans community, including active-duty personnel, reserves, members of the National Guard, employers, service providers and local residents.
The project is a collaborative partnership between the nonprofits Life After Active Duty, founded by Secchiari, and Veterans Care Foundation, created to help fill the gap in veteran services for Southern Nevada's nearly 140,000 veterans.
"We want to diminish the bureaucracy they're going through when seeking help for resources and services," Secchiari said. "It's too easy to give up after hearing 'no' a few times. Our veterans get frustrated after being bounced around."
Employment assistance and education are also offered with a focus on interviewing skills, job attire suggestions, job search placement and referrals to successful employment.
Attorneys will also be working with the center to help veterans file claims, which Secchiari said are typically incomplete and thus denied.
Perhaps most beneficial of all is the crisis intervention program, which includes suicide prevention, homelessness prevention, rapid housing solutions and financial guidance. Small-group therapy is also offered for 10 to 14 people.
"It's a way to help with their post-traumatic stress," Secchiari said. "This is a safe, nonjudgmental space."
Due to the growth of female veterans, the center also created a veterans program for women, which offers a military sexual trauma program, advice on self-care, counseling and psychotherapy.
Programs and services are free to veterans and their families.
The nonprofits plan to host a couple of fundraisers in the fall to raise money for the center's programs and services.
Workshops regarding veterans' issues are also planned in the near future.
The center holds a special place in Secchiari's heart. Her son served in Afghanistan in 2012 and has struggled with post-traumatic stress disorder.
"The health care system failed him. It's been four years, and we're still working on some specific things with him," Secchiari said. "As a mother, you want to rescue him and make things better, but it doesn't work that way, unfortunately. I learned just to be present and listen."
Jim Lytner, chief operating officer of the center and founder of Veterans Care Foundation, also became involved from personal experience. He's a 100 percent disabled Vietnam veteran and hosts Veterans Talk radio show on KDWN AM-720 at noon Saturdays with the center's director of media, RJ Dough.
Both said they plan to offer Applied Suicide Intervention Skills Training to veterans at the center. They predict that the number of veteran suicides is three times higher than the commonly heard number of 22 veterans dying from suicide each day.
"It's a national tragedy, and there's no excuse," Lytner said.
They also added that there are high suicide rates among the children of veterans.
"There isn't anything that we are doing here that isn't being done somewhere else throughout the country, but to be able to pull all of that together under one roof — nobody is doing that," Lytner said.
The center is open from 9 a.m. to 5 p.m. Monday through Friday, though hours are subject to change.
For more information or to schedule tours, call 702-954-6302 or visit veteranstransitionresourcecenter.com.
To reach North View reporter Sandy Lopez, email slopez@viewnews.com or call 702-383-4686. Find her on Twitter: @JournalismSandy.