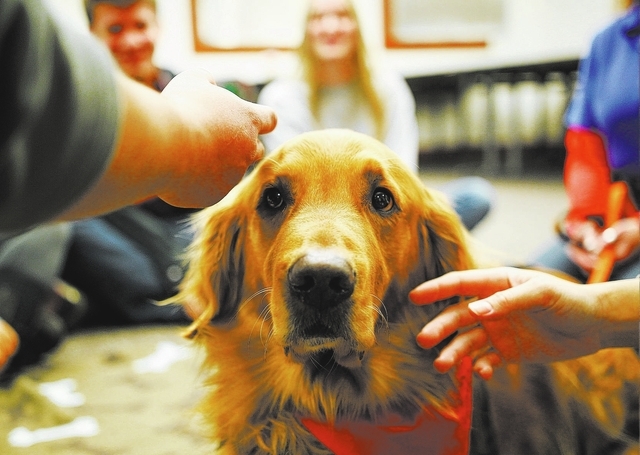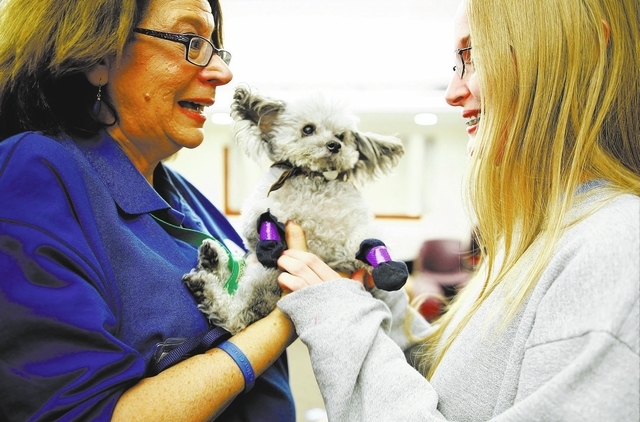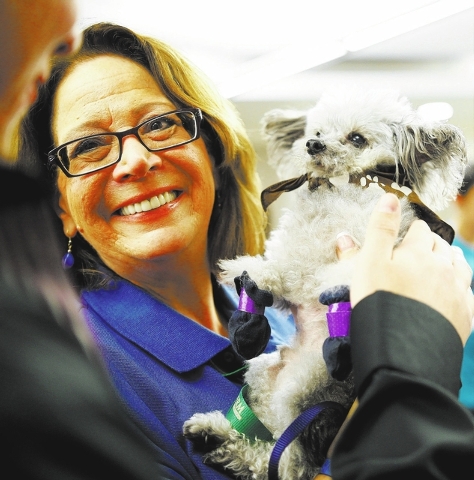 On Dec. 3 and 4, the Lied Library at UNLV, 4505 S. Maryland Parkway, went to the dogs and everyone seemed to love it.
Sue Grundfest and fellow members of her Love Dog Adventures therapy program visited the library for the Paws for a Break event to help students and staff members get a break from the stress of final exams.
"We've done this at quite a few schools now, and it's been very successful," Grundfest said. "These are fun events for our dogs and trainers, too. What we do most of the time is high-end animal-assisted therapy."
Grundfest said the idea of bringing her group's dogs to schools for finals started last year when she was asked to come to Nevada State College, 1125 Nevada State Drive, Henderson.
"We had a great event there, and that led to all the other visits to schools," Grundfest said. "We're really looking forward to coming back to Nevada State College this year."
The dogs were a big hit with the students. More than 400 students and staff members showed up each day to get a little dog time.
"We were just discussing the idea of bringing in dogs for stressed-out people in one of my classes the other day," said freshman Jeremy Valdez, who is studying music education. "We figured that it couldn't happen, that there would be some rule against it. A few days later, we saw the poster up, and it's awesome."
Valdez stood with Grundfest's blind poodle Petey snuggled against his chest. The dog was so comfortable that he was nearly asleep. Valdez had a big grin on his face.
"As soon as you get in here, you see them and start laughing and feel better," Valdez said. "It's beautiful."
Su Kim Chung, head, special collections public services at the library, said getting the clearance for the dog event wasn't easy but it was worth it. She was pleased to discover how many other dog lovers were working at the library.
"There was a little resistance, but when we were able to show it had been done before at other schools and that it had been successful, we were able to try it out as a pilot program," Chung said. "It's been received so well that I think it will become something we do more regularly."
Grundfest has been doing animal-assisted therapy for 20 years. She trained with an animal therapy group that was called the Delta Society and has since changed its name to Pet Partners. She moved to the Las Vegas Valley five years ago and was surprised to discover there were no other Pet Partners-trained organizations in the valley. Her group is still affiliated with Pet Partners.
"We serve the community every single day by volunteering with a broad range of populations, providing animal-assisted therapy for children and adults with emotional, physical and cognitive challenges," Grundfest said. "Love Dog Adventures' special focus is on children with autism and children with life-defining emotional trauma."
Grundfest takes pride in her group for not using choke collars or any other negative training. Her handlers use positive reinforcement to train therapy dogs not to bark or jump up on or lick the clients.
"We are advocates for our animals," Grundfest said. "People know that our animals are happy and want to do this. We know which dogs to bring to which events. For the schools, we bring dogs that are going to be happy to meet 400 people and want to be touched but aren't going to get overly excited."
Several handlers have multiple animals, but Love Dog Adventures maintains a strict one-animal-per-handler policy at an event. The program isn't limited to dogs, but it isn't for every pet or handler.
"On the average, three out of 10 dogs get through the program," Grundfest said. "For cats, it's three out of 32, and for horses, three out of 30."
For sophomore biology student Maria Angela, the event was an unqualified success.
"I'm currently taking organic chemistry, and it's been one of the hardest classes so far," Angela said. "I've got finals this weekend and next. A little bit of dog time was a real stress reliever."
For more information about Love Dog Adventures, visit lovedogadventures.com.
Contact Paradise/Downtown View reporter F. Andrew Taylor at ataylor@viewnews.com or 702-380-4532.