When show curtains fall, dads switch into family role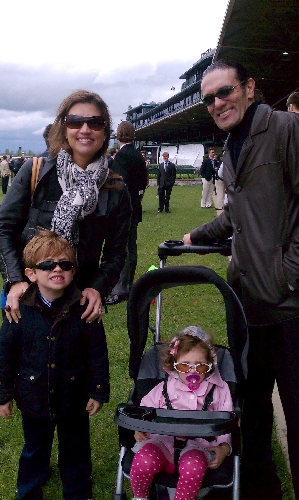 They dazzle crowds nightly and dabble as local celebrities, but when some Strip leading men go home, roles switch, and they are the captivated audience — to their children.
With Father's Day around the corner, three doting dads reflected on their dual roles and which is their greatest billing.
'Phantom' parent
Anthony Crivello's time as the Phantom in "Phantom — The Las Vegas Spectacular" is punctuated by a few superlatives.
He helped originate the role when the Las Vegas production began almost five years ago. As his resume expanded, so did his family.
Less than three months after Crivello started his eight-show -a-week production schedule, his first child, son Enzo, made his debut. Enzo was the first "Phantom " baby.
The veteran performer said his actor and life scopes narrowed when Enzo, and later daughter Charlotte entered the picture.
"You hear these adages, 'It'll change everything (becoming a parent),' it all holds true," Crivello said. "My children are the most precious things in the world to me."
Crivello relishes his work schedule that allows him to share in soccer practices, swim lessons and getting to and from school with Enzo, 4, Charlotte, almost 2, and his wife, Dori Rosenthal.
But sometimes, Crivello has to bow out of family activities or join the fun a little sleep-deprived.
"The difficulty for me, after a two-show night, by the time I'm done with the show, it's 12:30 and 1 a.m. before I wind down and go to sleep," he said. "My son will be up at 6:45 a.m. You just go with it."
Crivello said his children are eager learners and soak up educational outings around town. They visit attractions such as the Springs Preserve, 333 S. Valley View Blvd., or the Shark Reef Aquarium at Mandalay Bay, 3950 Las Vegas Blvd. South.
The family doesn't have concrete plans for Father's Day, Crivello said.
"I'm not big on gifts . I don't want gifts," Crivello said. "I don't want ties . I want the love of my family. I want to be with them. That's the most precious gift of all."
Circus pop
During the first week of his son's life, Tony Hernandez marked two unforgettable occasions about a day apart.
First, his newborn son Gavin defied developmental norms by rolling himself over at about five days old, a milestone usually reached at three months old.
Later that week, Hernandez became a self-described "Skype dad," having to video chat with his young family while he rehearsed as an acrobat in "Absinthe" at Caesars Palace.
"That lasted about a week," he said. "You don't get the smell of him, the feel of him."
Hernandez's wife, Lijana Wallenda-Hernandez, and the baby joined Hernandez soon after and set up home base in Paradise.
The couple met when he was 9 and she 7. Their paths crossed because both were born into circus families. His had an acrobat act, her s a trapeze act.
They've been married for 11 years and have performed together a number of times. She even has portrayed his mother in a show.
Their role as parents began last February.
Henandez said Gavin has shown other athletic instincts as he grabs for things and works on his hand-eye coordination.
"I don't want him to do high wire or acrobatics – I want him to be a doctor," Hernandez said. "I'm scared of his first steps."
Hernandez said although he's professionally "over-trained," Gavin is on his mind during performances.
"It's such a cliche, but my whole life shifted," he said. "I don't like the idea of my child worrying about their father."
Hernandez said he'd help Gavin pursue "the family business" if he really wanted to.
"I'm safer up there than driving my motorcycle," he said. "He'd be OK."
'Jersey' dad
The character he portrays in "Jersey Boys" may be a little rough around the edges, but as a dad, Jeff Leibow is a big softy.
His 22-month-old daughter Emma is an active toddler who knows the way to her dad's heart and funny bone.
"She makes me laugh every day," Leibow said. "She awes me."
Leibow portrays Nick Massi in "Jersey Boys" at the Palazzo eight times a week, but it's the songs of Emma's current favorite movie "Fantasia" that have worn on Leibow and wife, Melody.
"We hide it, she finds it," he said.
Leibow said Emma has taught him patience, and he enjoys spending his days with her. His schedule also allows him to join in doctors visits, a possibly common occurrence in Emma's future.
At nine months old, Emma was diagnosed with neurofibromatosis, a genetically inherited disorder that causes tumors to grow in her nervous system. The condition, more commonly known as NF, has sparked the Leibows to start the foundation NF Hope to raise awareness and help other families having similar experiences.
Despite health issues, Leibow said Emma's arrival was more than the game-changer he figured.
"As a parent, you think you're prepared for how much they'll change your life," he said. "And then it's totally different. But it's great."
Contact Centennial and Paradise View reporter Maggie Lillis at mlillis@viewnews.com or 477-3839.