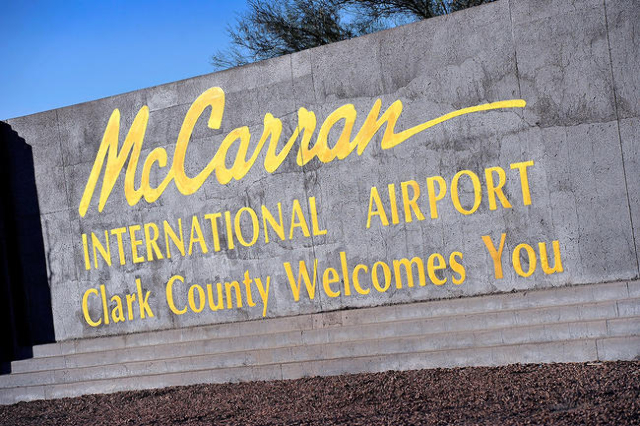 Winter storm Jonas, wreaking havoc on the East Coast, has led to airline flight cancellations around the nation, including McCarran International Airport in Las Vegas.
The storm brings "potentially crippling" conditions to the Northeast and is causing airports and airlines all over the country to cancel more than 5,000 flights for Friday and Saturday, according to Reuters.
About 34 flights scheduled in and out of McCarran on Friday were canceled, airport spokeswoman Christine Crews said. Another 32 flights slated for Saturday were canceled. The airlines have "done a really good job" in notifying their customers, she said, noting that they were offering waivers and accommodations.
Anyone scheduled to fly anywhere in the U.S. in the next week should regularly check with their airline because travel could be affected nationwide, including places not hit by the storm, which is expected to last until at least Monday.
Flight delays could last a week while the airlines catch up, she said.
As of 9:30 a.m., 16.7 percent of total operating flights in the U.S. had been canceled, according to OAG.com, a website that provides timely aviation data. The totals were even higher in Philadelphia, New York and Washington, according to the site. In fact, 93.3 percent of flights had been canceled at Philadelphia International Airport, and 85.5 percent of flights at Baltimore/Washington International Thurgood Marshall Airport had been canceled.
Those traveling by air into next week are encouraged to monitor flight information before arriving at McCarran, even if they are not traveling to a place affected by the storm, Crews said.
Jonas "will continue to grow as it crosses the mid-Atlantic states, where Maryland, southeastern Pennsylvania and northern Virginia will get the heaviest snow," National Weather Service meteorologist Daniel Petersen said. Blizzard conditions could drop as much as 30 inches of snow on the East Coast.
Review-Journal writer Ricardo Torres contributed to this report. Contact Lawren Linehan at llinehan@reviewjournal.com or at 702-383-0381. Find her on Twitter: @lawrenlinehan.