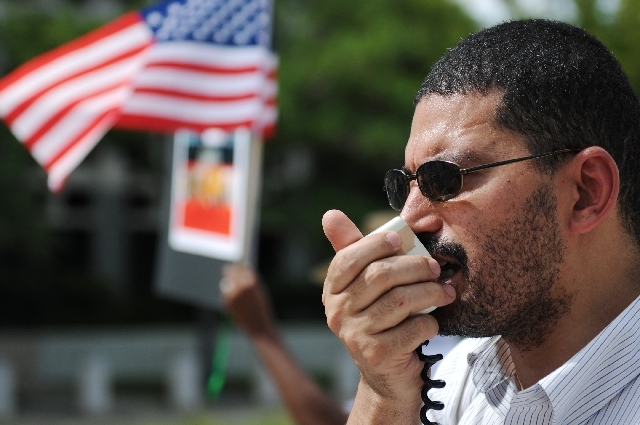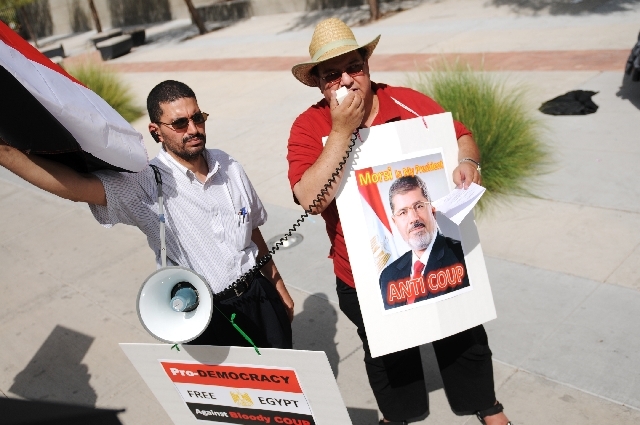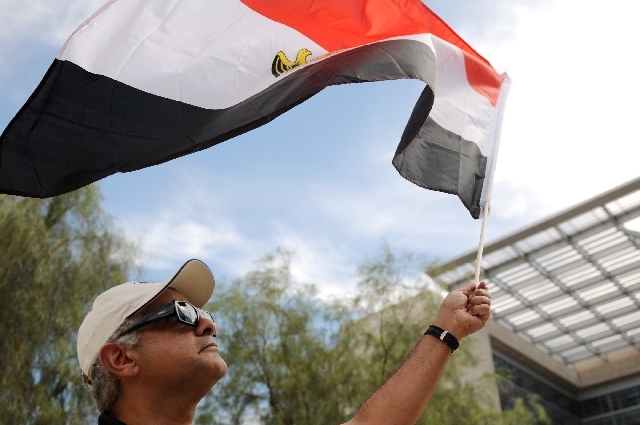 Dozens of Egyptian immigrants rallied outside the Lloyd George U.S. Courthouse on Saturday, urging the Obama administration and Secretary of State John Kerry to withdraw millions of dollars in foreign aid from their homeland and concede that the overthrow in July of their first freely elected president was a military coup.
Waving Egyptian flags and chanting, "Shame on you! Shame on you! It's a coup! It's a coup!" the mostly Muslim group pleaded for some sort of U.S. government intervention to protect their immediate family members in Egypt, some of whom have been caught in the crossfire of intermittent riots on the streets of Cairo and its suburbs.
President Mohammed Morsi, who also is Muslim, was overthrown on July 3 after having served a year in office in what was the country's first democratically held election in six decades.
"They're crying over there. It's been a bloody struggle ever since Morsi was thrown out," said Mohammed Maybed, 50, as he held a sign that said: "Morsi is my president."
Many who were protesting in Saturday's 100-degree-plus temperatures were devout Muslims. They didn't eat or drink anything after sunrise — in accordance with their monthlong religious holiday, Ramadan, which started July 8 and ends on Wednesday.
They were from all sectors of life: Doctors, lawyers, civil and mechanical engineers, taxicab drivers, casino workers, housewives and students. There were even a few religious clerics, known as imam.
Some of them were U.S. citizens, others were either living in Las Vegas on student visas or work visas.
All of them said they felt the U.S. government, which prides itself on its democratic principles, should have at least recognized that Morsi's overthrow was a coup.
"If people started protesting in the streets here and brought tanks out and got rid of Obama or Bush, wouldn't you call that a coup?" said Osama Haikal, 60, a Las Vegas physician. "And yet the United States is refusing to call it what it is. And each year we continue to send the Egyptian military millions of dollars in aid.
"I just don't get it."
The motive behind Morsi's overthrow has been widely debated. Some critics claim he was injecting too many Islamic principles into a government that should have remained secular.
On Friday, al-Qaida's leader, Ayman al-Zawahri, went in the opposite direction, criticizing Morsi in a 15-minute Internet audio message, saying that he abandoned "jihad" and that his overthrow was the result of Coptic Christians and what he called Egypt's "Americanized" army.
There are an estimated 500 to 700 Egyptians who live in Las Vegas, and all of them fear that their country is headed for a civil war, if it hasn't already arrived. So says Ahmad Fayed, 39, a Cairo native who's studying for a doctorate in mechanical engineering from the University of Nevada, Las Vegas.
"We're hoping the Obama administration will hear us from here. We're hoping that (U.S. Senate Majority Leader) Harry Reid might hear us and talk to Secretary of State John Kerry. We want everybody to know that we believe in democracy, we love America, and that we are all about self-determination, both here in the United States and in Egypt."
Whether the Obama administration changes course in its foreign policy with regard to the recent chaos in Egypt remains to be seen.
Passing motorists beeped their horns Saturday either in support or just out of fun at the sight of the protest.
Then there was J. Pittman, the courthouse security guard. He asked the group for a permit, and urged the crowd to gather on the sidewalk in front of the street, not in the courthouse plaza.
"I don't mind you gathering," he said. "But you do need a permit. So next time make sure to get one."
The protesters said they had a permit from the Metropolitan Police Department but did not have one from the General Services Administration, the federal landlord for the courthouse.
The Associated Press contributed to this report. Contact reporter Tom Ragan at tragan@reviewjournal.com or 702-224-5512.