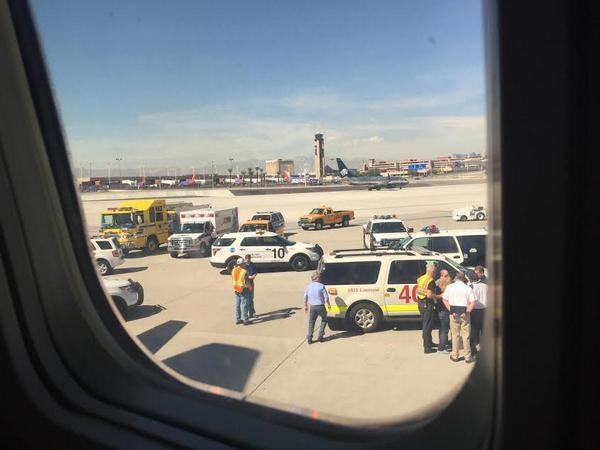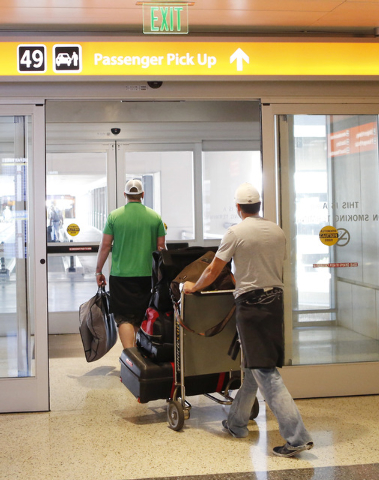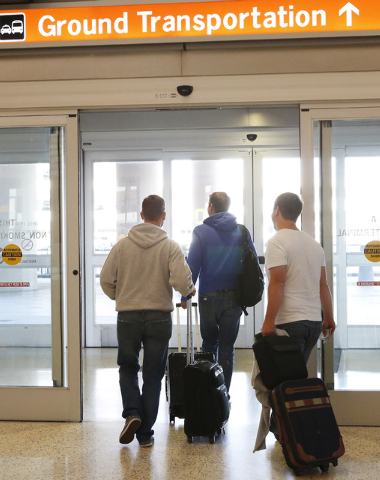 A young passenger who got sick Friday on a flight to Las Vegas and was quarantined for Ebola precautions upon landing was allowed to continue with his mother after any risk of the deadly virus was ruled out.
Delta flight 495 from John F. Kennedy International Airport in New York landed about 10:55 a.m. Friday, according to McCarran International Airport spokeswoman Christine Crews.
A boy, by some reports about 1 year old, vomited on the plane, and he had traveled with his mother from Africa within the past few days, Joseph Iser, chief medical officer for the Southern Nevada Health District said. The pair had not been to any of the West African countries affected by the Ebola outbreak.
Although the boy threw up, Iser said, he did not have a significant fever.
"After a thorough assessment, it has been determined that the affected passenger does not meet the criteria for Ebola," Crews said in a news release.
Earlier reports indicated the mother was the ill passenger.
Passengers had to stay on the plane for about 90 minutes after landing, Crews said.
It appears passengers stayed calm while health officials made their checks.
After being told of the sick passenger in flight, the captain of flight 495 alerted McCarran officials who in turn notified fire officials. CDC and health district officials also were apprised.
Emergency medical staff from the Clark County Fire Department responded to the plane wearing special personal protective equipment designed to prevent Ebola exposure, Deputy Fire Chief Jon Klaussen said. Fire personnel assessed the boy in consultation with officials from the U.S. Centers for Disease Control and Prevention. A nurse from the county fire station, the hazardous materials coordinator and McCarran support staff also were involved in the response, Klaussen said.
"They did a fantastic job," Klaussen said.
CDC officials determined, based on the assessment of county emergency medical staff, that the boy and his mother posed no threat to themselves or the public, and they required no further medical attention.
Clark County Deputy Fire Chief Jeff Buchanan said the incident validated the weeks of planning by public health officials, emergency medical responders and other health care professionals to be ready for such a situation.
"Our men and women at the airport and surrounding stations did an optimum job to triage that patient and convey the information to the appropriate sources," Buchanan said.
The Ebola personal protective equipment, including goggles and masks, were used out of an abundance of caution, Buchanan said.
"Some people might argue that's over protection, but we just want to make sure our people are protected," he said.
It's unclear what country in Central Africa the mother and child had traveled from.
Officials from the State Department of Public Behavioral and Health and Southern Nevada Health District have been working on protocols for months for how health care personnel should respond to a possible Ebola patient. The early symptoms of Ebola exposure — fatigue, fever, nausea, vomiting and diarrhea — are common to many illnesses, including the flu. The key identifying factor to indicate someone might have Ebola is travel to Guinea, Liberia or Sierra Leone.
The death toll from the Ebola outbreak in West Africa has surpassed 4,000 people, and the number of suspected, probable or confirmed cases is nearly 8,400, according to the CDC. The fatality rate in the current outbreak is about 50 percent, according to the World Health Organization.
A man who said he was on the flight tweeted about 11 a.m. that a woman and child from Africa were showing symptoms of fever. The CDC was there, he said, and the woman and child were from an African country that does not have an outbreak.
"Currently on a plane stuck on a Las Vegas tarmac that flew out of JFK," a Twitter account identified as Frank Esposito said. "They won't let us off the plane because of an ebola scare."
Katherine Kinz, 27 of Long Island, another passenger on the Delta flight, said she and fellow travelers heard about a possible Ebola exposure, but officials were reluctant to say anything before it could be confirmed.
The pilot announced that someone on the plane was sick, Kinz said, admitting she left a little afraid. But all in all, she said, most people were "pretty calm" and the crew, first responders and health officials handled the situation professionally.
"We just wanted to know what was going on," Kinz said.
The health district said appropriate protocols were in place and led to the determination that there was no Ebola exposure on the plane.
"This provided another opportunity to test our preparedness and an example that the public health protocols do work," health district spokeswoman Stephanie Bethel said.
JFK, where flight 495 took off, is one of five U.S. airports where the federal government plans this weekend to begin screening travelers who arrive from West Africa. The passengers will be checked for fever, one of the symptoms of Ebola. The other four U.S. airports are Newark Liberty in New Jersey, Washington Dulles, Chicago O'Hare and Hartsfield-Jackson Atlanta.
The screening process will check temperatures with a noninvasive device, and passengers will be asked to fill out a questionnaire created by the CDC.
The first step in handling a possible infectious outbreak at McCarran, Crews said, is to quarantine the plane, which is what airport officials did. The second step is to defer to first responders and public health officials, in this case CDC, the fire department and the health district.
Crews wouldn't speculate on whether or not the passenger's symptoms raised more alarm because of Ebola's heavy presence in the news, but she did say that everything aviation-related requires an "overabundance of caution."
"If you're driving a car and a 'check engine' light comes on, you can still drive a little longer," Crews said. "With a plane, you get it on the ground as soon as possible at the first threat of harm."
Reporter Kimber Laux contributed.
Contact Steven Moore at 702-380-4563 or smoore@reviewjournal.com. Contact Cassandra Taloma at ctaloma@reviewjournal.com or 702-383-0391. Contact Kimber Laux at klaux@reviewjournal.com or at 702-383-0391. Find her on Twitter: @lauxkimber.