Effort to ban farm animals on Mount Charleston fails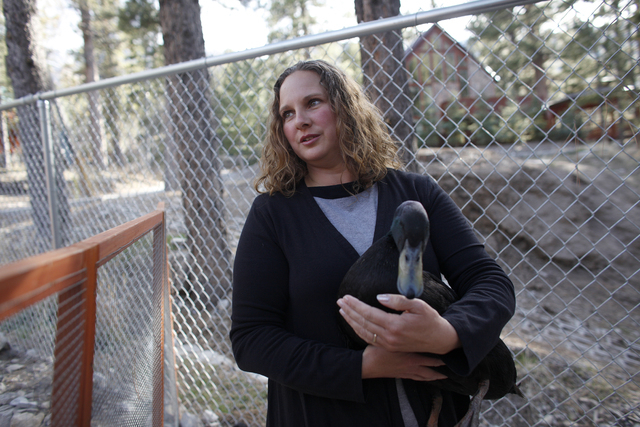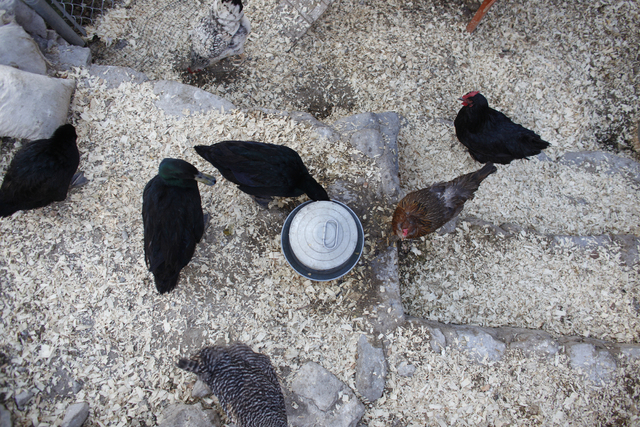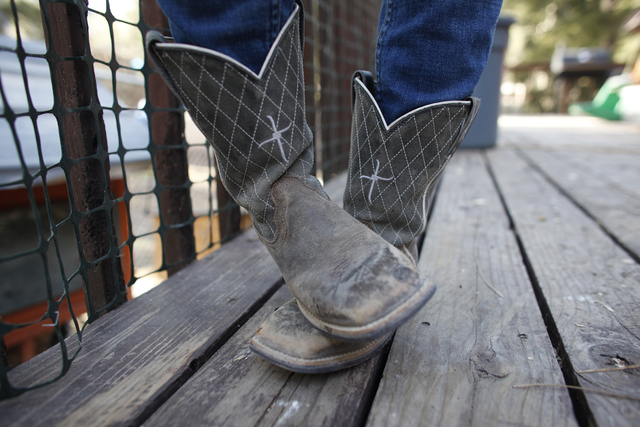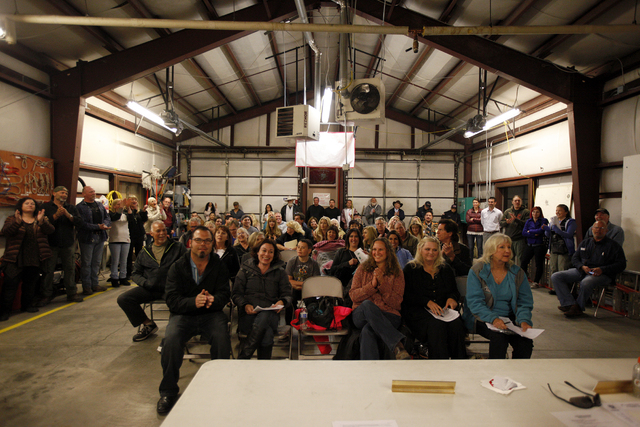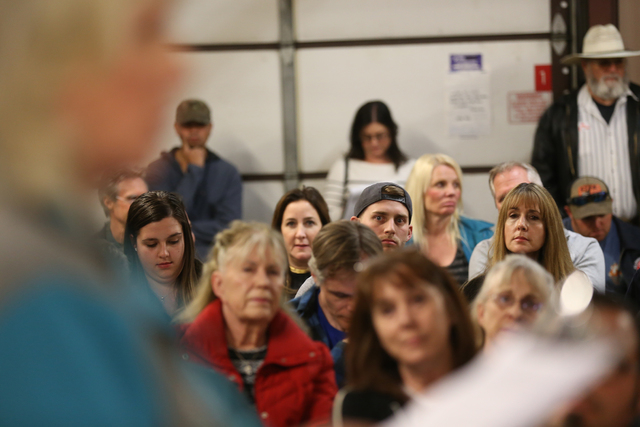 Chickens can continue to rule their roosts across Mount Charleston. An effort to ban them, backed by one Clark County commissioner, was thwarted Thursday at a board meeting attended by a firehouse full of residents.
On Thursday, the Mount Charleston Town Advisory Board met to discuss possibly changing the zoning regulations that allow livestock, including chickens, horses and goats, on the mountain. County Commissioner Chris Giunchigliani was among a group pushing to disallow them in the community.
Raising farm animals on residential properties had become a hot-button issue on Mount Charleston, which has a population of 357 people. So much so that Thursday's meeting, which was originally set for a library, was moved to the volunteer fire station. The fire department's structure engine, brush engine and ambulance were parked elsewhere, so the station could accommodate the meeting.
More than 100 people attended, filling rows of seats and sitting on ladders. Some people who couldn't fit inside watched through an open doorway.
In an Aug. 15 letter to Echo View residents in the subdivision where she has a vacation home, Giunchigliani said the original covenants for the houses do not allow keeping chickens, goats and horses on the property.
Quoting the rule, she wrote, "No horses or other animals, livestock or poultry of any kind shall be raised, bred or kept on any lot except that cats, dogs or other household pets may be kept provided that they are not kept, bred or maintained for any commercial purpose and further provided that they do not create a nuisance."
Giunchigliani added, "(I) kindly ask that your remove these (livestock) animals, hopefully within the next 30 days."
When reached by phone Thursday, Giunchigliani said she did not propose the ban voted on at the meeting. She said she merely asked the board to look at the issue.
"I do support CC&Rs," she said. "There's nothing to act on. There's just a public discussion."
But Commissioner Larry Brown, who represents Mount Charleston and other rural areas in District C, disagreed with the move to ban the farm animals. He believes based on the zoning regulations that farm animals are allowed.
And Thursday, the board concurred. When Brown's liaison Meggan Holzer raised the proposed ban, she was cut off by a clamoring audience.
Board Chairwoman Becky Grismanauskas asked for a show of hands, saying, "Who here wants to see them prohibited?"
Not one hand was raised. The crowd erupted with applause.
The vote didn't seem surprising, given that 150 people had signed a petition to keep the animals legal. From the petition, the residents made a resolution to present at the meeting.
Most properties in the area are zoned as rural open land and allow for livestock; chickens fall under the rule for small livestock. The zoning allows for up to 100 small livestock animals, or 200 if the property is also within Community District 5 or unlimited if the property is larger than 80,000 square feet.
The county's unified development code states that when zoning interferes with other agreements, such as convenants, the most restrictive one governs. For now, whether the convenants in the Echo View subdivision have the same language barring animals other than dogs or cats is unknown. The county does not enforce private agreements such as convenants.
"Enforcement is a private matter," Holzer said at the meeting.
Brown said he works closely with county code enforcement, and no documented complaints about farm animals have been filed in the past five years.
Neighbors ruffled
The anti-livestock stance had irked several residents. Mike I., a gym owner, lives about a mile away from Giunchigliani and raises chickens for eggs and meat and goats for milk. His first experience with Giunchigliani, he said, was when she showed up on his security cameras, photographing his animals and chicken coops.
"The least she could have done is talk to me in person," said Mike, who declined to give his surname.
He said he and many other residents received a letter from Giunchigliani that said that they had to "dispose of the chickens."
Allison Sosa, another community resident, raises chickens and ducks at her home for their eggs.
"They're our friends," she said of her animals, all of which she has named. She and her family have kept the birds for several years.
Also in the community, Michelle Thompson raises chickens to feed her children with allergies. Because of the soy content of most commercial chicken feeds, her son, can't eat them. Her solution was to raise her own chickens.
If she were unable to raise chickens, she said, would have to buy eggs from chickens which aren't fed soy. Those typically run for $8 a dozen.
After the show-of-hands vote, Holzer declared the issue dead.
"Now we can enjoy our chickens knowing they won't be going away," Sosa said. "It was great to see everyone come together yet again."
Contact Christian Bertolaccini at cbertolaccini@reviewjournal.com and 702-383-0381. Find him on Twitter: @bertolaccinic Contact Adelaide Chen at achen@reviewjournal.com or 702-383-0281. Follow @adelaide_chen on Twitter.