Emergency kit cook-off dishes out tasty entrees and safety advice
September 15, 2016 - 11:04 pm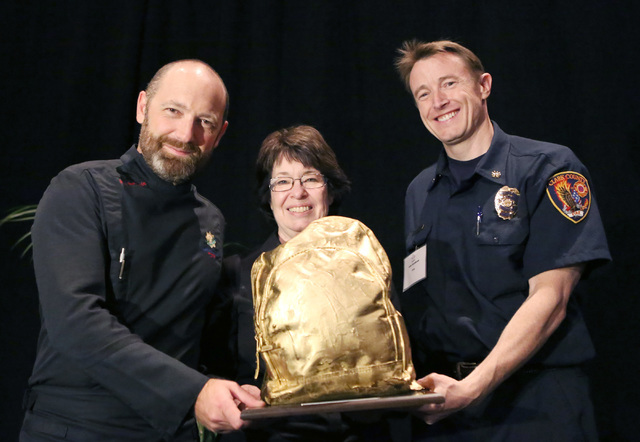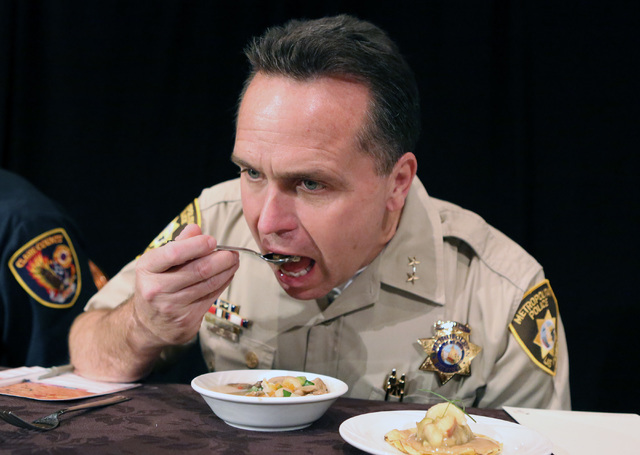 Ten cooking teams competed Thursday to demonstrate that those canned goods and other nonperishables you may keep on hand in case of an emergency can be much more than merely edible. They can be downright delicious.
It was all part of Clark County's third annual Emergency Preparedness Kit Cook-Off, sponsored by MGM Resorts International and held at the MGM Grand Conference Center near the Strip.
Because Clark County won the cook-off last year, it had the honor of hosting the event this year during National Preparedness Month. The contest is organized each year to encourage the public to build and maintain their own emergency preparedness kits for their families.
"I want to thank MGM Grand and MGM Resorts for working with our emergency management staff to present the cook-off this year," said Clark County Commission Chairman Steve Sisolak. "This is a fun activity designed to teach everyone to think more about the basics of emergency preparedness."
Reminiscent of the Food Network's "Chopped" reality show, teams of officials from local jurisdictions and agencies competed against each other to see which team could create the best-tasting dishes from foods found in an emergency preparedness supply kit. The items found in the cook-off emergency supply kits were: a canned meat, either chicken or fish; couscous; canned mushrooms; cannelloni beans; and peanut butter.
Ten three-person teams, representing Clark County, the Metropolitan Police Department, the Southern Nevada Health District, Clark County School District, Boulder City, Henderson, Las Vegas, North Las Vegas, the Southern Nevada Chapter of the American Red Cross and Southern Nevada Volunteer Organizations Active in Disaster, took up the culinary challenge.
Before the epicurean event began, several officials stressed the importance of keeping a 72-hour emergency kit in the home.
"We want you to store what you eat and eat what you store," Deputy Fire Chief and Emergency Manager John Steinbeck said. "Rotate your stock, cook with what you store." That way, he said, you're not spending money on stuff that goes bad.
Robert Fenton, regional administrator for FEMA Region IX, said, "Don't wait, communicate. Make your emergency plan today." Only 40 percent of Americans are actually prepared in the case of a disaster, but everyone should take action now and throughout the year, he said.
Each cooking team had about 30 minutes to work with a guest chef from an MGM Grand restaurant to make its emergency kit dish. The winning team took home the "Golden Backpack Award" and the honor of hosting next year's event.
The Clark County team — this year comprising Commissioner Mary Beth Scow, Deputy Fire Chief and Emergency Manager John Steinbeck and Chef Steve Benjamin of L'Atelier de Joël Robuchon at the MGM Grand — won the competition for a second year. The winning dishes: an entree called "Seaside Stew For a Calming," and a dessert dubbed "Bananas Benjamin," after Chef Benjamin.
To create the stew, team members simmered onions, carrots, canned tuna and canned mushrooms in boiling water with garlic, before pouring the savory mixture over a bowl of cooked couscous.
The dessert was prepared by cutting corn tortillas into circles and warming them. As the tortillas warmed, the team sautéed bananas and apples in honey, cinnamon and butter. Once the fruit was cooked, it was poured over the tortillas.
Contact Raven Jackson at rjackson@reviewjournal.com or 702-383-0283. Follow @ravenmjackson on Twitter.