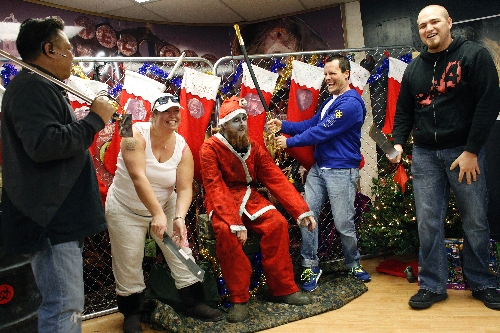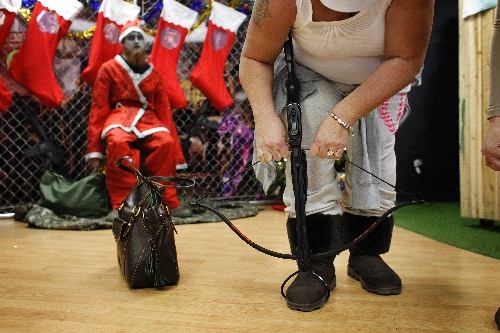 "Enjoy the end of the world!"
Kimmy, a bubbly, petite saleswoman at the Zombie Apocalypse Store, made sure to wish customers well on a weekday morning. After each group of customers paid for their purchases, she yelled farewells to those who made her store one of their last stops before the end of the Mayan calendar.
And there were many.
There was John Latham, for instance, a local who brings every out-of-town visitor he has to the store to purchase souvenirs. Then there was the duo we can't name here because they were on the clock when they dropped by. A group of rodeo attendees walked in, men and women, and one of the women said, "Ooh I love zombie stuff." They were followed by a couple and their 4-year-old son. Every group bought something except the two guys who were working. Technically.
When asked what brought the two 40-something men into a zombie-themed shop, one said that he was curious what the store had inside. They'd driven past many times before and decided that today was the day. His co-worker said he'd be back soon to buy some of the food rations "just in case" because "you never know." But then he quickly added that it's not for a zombie apocalypse. Sure.
And while on the subject of the food rations, Walmart in Utah has upped its supply of freeze-dried goods, according to the two men, who seemed to know quite a bit about rationing for two guys supposedly on a casual trip to the zombie store.
In case you've been living under a rock, (and in which case you're probably not reading a news story anyway), Dec. 21 is the date many have pinned to the end of the world, the day when some rogue planet might crash into Earth or some other disaster is slated to happen. According to NASA and most scientists, it won't. But it's good for business in any case.
The store's owner, Mike Monko, said his shop has been doing well since it opened November 2011 at 3420 Spring Mountain Road.
"We maintain a pretty good flow in there," he said.
However, Monko wasn't sure his customers are buying into the whole world-is-ending thing.
"Contrary to what may be intuitive, most of my customers are of above average intelligence, and they're more well-versed in what's happening politically and socioeconomically than most," he explained.
But that doesn't mean his shop wasn't capitalizing anyway. Kimmy was pretty busy ringing up sale after sale, and with every purchase came that sweet-sounding voice with a variation on the same message: Enjoy your last days on Earth.
And whether or not the customers were coming in to prepare or just see what the heck is inside of a zombie apocalypse store, sales are up at Monko's shop.
The Zombie Apocalypse Store is filled with actual products that would help if the end of the world were to take place, on Dec. 21, or not.
Mayday brand emergency food rations cost from $6.50 to $12 each, and just under those were $39 bulk-size cans of Ranchers Cut freeze dried food – fettuccine alfredo and rotini with meat sauce to be exact. And, no surprise here, the preparedness food and supplies are popular items.
Packets of emergency drinking water hung on racks while books like "Pride and Prejudice and Zombies" lined shelves.
Zombies are everywhere in the store, presumably to get you used to looking at the grotesque figures in case they really do rise from the dead and try to suck out our brains. And if that happens, the store also sells zombie makeup kits. So you can blend in.
When Latham brings his out-of-town guests to the shop, he said they mostly pick up zombie T-shirts or ball caps.
"The kids like the zombies," he explained.
And they might like Zombie Santa, who will be in the store Thursday, Friday and Saturday, presuming the world is still intact.
As for the future of the store, Monko said to expect future locations to pop out of the ground throughout the U.S. and internationally. But don't expect more in Las Vegas.
So whether the world ends or not on Dec. 21, (odds are that it won't) there's money to be made before by those who are creative enough to capitalize.
Thanks, zombies.
Contact reporter Laura Carroll at lcarroll@reviewjournal.com or 702-380-4588.