Ethics complaint filed against Las Vegas judge who had lawyer handcuffed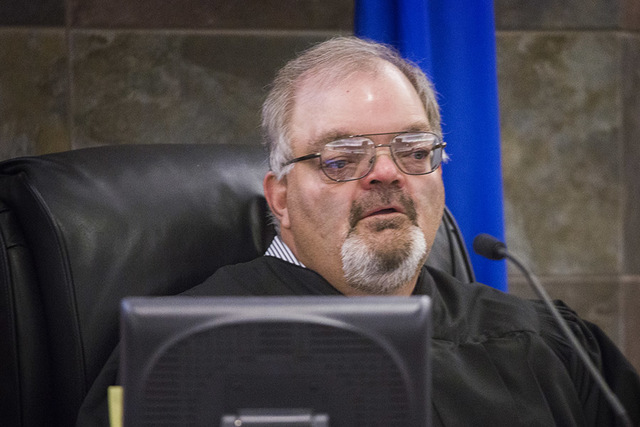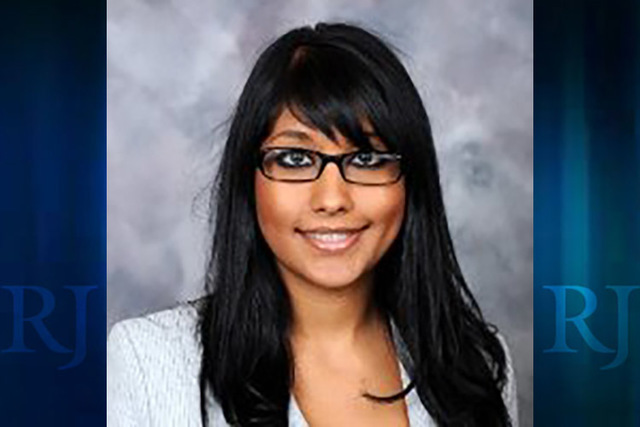 Las Vegas Justice of the Peace Conrad Hafen showed "a complete disregard for the law" when he ordered a deputy public defender handcuffed in court and sent her client to jail for six months, a group of defense lawyers wrote in a complaint to the Nevada Commission on Judicial Discipline.
While demanding sanctions against the judge, the 150-member Nevada Attorneys for Criminal Justice also called into question Hafen's actions in two other cases.
Hafen did not return a reporter's phone calls Tuesday.
In December, the judge lashed out at a man representing himself and sent him to jail for contempt.
Montreal Carter had tried to get a public defender to represent him on a trespassing charge but was found ineligible. When he showed up for trial, Carter asked for more time to hire a lawyer. Hafen rejected the request, forcing Carter to act as his own attorney.
As he questioned a witness, Carter tried to ask about the 14th Amendment, but the judge said it was irrelevant, according to transcripts from the trial.
Carter responded: "I was never given the opportunity — "
The judge then said, "The 14th Amendment doesn't apply to him because — OK, I've had enough. You're now in contempt. Travis, take him to jail. OK? Ten days. That's what we're going to do. Ten days. I'm done. We'll put it back on for the trial in 10 days."
Carter tried to speak up: "I'm just trying to defend myself."
Hafen said: "You want to keep it up, and I'll give you another 10 days?"
The back and forth continued.
"Your honor," Carter said, "I apologize."
"I understand," Hafen replied. "It's too late."
"I'm not trying to disrespect you or the — "
"I warned you continually. You continued to argue with me. I'm not going to put up with that. Ten days' contempt because of your behavior. OK? And your attitude. You're going to jail."
"Your honor, I'm just trying to defend myself. I have no — "
"You're going to jail. Do you want another 10 days? This is what I'm talking about."
The judge stepped off the bench after Carter said, "I'm just apologizing."
Court records indicate that Hafen later revised the contempt sentence and Carter was released from custody.
In another case, the judge sent a woman to jail in April for two weeks without bail for contempt. Court records show that Latoya Anastasia Johnson had no attorney when Hafen decided that a courtroom "outburst" was worthy of time behind bars.
Lance Hendron, president of the defense lawyers group, said the attorneys were "concerned about the conduct that's been taking place in that courtroom."
With Deputy Public Defender Zohra Bakhtary handcuffed and silenced in the corner of his courtroom last week, Hafen sent her client to jail for six months.
Bakhtary said she had tried to argue that the man should not be thrown behind bars on larceny charges, but the judge had ordered her to "be quiet."
Along with criticizing the handcuffing, the defense lawyers wrote that Hafen's decision to sentence someone who essentially had no attorney "demonstrates a callous disregard for the defense function, the dignity of defense counsel and the integrity of the criminal justice system."
The complaint filed late last week stated that Hafen asked his bailiff to inquire whether a law clerk for the Clark County public defender's office could represent those still waiting for their cases to be called. But the clerk did not have a license to practice law.
The judge turned to the bailiff, asked him to release Bakhtary from custody and said, "I think she's learned a lesson."
Bakhtary asked for a break, but the judge denied her request and instructed her to continue with her caseload.
"NACJ is not taking the position that an attorney can never be sanctioned for disrespectful conduct in a courtroom," the complaint states. "Here, the transcript reveals that the lawyer was simply doing her job. Even if there were more evidence of inappropriate behavior, no judge should, as a first resort, employ the demeaning method used here."
Paul Deyhle, executive director of the judicial commission, said he could not comment on the complaint. The commission has between 18 and 24 months to dismiss complaints or file public charges, though it could take action sooner.
Last week, the Clark County Defenders Union, which represents about 105 lawyers from the Clark County public defender's and special public defender's offices, called Hafen's actions against Bakhtary "unreasonable," "unprecedented," and "wrong."
Hafen is up for re-election this year and is facing two opponents: Amy Chelini and Phung Jefferson.
Contact David Ferrara at dferrara@reviewjournal.com or 702-380-1039. Find @randompoker on Twitter.