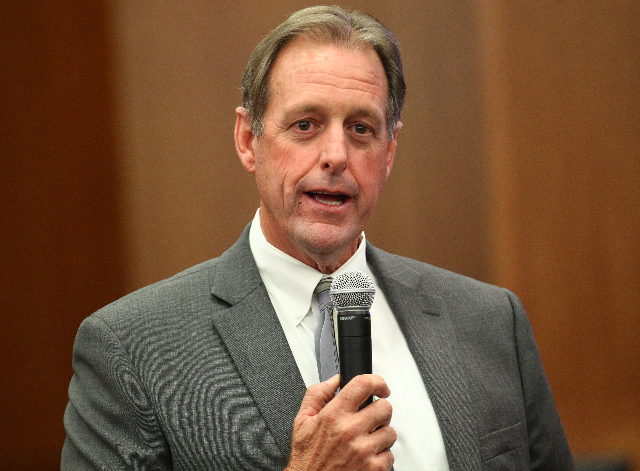 Six months after North Las Vegas workers filed formal ethics complaints against Mayor John Lee, the state's ethics watchdog appears to be in the midst of an investigation.
The director of the Nevada Commission on Ethics and a senior investigator signed into City Hall on Sept. 15 and Sept. 16, according to records obtained through the state public records law.
All visitors to City Hall must sign in at a security desk. The sign-in sheets show that on one day the pair visited the mayor's office, on another the city attorney's office.
The nature of those September City Hall meetings is unknown — ongoing investigations are confidential.
But multiple people confirmed ethics staff has been conducting interviews with city employees.
The complaints, filed in March by longtime employees who have since been let go, describe the mayor's tenure in office as a reign of terror where favoritism is rampant and employees are threatened and humiliated until they either fall in line or are fired. Lee took office in July 2013.
The complaints also accuse other top city officials of ethical abuse for either enabling or enforcing Lee's bidding. Named in addition to Lee are City Manager Qiong Liu, City Attorney Sandra Douglass Morgan and now Assistant City Manager Ryann Juden.
Two longtime human resources employees, Bachera Washington and Tammy Bonner, filed the complaints.
The city has since outsourced their department and laid them off, a move the city has said is unrelated to the pair's complaints.
City spokesman Mitch Fox did not return a request for comment.
The Nevada Commission on Ethics is made up of eight appointed people, four of whom are former public officials and two of whom are attorneys. Appointments are split between the governor and state lawmakers. The commission has access to staff, headed by a director, to investigate claims of government abuse.
The Ethics Commission requires complaints have credible evidence for an investigation to be launched. Additionally, the target of an investigation is given the opportunity to appeal before the commission digs into the claims.
The March allegations spanned more than 100 pages, with evidence including lawsuit testimony, emails and a lengthy list of suggested witnesses.
State law requires an investigation be done in 70 days, but almost always that time frame is waived, said Ethics Commission Director Yvonne Nevarez-Goodson.
Once the investigation is done it goes to a panel of two people from the commission. The panel reviews evidence gathered during the investigation and any response from its subject. That pair then decides if the matter merits a review by the full eight-member commission or dismisses the complaint. The two-person panel's decision — whatever it is — is then public.
Contact Bethany Barnes at bbarnes@reviewjournal.com or 702-477-3861. Find her on Twitter: @betsbarnes