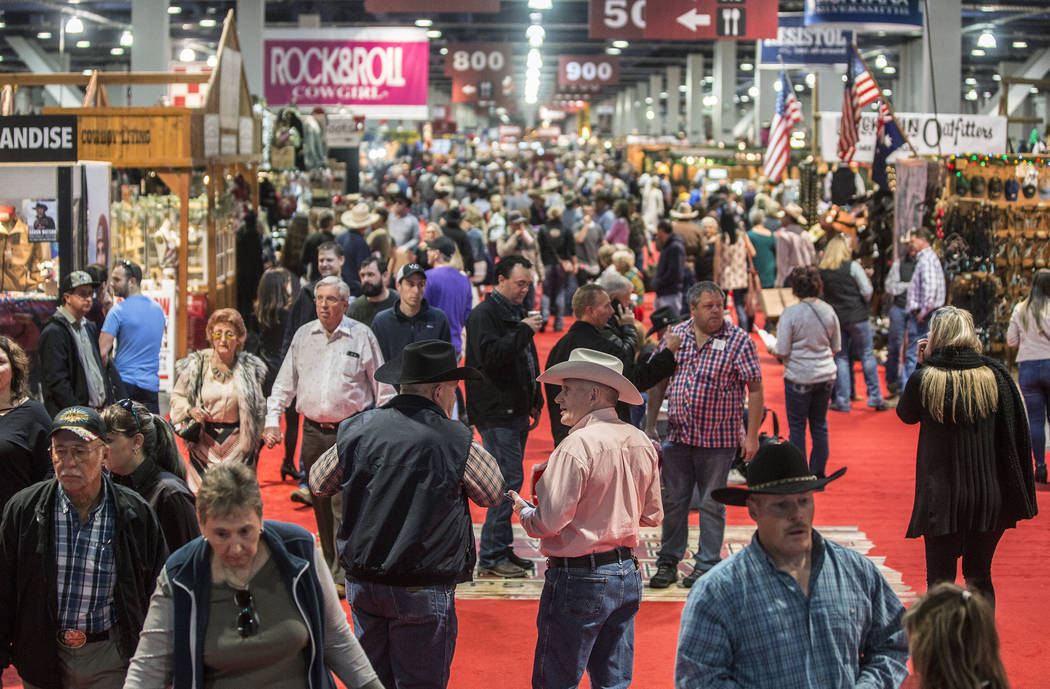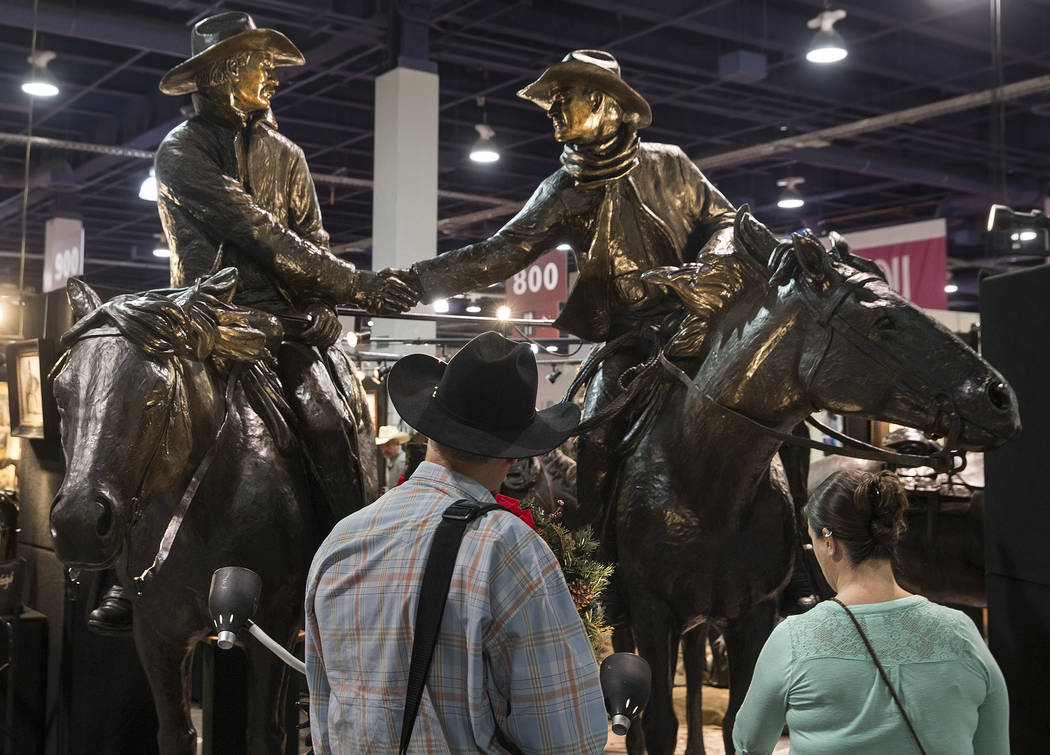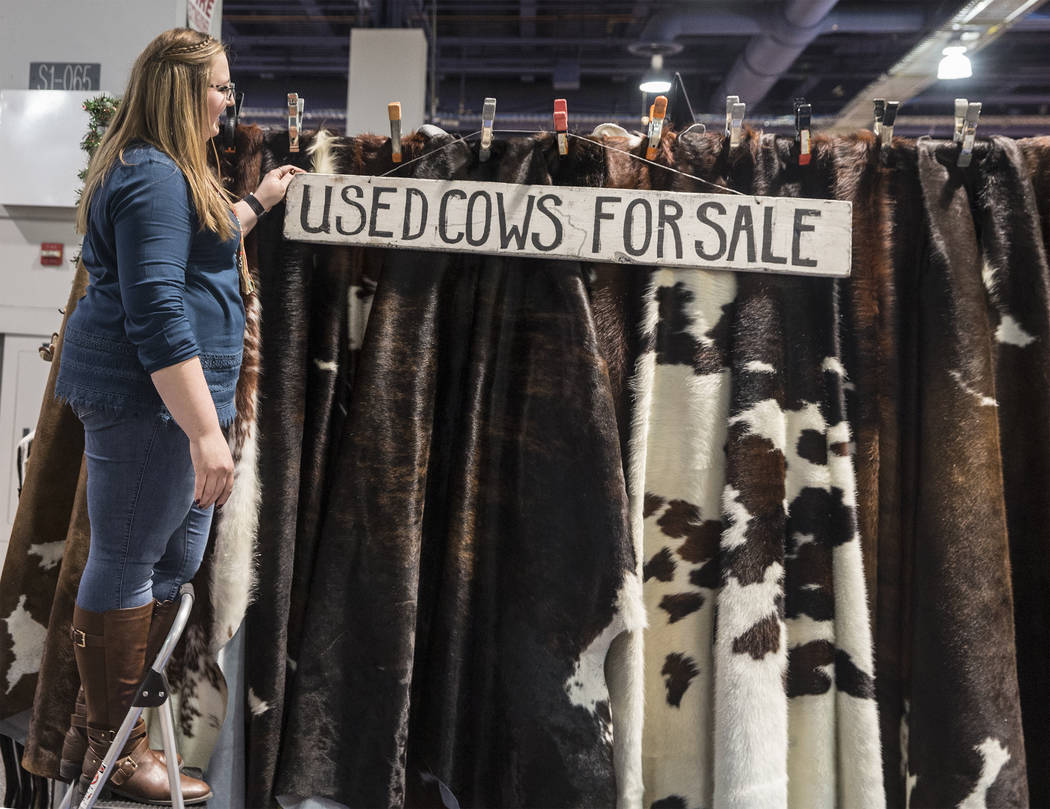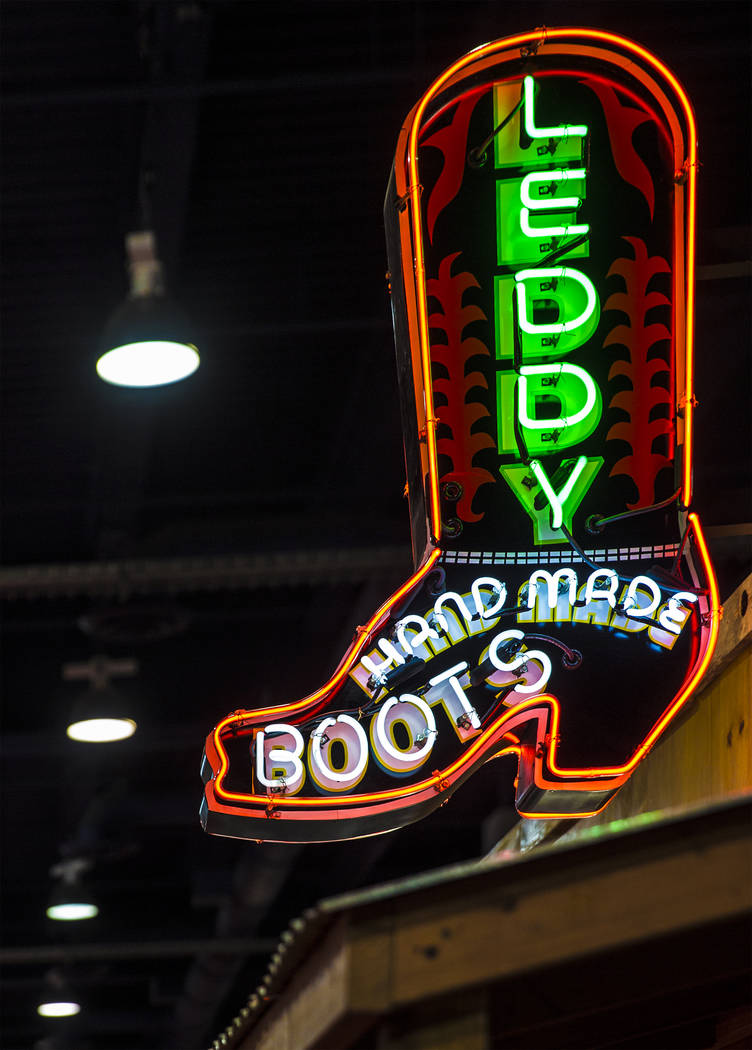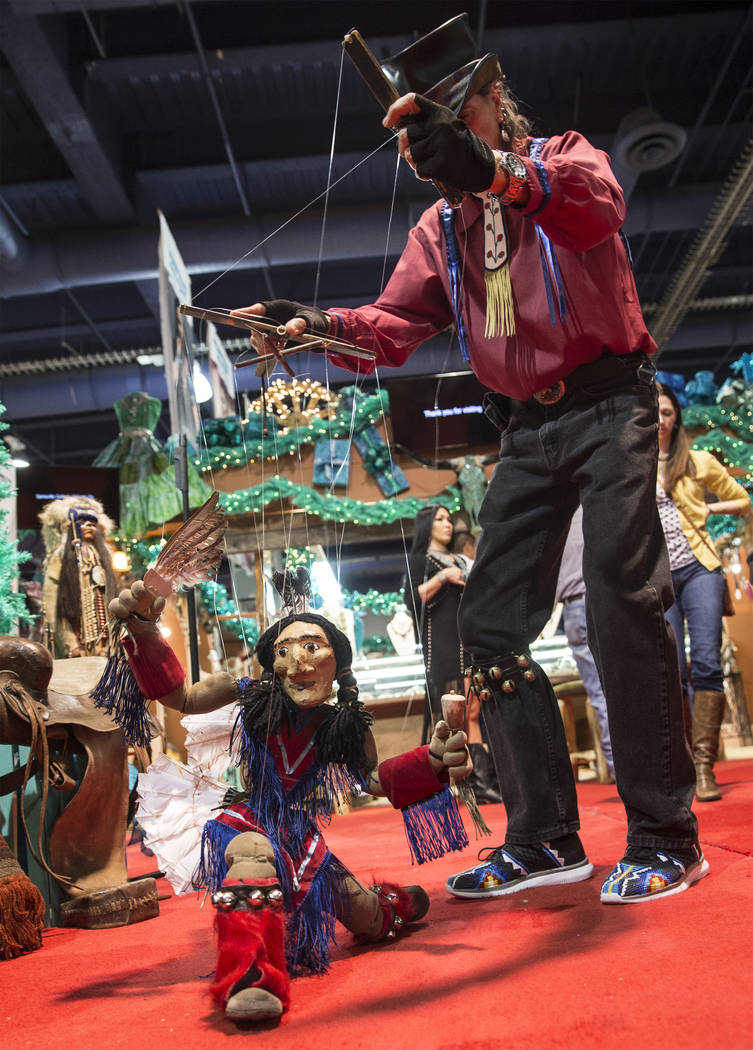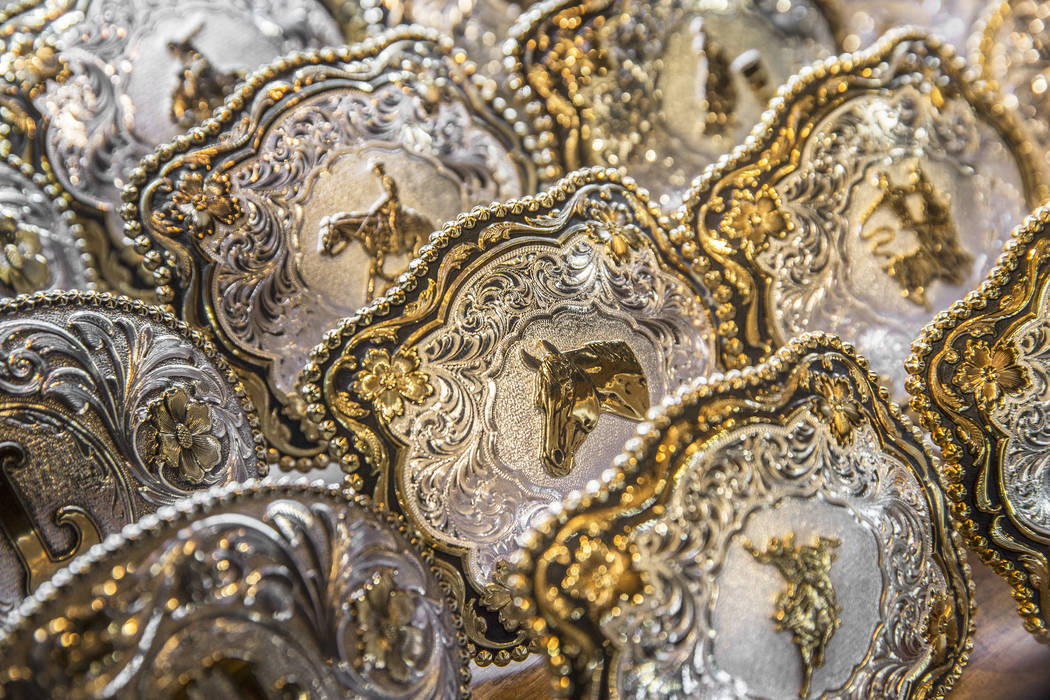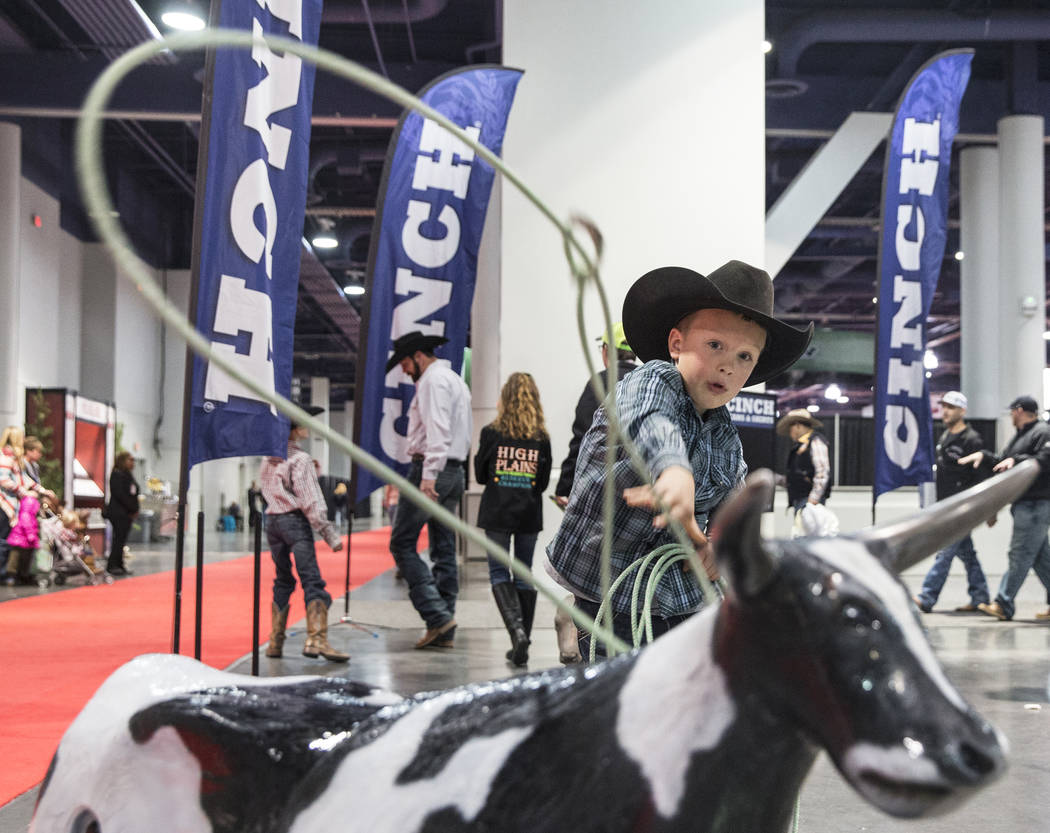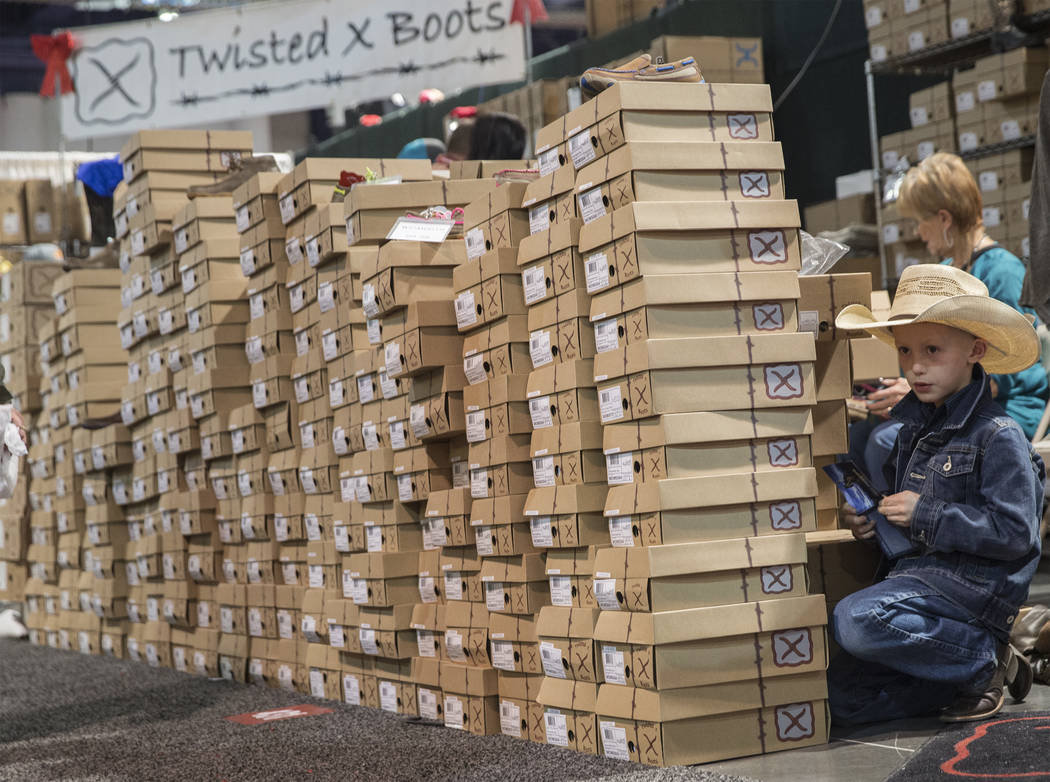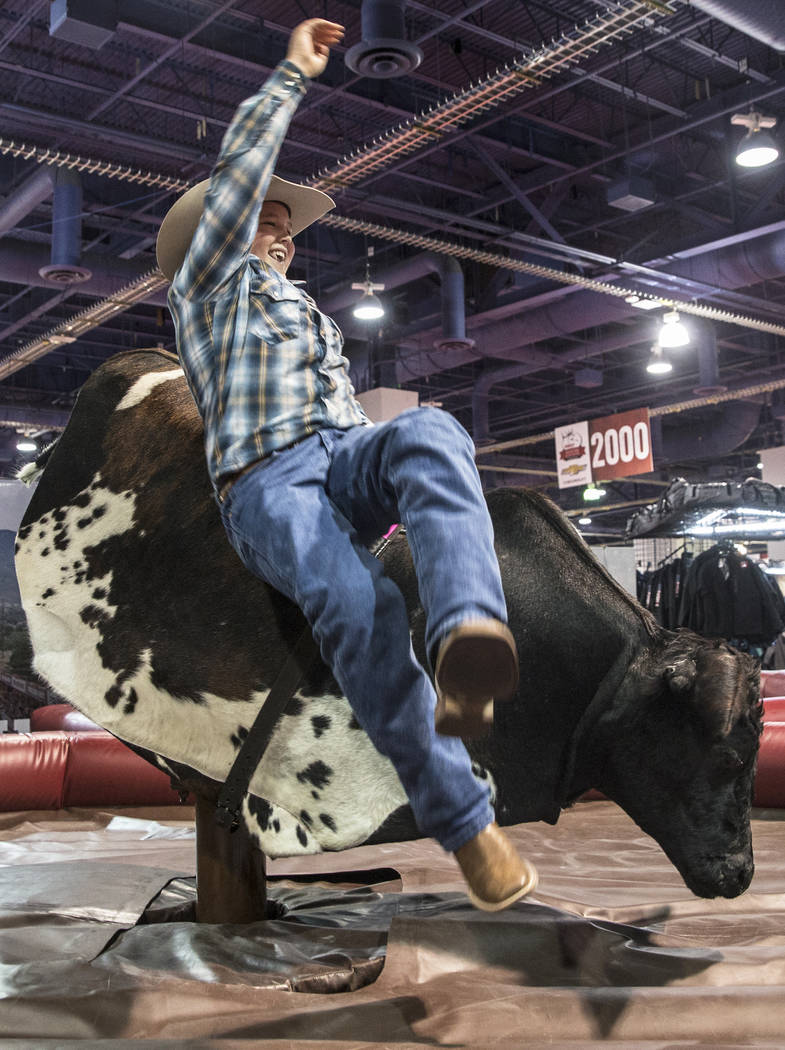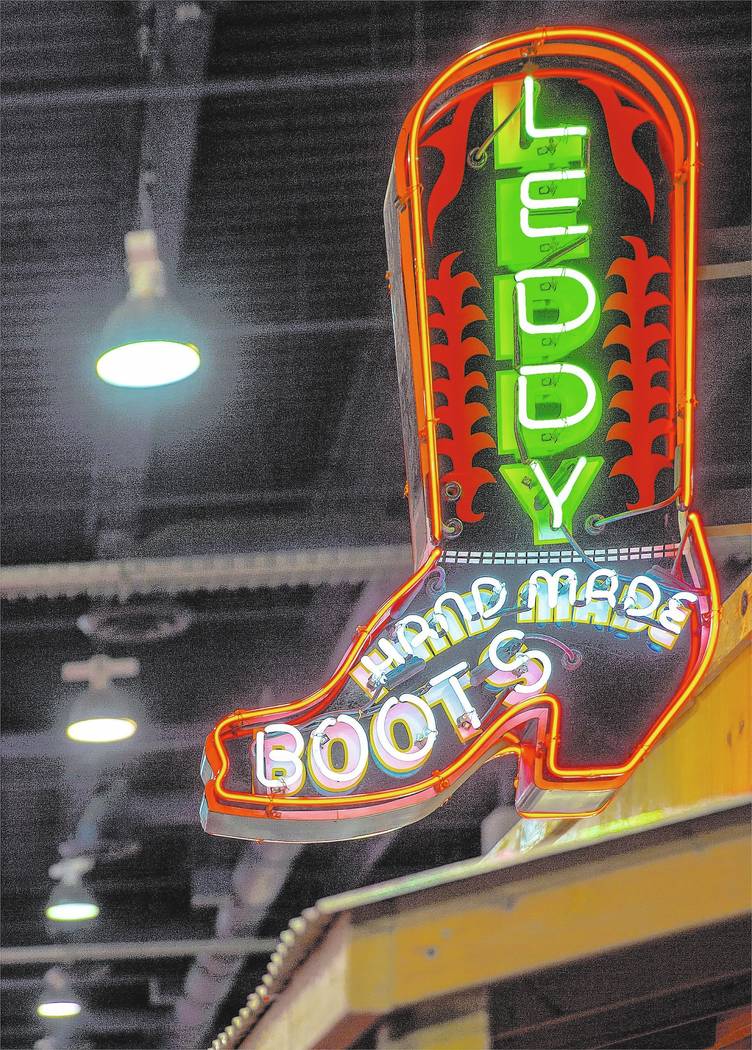 Todd and Sheila Thorp of Leawood, Kansas, were taking a break for an adult beverage and a chance to sit down at their first Cowboy Christmas at the Las Vegas Convention Center.
"It's overwhelming," Todd said, echoed by his wife: "You need to be here all 10 days."
Indeed. The 32nd event involves nearly 350 vendors whose wares are spread over 444,000 square feet — about seven and a half football fields — in the LVCC's South Halls. And surprise at the sheer scale was in the air on opening day Thursday, with overheard comments such as:
"This thing goes farther than I can see."
"It's a lot to take in, isn't it?"
And the inevitable: "We haven't gotten very far yet."
Best of all, as the Thorps noted, it's free — although you'll have to pay $10 to park..
In fact, Cowboy Christmas, which runs through Saturday, may be the best entertainment value in town right now, a wild circus of colors and sparkle and sometimes-frenetic activity that draws about 230,000 people who range from babies in strollers to old-timers using canes.
There are plenty of city slickers but also a heck of a lot of cowboys and cowgirls, like the rodeo stars signing autographs, the guy carrying his son's saddle over his shoulder on a strap, and the subject of the overheard, "Every time she barrel races …"
The holidays are very much in evidence in displays, decorations and country singers' carols on the halls' speakers, but this show is really more about cowboys than Christmas. There's plenty to see even if you're not shopping. But if you are, and the item you seek has anything to do with the cowboy lifestyle, it's probably available here. Consider:
Anything conceivable to outfit a horse, including bridles, bits, tools, colorful tailored blankets with matching fly masks, waterers, slow feed hay nets, flexible rein keepers, saddles ranging from relatively plain to those with finely tooled leather or silver trim and crystals, Impact Gel saddle pads, leather straps with bronze bells attached in a wide range of sizes, ornate bell boots for covering horses' hooves, (even glittery strips for those hooves), steel corral components, feed and medical supplies.
Or to outfit a cowboy or cowgirl, such as boots, boots and more boots, in an endless array of colors (purple? teal?) and sizes. Cowboy hats, custom hat-making shops, hat-steaming spots and hat cases for travel. Handbags, including the concealed-carry variety. Jewelry. Clothing ranging from T-shirts to finely tailored leather garments. Oilskin dusters. Scarves. Belts. Holsters. Work gloves. Spurs. Fox tails. Books and other material for the Christian roper and barrel racer. A camo or purple beer belt that can hold a whole six-pack.
Or to outfit a ranch, whether it be a suburban tract home or on a massive spread in Texas: Everything for a cowboy Christmas tree, including ornaments, denim or bandanna-print garland and accents such as a $325 hand-pieced cowhide tree skirt. Tooled leather furniture and accessories including chairs, ottomans, stools, benches, buckets and wall hangings. Nevada wild-horse photography. Western photography, paintings and posters. Bronze statuary including a monumental $65,000 stag. Exercise machines. Pendulum swings with canopies. Barrel smokers. Humidifiers (hey, it's a desert out there). Dishes, silverware, napkin rings, table runners, leather trivets and kitchen tools with handles ornately embossed in the Western style. Rugs of all sizes. Tennessee Moonshine cakes, jams, honey and hot sauce. Large metal ranch signs, and indoor signs that say things like "Live every day like it's Taco Tuesday" or "Shopping with your husband is like hunting with the game warden." Make-your-own bourbon, whiskey, Scotch and rum. Vintage coin-operated horse rides, the kind that used to be outside every grocery store in the country. Roping dummies in action, giving kids an opportunity to try their hand. Even NFR 60th anniversary commemorative firearms.
Maureen Frank of Parker, Colorado, walking around with a regulation NFR jacket, said she's attended the annual event 15 to 20 times, and comes in large part because her favorite jeweler, Ornaments, is an exhibitor.
Veronica Ambriz, who co-owns Ambriz Jewelry in Fredericksburg, Texas, with her husband, Adolfo, has been attending every year since 2000 to offer the couple's silver, leather and wood creations. She said the show is a collection of mini-cultures that often can be identified by what they're wearing. A guy in a Stetson is likely to be from Texas or the Southwest, she said, while Montana cowboys wear round hats. Those from Montana also like to wear silk scarves, she said; "in Texas it's too hot."
"We love the show," said Ambriz, who said the couple does the Texas rodeo circuit as well. "Where else do you see, in one spot, so many cowboys from all over — east to west, all over the United States? Every state has their own little culture, but it's all one big cowboy culture."
There are three other Cowboy Christmas-style events in Las Vegas this week. They are:
■ Stetson Country Christmas, Sands Expo, 10 a.m. to 5 p.m. daily through Dec. 17, is in its 24th year. It has at least 300 booths with an emphasis on mom-and-pop businesses, said Tiffany Wright of Group W Productions of Weatherford, Texas, the promoter of the show. "We don't have the capabilities there to do an arena and things like that," she said. "It's more intimate. It's definitely more of a cozy shopping experience." Free admission.
■ Roper Cowboy Marketplace presented by Boot Barn, Mandalay Bay Convention Center, 10 a.m. to 5 p.m. through Saturday. Wright, whose company also produces this show, said it came about because the space at Sands Expo was maxed out. With more than 250,000 square feet, the show "is definitely more like the ranch kind of lifestyle, rough and tough," she said. "There are demonstrations of everything from bullfights to a horse sale." Cowboy Church with Corey and Jaime Ross is scheduled for 10:15 a.m. Sunday. Free admission.
■ Cinch Western Gift Show, South Point, 9 a.m. to 6 p.m. through Dec. 17. A boutique show in just 120,000 square feet, the show's in its 12th year, although this is the first year Cinch is the title sponsor. It has more than 150 booths of items authentic to the Western lifestyle. Free admission.
Contact Heidi Knapp Rinella at Hrinella@reviewjournal.com or 702-383-0474. Follow @HKRinella on Twitter.