Ex-Las Vegas cop pleads not guilty in excessive force case
January 20, 2016 - 6:17 pm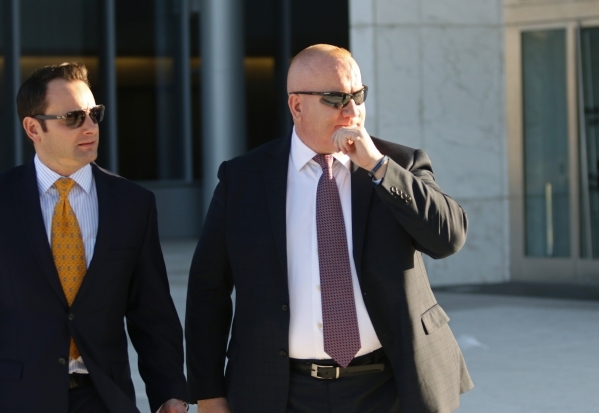 Former Las Vegas police officer Richard Scavone pleaded not guilty in federal court Wednesday to felony charges of using excessive force while arresting a woman and covering up his actions.
Scavone, 49, was wearing a body camera that recorded the January 2015 scuffle with the woman he suspected was a prostitute, but police have not made the recording public.
He was indicted by a federal grand jury last week on one count of violating the civil rights of the woman when he took her into custody and another count of falsifying his report of the confrontation to obstruct an FBI investigation.
The woman was identified in the indictment only by her initials, A.O.
U.S. Magistrate Judge Nancy Koppe Wednesday allowed Scavone to remain free on his own recognizance and set a March 22 trial date.
Earlier in the day, Las Vegas Justice of the Peace Ann Zimmerman dismissed a related misdemeanor battery charge against Scavone at the request of state prosecutors.
According to the federal indictment, Scavone, while acting under color of law, handcuffed the woman on Jan. 6, 2015, and assaulted her several times, causing injuries.
He grabbed the woman around her neck and threw her to the ground, struck her in the forehead with an open palm, slammed her face into the hood of his patrol car two times and slammed her into the door of his car, the indictment alleges.
Scavone had stopped the woman about 5 a.m. near Tropicana Avenue and Interstate 15, where he said she was loitering and trying to solicit work as a prostitute, police said.
He was put on paid administrative leave after the allegations against him surfaced, but was later terminated, police said.
Misdemeanor charges against the woman were dropped.
Contact Jeff German at jgerman@reviewjournal.com or 702-380-8135. Find him on Twitter: @JGermanRJ