Ex-Las Vegas Mayor Oscar Goodman rides on the backs of taxpayers
August 25, 2017 - 5:54 am
Updated August 25, 2017 - 11:42 pm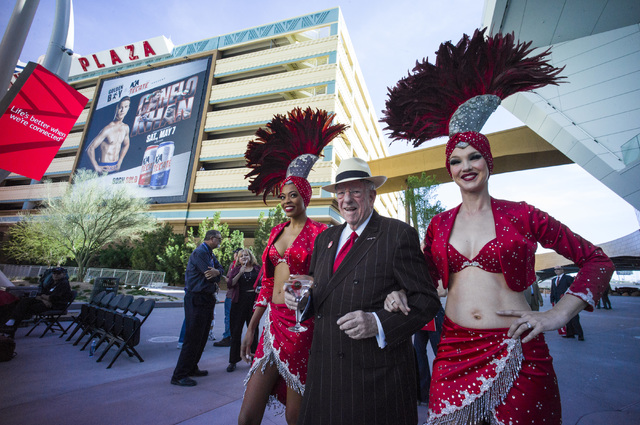 Las Vegas Convention Center security officers left their taxpayer-funded posts about 260 times since 2013 to drive former Mayor Oscar Goodman to events, speeches and meetings — sometimes with his trademark martini in tow.
Ray Suppe, director of customer safety for the Las Vegas Convention and Visitors Authority, told the Las Vegas Review-Journal in June that security transports for Goodman and CEO Rossi Ralenkotter were "infrequent" and declining in number. Security logs initially showed about 60 transports for each man between 2013 and 2016.
But emails the newspaper obtained this month showed more than 200 additional security escorts for the gin-loving Goodman, including pickups and drop-offs at his Las Vegas home during those years and in 2017. In May, officers shuttled Goodman across the city 20 times, records show.
Tax revenue, mostly from hotel rooms, pays for the security staff and covers Goodman's $72,000-a-year contract to serve as the convention authority's chief ambassador. The ceremonial position was created for Goodman after he left office as mayor in 2011. For years, Goodman chaired the public board that oversees the authority.
David Williams, president of the Washington, D.C.-based Taxpayers Protection Alliance, called the stepped-up transportation service "bad news" for Las Vegas and its tourism industry.
"Visitors should be concerned that you have security guards driving people when they should be making sure the convention center is secure," he said.
Their time is valuable, records show.
Suppe made nearly $143,000 last year, which increased to $346,000 with benefits and cashed-in time off. His officers, on average, receive nearly $65,000 a year in salary and benefits.
More than 100 of Goodman's rides were to hotel-casinos such as the Mandalay Bay, Golden Nugget, Bellagio and Aria. There also were trips to the Mob Museum, Nellis Air Force Base, T-Mobile Arena, television stations, restaurants, a golf course and even the local filming of a cult movie.
About 44 of the transports were within the 200-acre convention center, and seven were to downtown's Cashman Center before the authority turned over the facility to the city, the records show.
Goodman's contract makes no reference to using officers to escort him around Las Vegas, and it is unclear who authorized the transportation. Convention authority spokeswoman Jacqueline Peterson declined to make Ralenkotter and Suppe available for interviews in person or by phone.
Peterson released only a written statement: "As Host Committee chairman, Mayor Oscar Goodman made more than 100 event appearances in FY (fiscal year) 2017 alone, by request from valuable clients and event organizers. He is recognized worldwide as a brand ambassador for Las Vegas."
Goodman declined to be interviewed by the Review-Journal, but he said in a YouTube video recently that the security escorts were necessary for safety reasons and to fulfill the requirements of his job.
In June, Suppe refused to talk about any threats. He also insisted the transports did not interfere with safety at the convention center.
Guards bring martinis
At least half a dozen emails from Goodman's assistant, Leiandra Gaskill, sought to ensure that he had a Bombay Sapphire martini with a jalapeno. The drink usually was brought by security guards or provided at the venue. Gaskill was listed as traveling with Goodman and a pair of showgirls numerous times, the emails show.
"NOTE TO SECURITY DRIVER: Please see Janice Little before you leave to airport as she will need to give you Oscar's martini glass, gin and jalapeno so we can make (his) martini when he arrives," Gaskill wrote in a May 8, 2015, email.
If authority staff did not supply the gin, Gaskill made sure the venue had the liquor on hand.
"(A)rrange for your catering department to provide his signature Bombay Sapphire martini with whole jalapeno upon arrival," Gaskill wrote on Dec. 9, 2015.
Lisa Cortina, Mandalay Bay's catering manager, wrote back that it would not be a problem.
"We can take care of Mr. Goodman's martini for tomorrow," her email said.
Throughout his three terms as mayor, the popular, now 78-year-old Goodman incorporated his love of alcohol into his public persona. He signed a $100,000 sponsorship agreement with Bombay Sapphire and held "Martinis with the Mayor" meetings with his constituents. He once told a group of fourth-graders that he would bring a bottle of gin to a deserted island if he had a choice.
Few of his political colleagues, if any, have dared to publicly criticize Goodman for being paid to be the city's No. 1 cheerleader. He remains an endearing figure in Las Vegas folklore.
"He's kind of like the human rendition of the famous, iconic 'Welcome to Las Vegas' sign," said longtime political strategist Sig Rogich. "What he does for the town, I think, is a valuable asset."
Goodman, who had a long career as a lawyer defending notorious mobsters before taking office, began using security escorts at City Hall during his first term. His wife, Carolyn Goodman, continued the tradition when she succeeded him as mayor in 2011. She also took her husband's place on the convention authority board, a political assignment that provides frequent contact with powerful gaming industry leaders.
Flaunting alcohol use
The convention authority's employee drug and alcohol policy says liquor is "strictly prohibited" on the convention center property. The policy allows alcohol at authority-sponsored events as long as it is "moderate and reasonable."
Goodman is not an agency employee, though officials have provided him an assistant, an office and a public relations manager. Suppe has said he considers Goodman an employee.
In his role as tourism host, Goodman continues to publicly flaunt his alcohol use despite the authority's policy requiring an alcohol-free work environment.
"I start slurring my words about noon," he told local television anchor Krystal Allan on May 9, with a martini in hand.
Records show security officers drove him, a showgirl and other staff to that interview, where he sipped his cocktail on camera and proclaimed his love of drinking.
In a webcast appearance in June, Goodman defended the rides as a legitimate part of his work routine, which includes bringing a photographer and a staff member who pours his drinks.
A Review-Journal investigation in April found that authority sales executives with large expense accounts spent at least $697,000 on alcohol from 2013 to 2016 in their bid to attract business to Las Vegas.
Ralenkotter told the newspaper at the time that the prolific wining and dining, with millions of tax dollars, was part of the agency's "relationship building" to ensure Las Vegas remains one of the world's top tourism and convention destinations.
While most of Goodman's security transports appeared to be connected to his job, some did not seem to be work-related. More than 35 escorts started or ended at Goodman's home, the emails show.
On Dec. 4, 2015, Gaskill asked officers to drive him to the Black Mountain Country Club in Henderson for a memorial service after a couple of broadcast media interviews.
She also requested a security escort for Goodman on March 8, 2016, to the Stratosphere so he could appear at the filming of the cult science fiction movie "Sharknado 4," records show.
Questioning rides
Members of the Sun City Conservatives Club, a nonpartisan senior group in Summerlin, criticized the Goodman transports.
"I think it's wrong," said Joe Roeder, a retired military contractor. "Certainly, he could find his own transportation."
Jim Akers, a retired financial manager, added: "They're just wasting the taxpayers' money on privileges the average convention worker wouldn't get."
Marty Bender agreed.
"It's wasteful spending," said Bender, a retired special education teacher. "What is their need for this kind of perk?"
Richard Jones, a former president of the Sun City group, said the practice reminds him of a good-old-boys club.
"They're just insiders taking care of themselves and spending our money without any regard for whether the public approves of it or not," he said.
At least one email obtained by the Review-Journal indicates the security rides were not a necessity.
"I thought Oscar would drive himself, but he prefers transportation," Gaskill wrote about a Dec. 3, 2016, event at a downtown hotel.
On 22 occasions, security officers also were asked to transport showgirls to events without Goodman, the emails show.
Suppe said in June that he provides Goodman's transports for the sake of efficiency and safety.
In the webcast, Goodman echoed the safety claim.
"It's a sick world out there," he told former television anchor Rikki Cheese on the YouTube video posted in June. "There are a couple people out there who get up in the morning and they don't like something about me, which they're entitled to, and they're dangerous because, you know, we have a lot of people walking around this community who unfortunately have mental problems."
But critics questioned the propriety of redirecting security officers.
"Using the taxpayer-subsidized transportation for personal benefit is just a gross abuse of the will of taxpayers," said Curtis Kalin, a spokesman for Washington, D.C.-based Citizens Against Government Waste. "I honestly don't see much of any benefit to the taxpayer in this case."
Added David Williams, of the Taxpayers Protection Alliance: "They should be doing this on their own dime, but they'll do it as long as they can get away with it."
The Review-Journal is owned by the family of Las Vegas Sands Corp. Chairman and CEO Sheldon Adelson. Las Vegas Sands Corp. operates the Sands Expo and Convention Center, which competes with the LVCVA-operated Las Vegas Convention Center.
Contact Jeff German at jgerman@reviewjournal.com or 702-380-4564. Contact Arthur Kane at akane@reviewjournal.com or 702-383-0286. Contact Brian Joseph at bjoseph@reviewjournal.com or 702-387-5208. Contact Alexander Cohen at acohen@reviewjournal.com or at 702-383-0261. Follow @JGermanRJ, @ArthurMKane, @bjoseph1 and @capitolmuckrakr on Twitter.