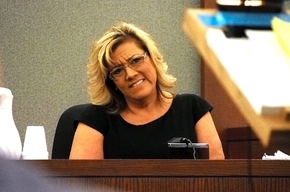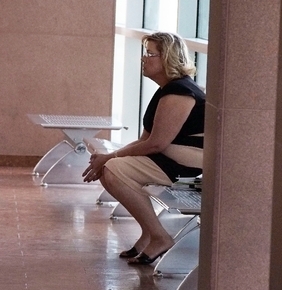 Tonya Rushing, the former clinic manager for Dr. Dipak Desai, has struck a plea deal with federal prosecutors in her health care fraud case stemming from the 2007 hepatitis C outbreak.
The agreement, filed in federal court Tuesday, calls for Rushing to plead guilty to one felony count of conspiracy to commit health care fraud, pay $50,000 in restitution and share with Desai in the forfeiture of $8.1 million in cash and property.
Rushing, 45, could face up to 30 months in prison under the agreement, but her lawyers Robert Draskovich and Louis Schneider can argue for a lighter sentence. She also is eligible to receive a reduction in prison time in return for her cooperation with federal prosecutors.
"She's happy with the plea agreement, and she's looking forward to putting this matter behind her," Draskovich said Tuesday.
A date for Rushing to plead guilty in court has not yet been set.
Both Rushing and Desai were indicted by a federal grand jury in April 2011 on one count of conspiracy and 25 counts of health care fraud.
The two defendants were accused of carrying out a scheme from January 2005 to February 2008 to inflate the length of time for medical procedures and overbill health insurance companies.
As part of Rushing's agreement with prosecutors, the health care fraud charges against her will be dismissed.
The Las Vegas Review-Journal reported last month that Desai was ordered to be transferred into federal custody so that a mental evaluation could be done to determine whether he is competent to accept a plea deal in the case.
Desai, 64, who gave up his medical license after health officials disclosed the outbreak in 2008, is to be returned to state custody after the evaluation is completed. He had been serving time at the Northern Nevada Correctional Center in Carson City following his July 1 conviction on state charges tied to the hepatitis C outbreak.
Desai's lead lawyer, Richard Wright, voiced concerns that strokes over the past several years have left Desai unable to understand the federal plea deal. Desai is to stand trial on federal charges Aug. 8 if no agreement is reached.
According to Rushing's plea agreement, she and Desai submitted bills to Medicare, Medicaid and private insurers inflating the anesthesia times at Desai's Endoscopy Center of Southern Nevada on Shadow Lane.
Rushing admitted that she earned $1.3 million in inflated anesthesia profits through Healthcare Business Solutions, a company she set up to handle the anesthesia billing at Desai's clinic.
She acknowledged that Desai put intense pressure on clinic staffers to perform as many procedures as possible each day and there was no way the anesthesia times listed could have occurred.
Rushing testified against Desai at his state trial last year and was not charged in the case.
A jury convicted Desai on July 1 of all 27 criminal counts related to the outbreak, including second-degree murder in the death of infected patient Rodolfo Meana, 77. Co-defendant Ronald Lakeman, a nurse anesthetist, was acquitted of the murder charge but found guilty of 16 counts.
District Judge Valerie Adair sentenced Desai to life in prison with the possibility of parole after 18 years. She ordered Lakeman to spend eight to 21 years behind bars.
The state charges, which included criminal neglect of patients and insurance fraud, involved the 2007 hepatitis C infections of Meana and six other patients at Desai's now-closed endoscopy center.
Health officials genetically linked the blood-borne virus in those patients to the clinic.
Prosecutors contended unsafe injection practices involving the anesthetic propofol led to the outbreak
Double-dipping syringes into propofol bottles used on multiple patients spread the virus from source patients infected with hepatitis C on two dates in 2007, prosecutors alleged.
Contact Jeff German at jgerman@reviewjournal.com or 702-380-8135. Find him on Twitter @JGermanRJ.