Ex-patient who was hospitalized sues UNLV dental school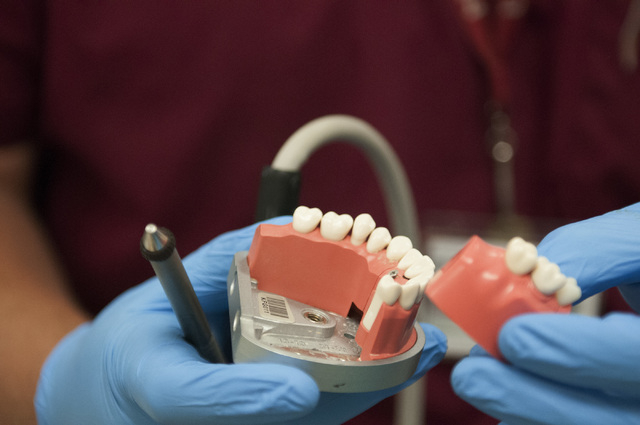 A Clark County woman claims the negligence of UNLV's dental school caused her to spend seven days in a Las Vegas hospital last year.
Marla McClure filed a dental malpractice lawsuit against the school March 17 in Clark County District Court.
Attached to the complaint is a declaration from Illinois dentist Robert Deaver, who reviewed records of McClure's treatment at the school before concluding that its students and faculty "fell below the acceptable standard of care in their treatment" of McClure.
"Despite the fact that an abscess was noted as early as March 6, 2015, the dentists did not make an incision and drain the swelling, or refer her to an oral surgeon, which is the standard of care in this situation, until April 1, 2015," Deaver wrote. "The abscess could have gone to Ms. McClure's brain and the dentists put her life in serious danger."
McClure is represented by Las Vegas attorney Zoe Terry.
Marty Howard, assistant general counsel at UNLV, said in an email Wednesday that the university and the Nevada System of Higher Education Board of Regents have not been served with McClure's lawsuit.
"However, it is our policy to not comment publicly on pending litigation. Once and if we are served we will follow our routine business practice. We will review the allegations and investigate this matter to determine the truth and appropriate legal course of action to follow."
According to her lawsuit, McClure spent seven days at University Medical Center in April while the abscess was drained and a tooth was extracted.
The lawsuit's negligence claim accuses the school of "failing to properly supervise" its student dentists, failing to drain the abscess and failing to refer McClure to a specialist sooner.
Contact Carri Geer Thevenot at cgeer@reviewjournal.com or 702-384-8710. Find @CarriGeer on Twitter.