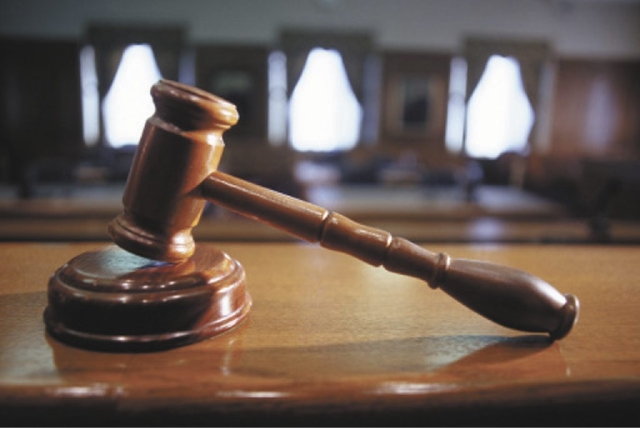 A federal jury Monday convicted former real estate agent Brett Depue in a mortgage fraud scheme federal prosecutors allege defrauded lending institutions out of more than $24 million.
It was the third time Depue, 42, stood trial on the same conspiracy and fraud charges before Senior U.S. District Judge Roger Hunt. Each time Depue represented himself.
Hunt ordered Depue, who now lives in Arizona, immediately remanded to federal custody and set a Nov. 9 sentencing.
Monday's verdict followed bizarre happenings with the jury last week.
On Friday, after several hours of deliberations, one of the 12 jurors handed Hunt a note suggesting he had been "poisoned or drugged" by someone in the jury room. Depue himself had claimed in the past that he was poisoned while in federal custody.
Hunt questioned the juror in court in the presence of Depue and federal prosecutors, and replaced him on the panel with an alternate.
Depue's father, Thomas Depue, said the juror was convinced that someone was trying to harm him, possibly because he was "the odd man out" on the jury panel.
The hand-written note from the juror read, "I feel as though someone in this room has poisoned or drugged either my drinks or the food I brought for lunch."
Hunt ordered the panel to start fresh deliberations with the alternate Monday morning.
"We are pleased that a second jury determine that Mr. Depue had committed fraud," Nevada U.S. Attorney Daniel Bogden said after the verdict. "There were over 100 homes used as part of this conspiracy to defraud financial institutions of millions."
Brett Depue's first trial ended in a hung jury in February 2012, but he was convicted the following month on conspiracy and fraud charges and later sentenced by Hunt to nearly 22 years in federal prison.
At his sentencing, Depue claimed he had been poisoned five times while fighting the charges in federal custody. He did not identify those he claimed had tried to harm him.
Earlier this year the 9th U.S. Circuit Court of Appeals overturned his conviction, concluding Depue did not fully understand his waiver of trial counsel.
In an opening statement at his second retrial last week, Assistant U.S. Attorney Sarah Griswold said Depue unlawfully earned $15 million in the scheme that recruited straw buyers, and made use of his family and friends.
"This is a case about lies and greed," Griswold told the jury.
She said 110 homes in the Las Vegas Valley were fraudulently bought during the scheme between 2005 and 2007.
More than a dozen people participated in the conspiracy, and nine co-defendants pleaded guilty in the FBI-led investigation, according to prosecutors.
The scheme involved recruiting straw buyers, typically friends or relatives with good credit, for homes they had no intention of occupying, prosecutors alleged. Depue used his parents as straw buyers and his wife, Rachel, to help recruit other straw buyers.
Contact reporter Jeff German at jgerman@reviewjournal.com or 702-380-8135. Follow @JGermanRJ on Twitter.