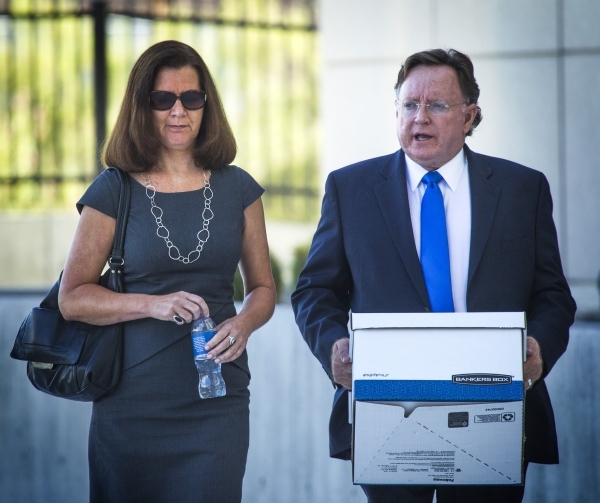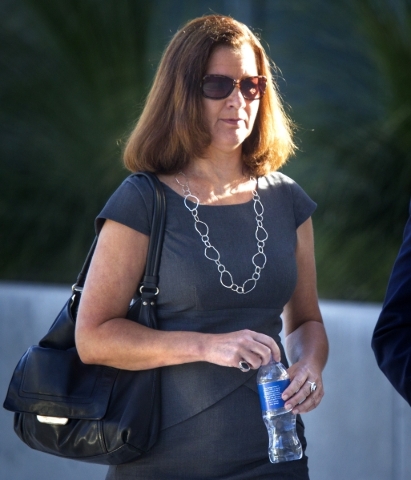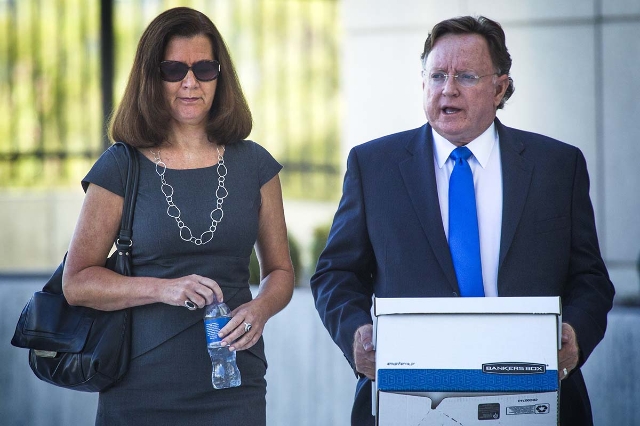 A federal jury convicted a former Strip dancer Wednesday of lying about her role in the massive scheme to take over and defraud Las Vegas-area homeowners associations.
Following a three-day trial, the jury took roughly an hour to find Stephanie Markham guilty of three felony counts — making a false statement to the FBI, perjury before a federal grand jury and obstruction of justice.
U.S. District Judge James Mahan set Markham's sentencing for Jan. 5.
Markham, 57, showed no emotion as the verdict was read, and her lawyer, Robert Langford, said afterward he was considering an appeal.
Markham, who once danced in the Lido de Paris production show at the Stardust and with famed magicians Siegfried & Roy, turned down a deal to plead guilty and took to the Internet to raise money for her defense. She collected more than $5,000 to, as she put it, "fight the big guys vigorously."
She was the last defendant in what is regarded as the largest public corruption case federal authorities have brought in Southern Nevada. A total of 42 other defendants either pleaded guilty or were convicted at trial.
The investigation, which lasted nearly eight years, was overseen by the Justice Department's Fraud Section in Washington. It became public in September 2008 when the FBI, Las Vegas police and IRS conducted valley-wide raids.
In his closing argument Wednesday, Justice Department lawyer Thomas Hall laid out a series of lies Markham told FBI Agent Michael Elliott and the grand jury in 2012 to "cover her tracks" and obstruct the long-running investigation.
Some of the lies were contradicted by her own emails and those between the lead conspirators, Hall said.
He asked jurors to use common sense as they waded through the evidence the government piled up against Markham.
"The bottom line, ladies and gentlemen, is the truth matters," Hall said.
Markham's defense lawyer, Robert Langford, argued that Markham did not willfully lie about her connection to the conspiracy and he questioned the credibility of the government's key witnesses, all of whom struck plea deals in return for lighter sentences.
Prosecutors alleged during the trial that Markham tried to cover up a 1 percent interest she received in a condominium at the Jasmine development in June 2006.
She tried to run for a seat on the Jasmine HOA board, where former construction company boss Leon Benzer, the takeover scheme's mastermind, was trying to land a lucrative contract to do construction defect repairs, according to prosecutors.
But Markham ended up backing out of the race after a lawyer for the Jasmine HOA became suspicious of her candidacy and two other Benzer-backed candidates.
Benzer pleaded guilty and was sentenced earlier this year to 15½ years in prison for directing the scheme, which prosecutors alleged targeted roughly a dozen HOAs around the valley between 2003 and 2009.
Benzer packed HOA boards with "puppet" members through rigged elections to gain control and obtain millions of dollars in construction repair work, prosecutors alleged.
Contact Jeff German at jgerman@reviewjournal.com or 702-380-8135. Find him on Twitter @JGermanRJ