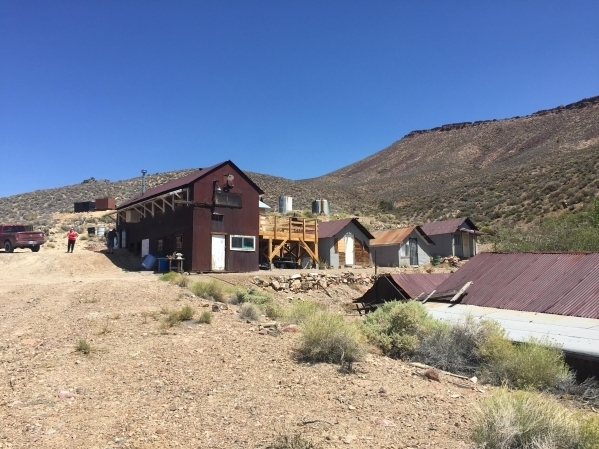 A family whose 400-acre Groom Mine property lies within sight of the classified Area 51 says it will keep fighting the federal government for a higher price for its land.
"We have no intention of laying down, but instead, to fight for justice," the Sheahans responded after the Air Force announced Thursday that it plans to seize the property and mining claims for no more than $5.2 million. The family said Friday that it's worth at least $29 million.
"We will have our day in court. We expect a fair settlement," the family stated.
The facility and airstrip known as Area 51 are where cutting-edge spy planes and stealth jets have been tested for six decades on restricted government land along the remote Groom Dry Lake bed, 90 miles north of Las Vegas.
Negotiations between the government and the Sheahans have lasted more than 60 years, according to the family. The family's ancestors mined for silver, lead, copper, zinc and gold at the mine dating to 1889.
The talks ended Thursday after an Air Force deadline, and it's now up to a federal court to decide what the property is worth.
The Air Force says numerous failed attempts to purchase the property within the boundaries of the Nevada Test and Training Range have forced its hand.
"After exhausting all reasonable efforts to negotiate a sale and the landowner's rejection of the Air Force's offers, the Air Force requested the Department of Justice file a condemnation action in Federal District Court," Assistant Secretary of the Air Force for Installations Jennifer Miller wrote in a statement after the offer's expiration.
The Sheahans began and ended their response by writing, "We are heartbroken."
"We are patriotic Americans who have served our country in combat, and we still believe in America. Nevertheless, our story is one that is rife with criminality and immorality perpetrated on us by our own government."
Contact Kimberly De La Cruz at kdelacruz@reviewjournal.com or 702-383-0381. Find her on Twitter: @KimberlyinLV.