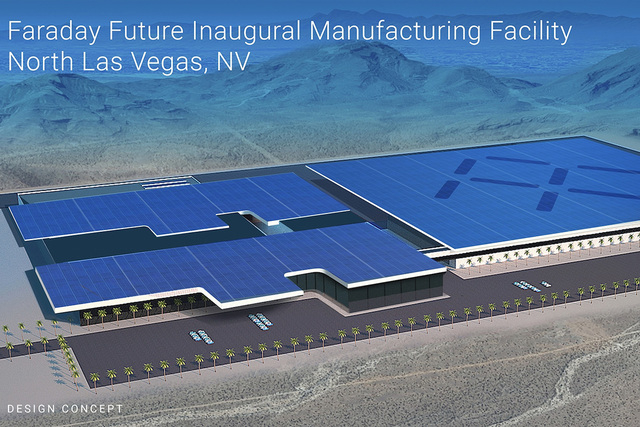 North Las Vegas, still recovering from a deep recession that almost pulled it under, is proposing its biggest capital improvement plan in six years.
It's not because the state's fourth most populous city has a lot of new revenue coming in, though. It's mostly due to the Faraday Future electric car factory and other developments expected at the city's almost vacant Apex Industrial Park.
A big chunk of the city's $431.4 million plan for fiscal years 2017 to 2021 that the City Council will consider today is made up of anticipated bond funds to build infrastructure at Apex. That compares with $236.6 million planned last year for 2016-2020.
The $173 million allocated for the industrial park just west of Interstate 15 is an estimate of the bond money the state is expected to raise to build infrastructure needed for development.
About half of the bond obligation will be paid for by Apex property owners in a special improvement district. The other financing will come from a tax increment area inside part of the industrial park.
The state bond funding was approved by the Nevada Legislature as part of the Faraday deal.
Another approximately $168 million of the city's proposed plan is devoted to transportation and flood control projects, both of which are largely funded by grants and fuel indexing revenue funds restricted to those issues.
Among the projects not deemed "critical needs" by the city was a temporary fire station at Apex, more than a dozen public safety vehicles, a swimming pool complex at Craig Ranch Regional Park and a new police headquarters building. These projects are listed for future years.
Also today, the council is expected to approve a $100,000 contract with a building inspection company that city officials said will help with capital improvement projects.
In spite of major economic development opportunities in Faraday Future and the Villages at Tule Springs, the city is still ailing financially in the short term.
Earlier this month, the credit rating firm Moody's upheld the city's Ba2 rating, which it has had since June. That rating is much lower than other municipalities in the valley. The lower the rating, the more expensive it is to sell bonds for financing capital projects.
The council will meet at 6 p.m. today in council chambers of North Las Vegas City Hall.
Contact Alexander S. Corey at acorey@reviewjournal.com or 702-383-0270. Find him on Twitter: @acoreynews