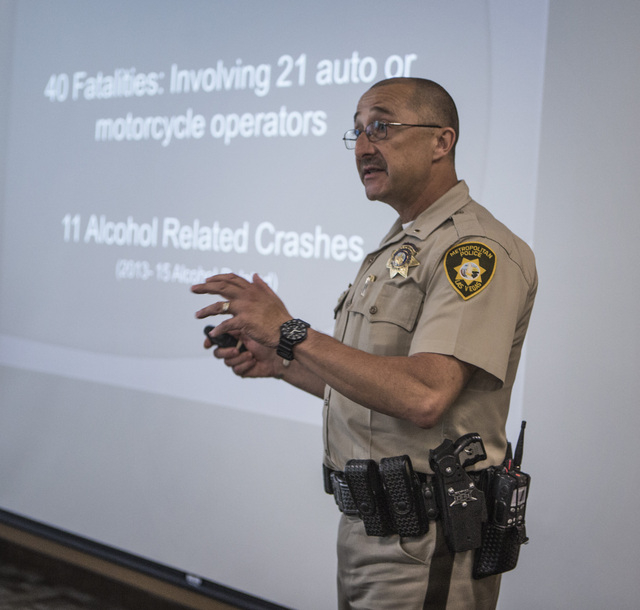 Fatal crashes in Southern Nevada have dropped sharply through the first half of 2014, authorities said.
But there's still work to be done.
Through the first six months of this year, fatal vehicle crashes have dropped by nearly 20 percent compared with the same point of 2013, Las Vegas police Lt. Dave Jacoby said during a Southern Nevada Traffic Safety Committee meeting held Tuesday.
The committee, composed of several law enforcement agencies, civil engineers and local community leaders, meets quarterly to discuss ways to improve Southern Nevada traffic safety.
Jacoby said although the numbers are a drop from previous years, they are still "way too high" for the department's goals.
Southern Nevada's next largest traffic enforcement agency, Nevada Highway Patrol's southern command, also saw a significant drop, with 35 percent fewer fatal accidents compared with the same period last year, according to spokesman trooper Jeremie Elliott.
Clark County Sheriff Doug Gillespie, who spoke at the meeting, said law enforcement and the courts need to continue enforcing traffic violations to make sure bad drivers get the message.
And while the presence of uniformed police officers tends to deter dangerous driving, educating drivers — especially those just learning to drive — on better, safer driving habits is key to continuing to reduce the number of major crashes, Gillespie said.
"It just can't start when people get their driver's licenses. It's a process that needs to start prior to that," Gillespie said. "We need kids to question mom and dad's driving habits. We need kids to question mom and dad when they're texting."
The younger generation may actually make for better drivers as they grow into adults, Gillespie said.
"I think the youth of today make better decisions," he said, citing his own two children as examples. "They just had a lot more education on the negative impacts of drinking and driving."
Drunken driving arrests have also fallen. There was about a 25 percent drop in drunken driving arrests from the same period in 2013, though Metro isn't quite sure why.
"I'd like to think the community is getting smarter and just not drinking and driving as much," Jacoby said.
Fatal crashes involving drunken drivers have taken a similar downturn, with just 11 alcohol related fatalities compared with 15 last year, Metro statistics show.
While traffic collisions and deaths are declining, motorcycle and moped fatalities continue to plague the department.
Traffic Sgt. Peter Kisfalvi said there are two specific groups who die in motorcycle crashes — 18- to 25-year-old and 45- to 55-year-old men.
The younger group died almost exclusively from reckless driving or excessive speed, while the older group's deaths were nearly always alcohol-related, Kisfalvi said.
"Fatalities on roadways affect everyone," Gillespie said. "We want to see less people lose their lives on the roadways."
Contact reporter Colton Lochhead at clochhead@reviewjournal.com or 702-383-4638. Find him on Twitter: @ColtonLochhead