FBI to investigate report of child porn on North Las Vegas mayor's iPad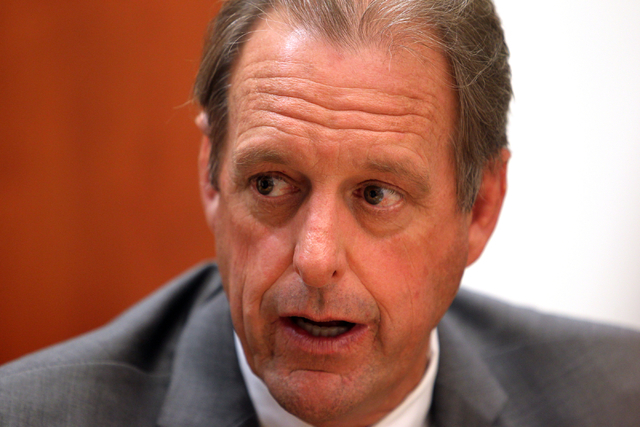 The FBI will conduct an independent review of an incident involving suspected child porno­graphy on North Las Vegas Mayor John Lee's iPad, according to police.
According to recently retired North Las Vegas Police Chief Joseph Chronister, Lee told a police officer at City Hall in October that "he had an issue with kiddie porn popping up on his computer."
In a statement sent to the Review-Journal on Tuesday, department spokesman Aaron Patty confirmed that the FBI would review the case but did not mention child pornography.
"In October 2014, the North Las Vegas Police Department Detective Bureau conducted an investigation regarding an iPad that contained sexually explicit material possessed by Mayor John Lee. The investigation revealed there were not sufficient grounds for prosecution and the case was ultimately closed," Patty said.
"The North Las Vegas Police Department is determined to act with the utmost integrity in all investigations conducted by our department. In order to ensure the objectivity of the investigation, and based on a subsequent review by the North Las Vegas Police Department, this case has been turned over to the Federal Bureau of Investigation for an independent review," he said.
When a detective called Lee about the iPad a few days later, Lee told him that someone sent him an email and images that appeared to be child pornography began popping up and that he wanted them gone, according to a police report. Lee OK'd the detective to pick up the iPad.
The detective said in his report that he found no emails involving any porno­graphy but found three links to porno­graphic websites in the tablet's browser history, one of which appeared to involve children.
"I did locate several possible photos that could be considered child porno­graphy, but since they were in a different country, I could not verify the age of the people pictured," the detective wrote.
Because nothing seemed illegal on the iPad, the detective took it to an Apple Store and had it wiped clean and returned it to Lee.
Last week Lee disputed claims that he approached a detective at City Hall. He said he doesn't know why the report and the police chief said he did. He said that he wasn't sure why police couldn't find the email and that he didn't delete it because he wanted police to see it so they could find the sender.
Chronister said last week that no one else would have been treated similarly.
"We're talking about the mayor of North Las Vegas," Chronister said Thursday. "He is a person of authority. He is a person of power. He absolutely has the ability to control certain aspects of our department."
Chronister said that he wished both he and his department would have dug deeper into the case and considered bringing in an outside agency.
"The FBI declines to comment," an FBI spokeswoman said Tuesday after deferring questions about the matter to North Las Vegas police.
Contact reporter Colton Lochhead at clochhead@reviewjournal.com or 702-383-4638. Find him on Twitter: @ColtonLochhead. Contact Wesley Juhl at wjuhl@reviewjournal.com and 702-383-0391. Find him on Twitter: @WesJuhl.
Like the RJ on Facebook: