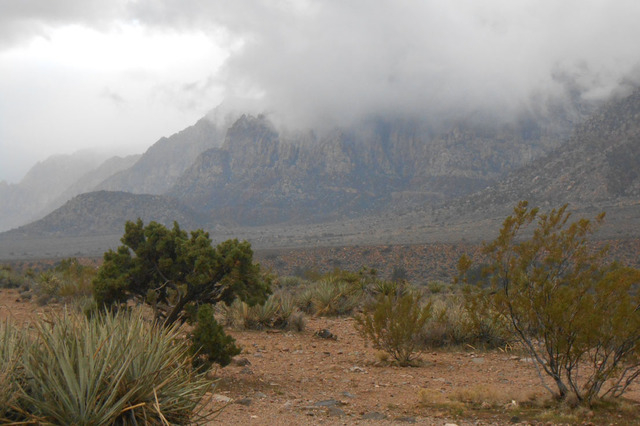 Red Rock Canyon National Conservation Area just got a little bigger.
On Dec. 12, the U.S. Senate passed the National Defense Authorization Act, which included a package of land bills providing more open space for outdoor enthusiasts' enjoyment. Through the bill, the conservation area is to be expanded by 1,530 acres.
The land was made possible through H.R. 3979, officially known as the Carl Levin and Howard P. "Buck" McKeon National Defense Authorization Act for Fiscal Year 2015. The new acreage is west of the 215 Beltway and Lone Mountain Road and west of the gravel mining operations.
Presently, no off-highway vehicle use will be allowed in the area, and routes must be designated in Red Rock Canyon. The act requires a plan to be developed in the next two years for how to use the addition.
"We look forward to working with the public in creating a plan for the new addition," said Mark Spencer, field manager for the Bureau of Land Management's Red Rock/Sloan Field Office. "This area will allow the local community and tourists to have another opportunity to enjoy Red Rock Canyon National Conservation Area."
There is currently no formal access to this new portion of Red Rock Canyon; however, residents have been known to use the area for hiking and mountain biking.
Las Vegas resident Daniel Vega goes to Red Rock Canyon about once a month to hike. What would he like to see done with the new area?
"There seems to be a big ATV following here in Vegas, which is cool," he said. "I think we need to do something a little more recreational, maybe some biking and more hiking. Motorized vehicles, ATVs, maybe do a dirt bike (component) where locals can have a little bit more fun."
He also said a picnic area would be nice to have.
Tony Timmons, assistant vice president for Wells Fargo Bank, organized a Red Rock Canyon Volunteer Workday Jan. 10 when he was joined by his son and Wells Fargo employees to remove trash from the area. It's an effort the company participates in at least once per quarter.
Timmons said the increased acreage is likely to see him working harder to engage the company's team members in ways to help keep the area clean.
"Litter on our public lands truly breaks my heart because I know people know better," he said.
The act transferred management of the acreage from the BLM's Las Vegas Field Office to the conservation area, which also is managed by the BLM.
The lands bill also affected other areas near Las Vegas, including setting aside the Tule Springs fossil beds as a 22,650-acre national monument, as well as creating an off-road vehicle park at Nellis Dunes Recreation Area.
Beyond the Las Vegas Valley, the 48,000-acre Wovoka Wilderness Area was created in Lyon County and the 26,000-acre Pine Forest Range Wilderness in Humboldt County; the city of Elko received 300 acres to create a motocross park; and the Te-Moak Tribe of Western Shoshone Indians of Nevada, headquartered in Elko, received nearly 400 additional acres of land.
Contact Summerlin Area View reporter Jan Hogan at jhogan@viewnews.com or 702-387-2949.