Federal program for needy Nevada mothers, children continues during shutdown
October 6, 2013 - 5:02 pm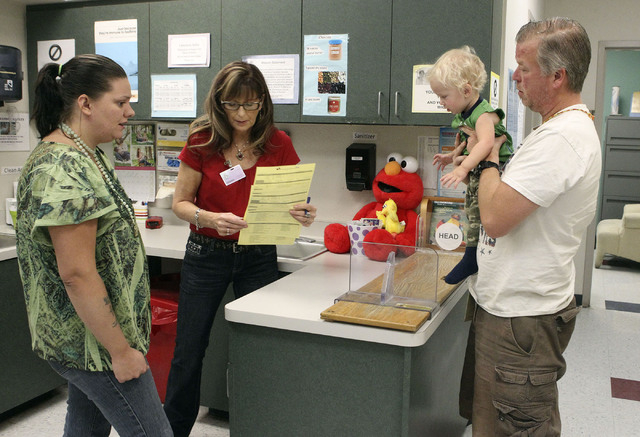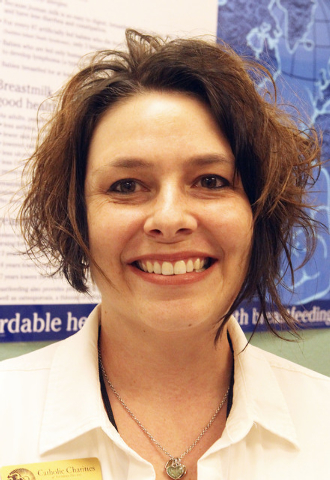 Marjorie Dempster's 4-month-old son cried Friday morning because he was hungry.
She prepared his bottle as his complaints became louder and louder.
"Most of the time I don't have the $20 to go buy the milk," the 21-year-old mother of three said as she mixed powdered infant formula with water.
A federally funded program, the Special Supplemental Nutrition Program for Women, Infants and Children, assists low-income pregnant women and mothers, and children under age 5. Also called WIC, the program provides food, including infant formula, nutrition education and health screenings.
Dempster, just after an appointment at a Catholic Charities of Southern Nevada WIC clinic, began to feed Jonathan, who immediately stopped crying. WIC programs across the nation face uncertainty in the wake of the federal government shutdown, but in Nevada no interruption in services is expected, state officials said Friday.
"Nevada is prepared to continue to fund public assistance programs with uninterrupted payments for several weeks," said Mary Woods, spokes­woman for the Nevada Department of Health and Human Services.
As of Aug. 31, Nevada WIC was serving 74,156 participants. About 69 percent of Nevada's WIC recipients are in the Las Vegas area, Woods said.
The WIC program in Nevada costs about $48 million a year to run, or $4 million a month, Woods said.
Funding for WIC comes from the federal government. Nevada has money from three different pots — rebates, reallocations and contingency funds from the U.S. Department of Agriculture — that will allow it to continue to run the program through the end of October should the government shutdown continue, Woods said.
The state has $4 million on hand to continue the program, Woods said.
"We want to reassure people that there's not an interruption of the program and that WIC is fully operational this month. It's even accepting new applications," she said.
Leslie Carmine of Catholic Charities, a WIC provider, said it's been business as usual at their three WIC offices.
"A lot of people need these services," she said.
Other public assistance programs in Nevada also will continue to operate as the government shutdown continues. Those programs include the Supplemental Nutritional Assistance Program, formerly known as the Food Stamps program, and Temporary Assistance to Needy Families, which provides support so that dependent children may be cared for in their own homes or in the homes of relative caretakers.
A total of 363,155 participants were in the state's Supplemental Nutritional Assistance Program as of July. As of August, there were 28,704 participants in Nevada drawing Temporary Assistance to Needy Families.
Woods said it is too early to speculate on what the state would do with the WIC program if the government shutdown extends beyond October.
"But there are meetings right now, and it's constantly being monitored and evaluated and discussed," she said.
The Rev. Douglas A. Greenaway, president and chief executive officer of the National WIC Association, said in a statement that if Congress failed to pass a "clean" continuing resolution before the end of the month, many WIC program across the nation will run out funds. WIC serves close to 9 million women and children nationwide.
"Clinics will be forced to close their doors, turn participants away and end benefits," he said in a statement. "This would be unconscionable."
Other public entities in Southern Nevada also are looking at contingency plans to continue programs that rely on federal funding.
The Clark County School District, the nation's fifth-largest school system, said last week it will use money from its food services department's emergency fund to cover the cost of free and reduced-price meals to low-income students during the government shutdown.
Reporter Yesenia Amaro can be reached at 702-383-0440, or yamaro@reviewjournal.com.