Female prisoners celebrate completion of substance abuse program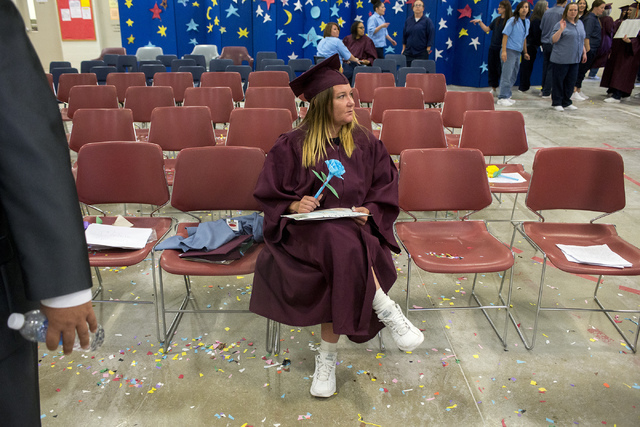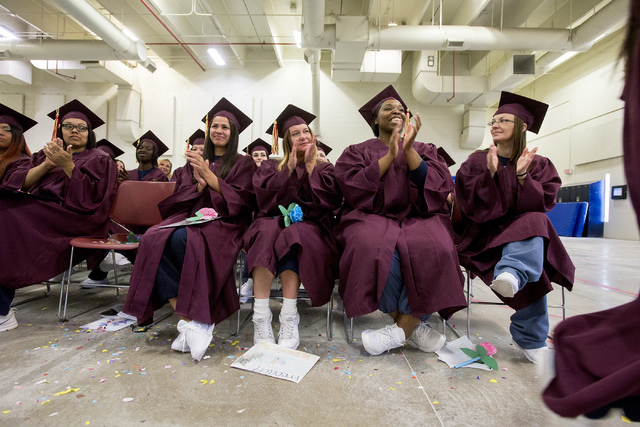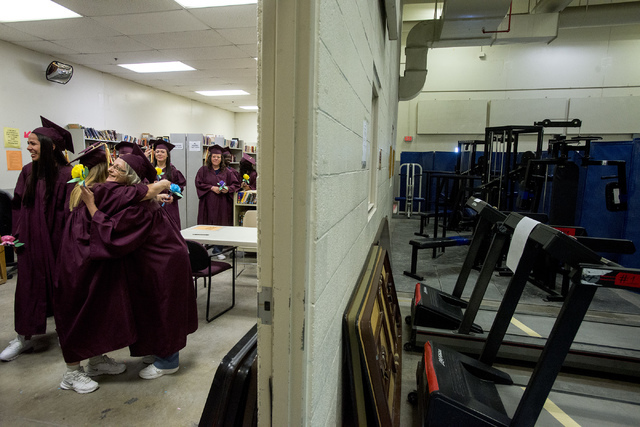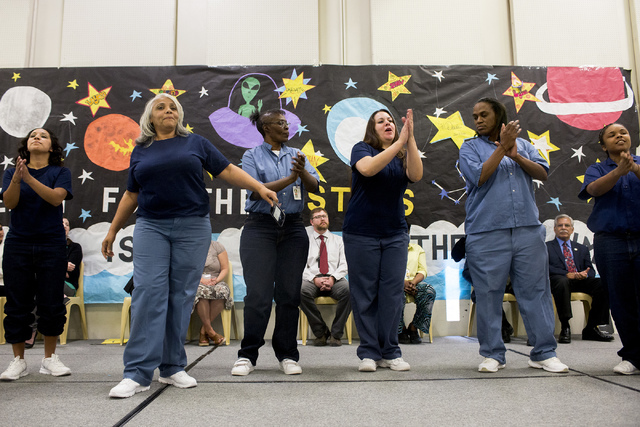 Sara Bevil was eight months pregnant when she was arrested for trafficking meth.
That was January 2015. She estimates she's been to jail more than 30 times.
Bevil's last arrest led to her fourth trip to prison. She needed it to be her last.
Within the walls of the Florence McClure's Women's Correctional Center, she found sobriety through a substance abuse program for inmates suffering from severe alcohol or drug addictions.
"It's taught me to be a better person," Bevil said Wednesday morning. "I love Vegas, but I love my recovery more. I want to enjoy Vegas sober."
Bevil, 37, is an inmate at Nevada's only all-female prison. On Wednesday, she joined 16 other women who were wrapped in maroon gowns, celebrating their completion of Sisters Together Achieving Recovery and Sobriety, or STARS.
The prison program rehabilitates inmates in three phases. Each phase lasts about three to four months but can take longer.
Inmates live together in a dorm and learn to work together, facilitating group meetings and attending classes to learn how to communicate with each other.
For Bevil, who became addicted to methamphetamine when she was 14, the program helped her overcome her dependency on other people and deal with her problems without abusing drugs.
"It's a really good program," she said. "They want us to do good."
The program follows a social learning theory in which the women are positively influenced by their peers, said Associate Warden Gabriela Garcia, who helps run the program.
"It's actual treatment; it's not just a class," she said. "Everything we do has been proven by research. We want individuals to be able to transition to the streets."
And the goal is to keep them from returning to prison, Garcia said.
The 17 graduates paraded past their fellow inmates, clutching colorful paper roses, grinning widely as their peers offered them high-fives and a shower of paper confetti.
They carried their "bricks," drawings or pictures that represented their motivation for recovery. Across the stage, words were written on cloud-shaped posters: happiness, hope, forgiveness, peace.
As names were called, the graduates crossed the gymnasium to the podium, with roaring cheers from candidates of the program behind them.
The graduates spoke after receiving their certificates, offering thanks to their counselors and words of encouragement to the other women.
Regina Prevatte decorated her "brick" with a line from the book of Revelation and a drawing from her daughter. Her spiral of self-destruction took her through four prison terms and 15 years behind bars. She said STARS helped her understand her past actions and why they were wrong.
"I am free," she told the crowd. "I am no longer the trauma. I am the solution."
Prevatte, who was arrested for burglary, spent 14½ months completing the three phases of STARS.
"This day means I can finally let go of four prison terms and all of my past, and be proud of myself," the 54-year-old said. "I can teach others to not make the same mistake."
She will be reunited with her 14-year-old daughter in September. Until then, she said, she will take part in the aftercare program that follows STARS.
"I can finally be the mom that she deserves in her life," Prevette said. "And I certainly won't be back here again."
Contact Melissa Gomez at mgomez@reviewjournal.com or at 702-383-0278. Find her on Twitter: @melissagomez004