Festival organizer, Arts District business owners at odds about First Friday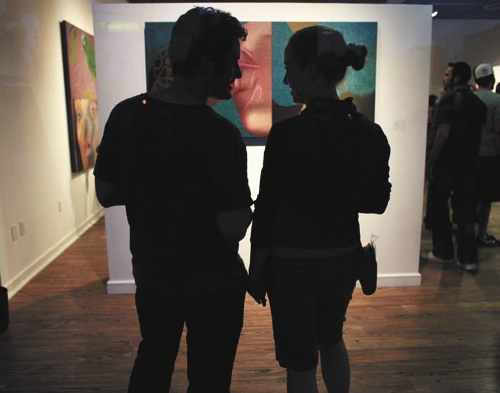 So, is First Friday canceled for the next two months?
Depends on your definition of "First Friday."
If you mean First Friday Las Vegas, the trademarked name of the monthly street festival organized by Whirlygig Inc. in downtown's Arts District, then yes — there's no First Friday in August or September. It returns in October to celebrate its ninth anniversary.
But if you mean "First Friday" in the broader sense of downtown's Big Night Out on the first Friday of each month, when galleries and nightclubs bring in fresh exhibitors and live music for the one-night throng that helps them stay in business — that's still on.
And those business owners are mad as hell that anyone would suggest otherwise.
Whirlygig's announcement of a two-month hiatus, posted Sunday night on the nonprofit's website, has exposed deep fissures in the Arts District community.
One side accuses Whirlygig and its president, Cindy Funkhouser, of trying to assert total control over First Friday.
Whirlygig's leaders, meanwhile, express astonishment that they get no credit for building First Friday into a major event over the past nine years, drawing crowds that frequent the businesses belonging to their critics.
"I love the idea that people feel it (First Friday) is bigger than the festival event," said Naomi Arin, who founded Whirlygig with Funkhouser. "But the peripheral businesses — and I mean this in the most positive way, because I used to be one of them — have been the beneficiaries."
Funkhouser declined to comment Monday, saying only that she was getting "hammered" with critical phone calls and messages.
Westley Myles Isbutt, a longtime Arts District champion who owns the Arts Factory and Bar+Bistro, bristled at the idea that First Friday was something someone can cancel.
"How do you cancel something that doesn't belong to you?" he said. "You think you're First Friday?
"First Friday isn't about any one particular location. It's not any one person. It's all of us."
Whirlygig was founded in 2002 to organize First Friday, which started as an art gallery walk with a few hundred participants. These days it draws 5,000 to 10,000 people, depending on the weather and the time of year, and offers outdoor art exhibits, live music, concessions and the like on Casino Center Boulevard south of Charleston Boulevard.
The nonprofit is responsible for getting permits and insurance for the event, arranging for things such as fencing and lighting, and paying for security, which has become a major expense as the event has grown.
Because the street fair is on public right of way, police officers and city marshals are hired at overtime rates to provide security, Arin said.
Whirlygig's funding comes from corporate sponsors, donations, grants and the city of Las Vegas, but that funding has been strained for some time. In the past, the event has been scaled back in the slower summer months, but this year, conditions are such that a break became necessary, Arin said.
"It's kind of the perfect storm," she said: a combination of higher security costs, lower contributions and the need for the organization to find a more stable way to operate.
"The only reason we're doing this is to make the event better," Arin said. "We want everyone to succeed. That's why I thought the pushback was surprising. I thought we would be applauded for this kind of forward thinking."
Some people are applauding, but it's because Whirlygig is on hiatus.
The Gypsy Den's Katie Cewe, for example, said she's happy about it, because at last month's First Friday, her business on Colorado Street was fenced out of the festival. Previously, an opening was left so that people could go straight to her club from the street fair.
Cewe said she has clashed with Whirlygig over her events, which have live music and serve liquor and food.
"I basically get all the same permits as them every month and have my own First Friday," she said.
"It's a lot of work. It's a lot of kids. I have a love-hate relationship with it. But it's gotten to where that's how people make money, because hardly anyone comes down here the rest of the month."
She and other nearby business owners are organizing and may take over some of the functions Whirlygig did. Cewe said she's arranging for portable toilets for the next First Friday, and people are meeting to see what permits and other preparation they'll need.
One of those businesses is The Box Office gallery on Casino Center Boulevard. The owner, who goes by the name Cion, said the gallery may try to start a new event on Saturday.
He said the development may be a "blessing in disguise."
"It's basically telling the vendors and the galleries that you need to take control of your destiny," he said.
"I'm an optimist. It's going to be a few less people, but I think people are habitual. They're used to coming down, and with each gallery showcasing what they're doing, it's going to be a draw."
While Cion said he was aware of the criticism lobbed at Whirlygig and Funkhouser, he didn't join in. The nonprofit is putting forth effort and taking on risk to manage the event, he said, and he doesn't blame them for wanting to exercise some control over what goes on.
"She's a capitalist. So is Wes. So am I," Cion said. "We're all in this to make money. The challenge is to do it as a district, as a group."
City leaders did not weigh in on the conflict, instead offering general support for the future of First Friday.
"First Friday has been a great success in the Arts District and for downtown Las Vegas," Mayor Carolyn Goodman said. "Traditionally, the hotter summer months have been when the event has seen smaller crowds, so I'm glad that organizers are taking this time to refine the event and bring it back better than ever."
Councilman Bob Coffin, whose ward includes the Arts District, echoed her comments and said he'll be meeting with First Friday participants soon.
Brett W. Sperry, owner of the Brett Wesley Gallery and a member of Whirlygig's board of directors, said the lack of a street fair won't hurt anyone come Aug. 5.
"There are a lot of events planned and they're going to continue," Sperry said.
"I don't really see it impacting us at all. Last year and the year before, First Friday shrank. We've seen that before, and it didn't really affect the galleries and people showing their work."
Isbutt, meanwhile, predicted a "typical" turnout Aug. 5 of 5,000 to 6,000 people, although the media coverage of the rift might push that number higher.
"If we had known we would've gotten this kind of press," he said, "we'd cancel it every month."
Contact reporter Alan Choate at achoate@
reviewjournal.com or 702-229-6435.