Figure in Review-Journal sale becomes an issue in Las Vegas Sands lawsuit
January 12, 2016 - 11:28 pm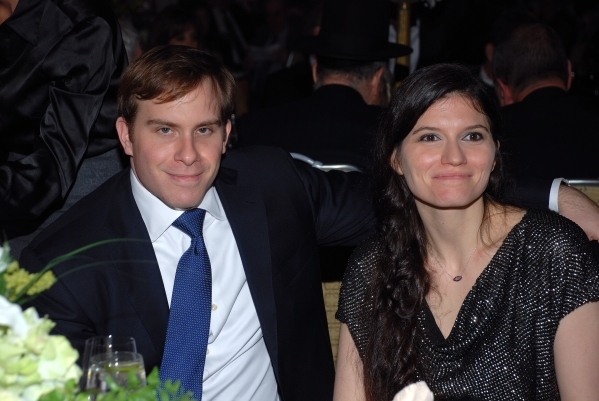 A disgraced Connecticut newspaper owner associated with casino mogul Sheldon Adelson's recent purchase of the Review-Journal has emerged as a figure in a long-running lawsuit that involves allegations that Adelson tolerated organized crime ties at his properties in Macau.
In a deposition Monday, Adelson's son-in-law, Patrick Dumont, refused to answer any questions about contact with Michael Schroeder, owner of Central Connecticut Communications. Dumont, vice president of finance and strategy for Las Vegas Sands Corp., was being questioned by a lawyer representing Steven Jacobs, a former Sands executive in Macau who alleges he was wrongfully terminated for trying to distance Sands from illegal activities in the Chinese gaming city.
Dumont's lawyer on Monday blocked questions regarding any discussion his client may have had about the case with Schroeder, who in December was briefly named "manager" of the Review-Journal.
Schroeder's role in the Adelson family's RJ purchase is significant because one of his Connecticut newspapers published a long article that was critical of Clark County District Judge Elizabeth Gonzalez, who is presiding over the Jacobs case. The article bore a false name associated with Schroeder.
At about the same time, three RJ reporters were ordered by GateHouse Media, the paper's former owner, to monitor Gonzalez and two other judges in Las Vegas. No explanation was ever given for the assignment, which came as the sale of the paper and a contract for continued GateHouse management was being finalized.
Legal and media ethicists have speculated that the article in Connecticut and the judicial monitoring in Las Vegas were related to efforts by Adelson's attorneys to have Gonzalez removed from the case.
JUDGE APPROVES QUESTIONS
At a court hearing Tuesday morning, Gonzalez said Dumont's lawyer, Hersh Kozlov of New Jersey, had acted "inappropriately" under Nevada law when he directed his client not to answer questions about discussing Jacobs or his wrongful termination case with Schroeder.
"I have overruled and stricken any direction not to answer," the judge said.
Attorney Todd Bice, who represents Jacobs, posed the deposition questions regarding Schroeder, who has acknowledged that he assigned, edited and published the Dec. 2 story that criticized Gonzalez's handling of the wrongful termination case.
The story, which appeared in his New Britain Herald, has raised eyebrows because Adelson's family purchased the Review-Journal on Dec. 10 through its Delaware-domiciled News + Media Capital Group and installed Schroeder as a "manager." The story contained plagiarized passages and made-up quotes, and was published under the pseudonym Edward Clarkin.
Dumont orchestrated the Adelson family's purchase of the newspaper.
The Review-Journal obtained a copy of 136-page rough transcript of the Monday deposition from the District Court clerk's office.
During the deposition, Dumont denied discussing Jacobs or his case with anyone in the media. He specifically denied discussing the case with Review-Journal Publisher Jason Taylor and GateHouse Media CEO Kirk Davis.
But a question about whether Dumont had discussed the litigation or Jacobs with Schroeder prompted the first objection from Kozlov.
"I don't want to interfere, but I'm trying to understand the implication of your question with regard to shield law privileges," Kozlov told Bice. "So I understand that there is Mr. Schroeder who is a journalist who has certain privileges in the state of Connecticut. Are you inquiring of any communication under that that might be encompassed by such a privilege?"
Shield laws generally help protect reporters from being forced to reveal confidential sources.
"I don't believe any shield privilege that I'm aware of would apply to Mr. Dumont," Bice replied. "… Might apply to a reporter who can invoke the privilege to avoid answering questions, but people that communicate with them cannot."
Kozlov later told Bice he considered the question irrelevant and "beyond the scope of the deposition."
In court on Tuesday, Gonzalez said Nevada law allows an attorney to instruct a witness not to answer a deposition question only in light of privilege or harassment.
For instance, attorney-client privilege protects communication between an attorney and client from being disclosed without the client's permission. Dumont cited that privilege in declining to answer several questions during his deposition.
Based on Kozlov's advice, Dumont also declined to answer a question about whether he had participated in drafting any news stories about Jacobs or his lawsuit, and another question about whether Las Vegas Sands Corp. had taken any disciplinary action against him concerning his activities with Schroeder.
JACOBS FIRING
Jacobs, former president and CEO of Sands China, filed his lawsuit in 2010 against Sands China Ltd., Las Vegas Sands Corp. and Adelson himself. Jacobs claims Dumont was involved in his termination.
The lawsuit also includes a defamation claim. Jacobs has accused the defendants of waging "a public relations campaign to smear and spread lies about" him.
At the Monday deposition Bice argued that communication with news media about Jacobs should be "fair game" because it "may very well demonstrate additional malice that relates to the defamation claim."
In March, Gonzalez ordered hefty sanctions against Sands China for improperly withholding documents in the case.
Sands China also has asked for the case to be reassigned to a different judge, arguing in a motion that Gonzalez's rulings "continue to evidence this jurist's bias and hostility toward defendants and further calls into question her ability to preside over this case as an impartial judicial officer."
The Nevada Supreme Court denied the request in November. The case is scheduled for trial in June.
At Tuesday's hearing, Kozlov argued that Gonzalez should recuse herself from ruling on matters related to news articles about her. The judge told Kozlov to file a motion if he thinks she should refrain from ruling on an issue.
Gonzalez overruled Kozlov's instructions to Dumont regarding questions about Schroeder but stopped short of ordering Dumont to answer the questions. She said future disputes that involve asking Dumont whether he discussed the Jacobs litigation with news media would first go to the discovery commissioner and then, if appealed, to District Judge Jennifer Togliatti.
Bice told the Review-Journal that Dumont's deposition continued Tuesday, and "there weren't any calls to any judges." He would not say whether Dumont had answered any of the questions he had refused to answer Monday.
Attorney Stephen Peek, who represents Las Vegas Sands and Sands China, could not be reached for comment after Tuesday's hearing.
Contact reporter Carri Geer Thevenot at cgeer@reviewjournal.com or 702-384-8710. Find her on Twitter: @CarriGeer