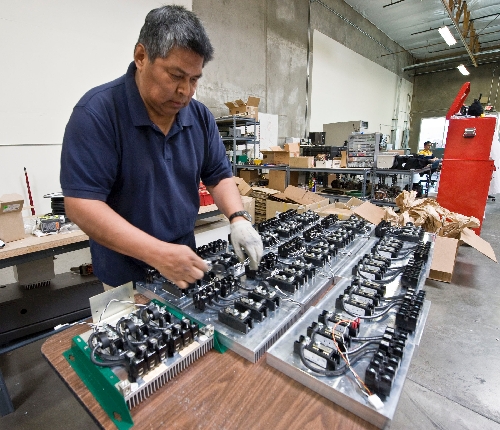 If only more penny-stock company executives showed the kind of commitment that Donald McGhan had to MediCor Ltd., a Las Vegas-based manufacturer of breast implants.
MediCor Chairman McGhan was willing to steal $54 million to keep the Over-the-Counter Bulletin Board company going, but it all ended for naught.
Meanwhile, Samaritan Pharmaceuticals and CardioVascular BioTherapeutics Inc., both of Las Vegas, are doing business, but it's hard to tell how well. Samaritan Pharmaceuticals hasn't filed financial reports with the Securities and Exchange Commission for two years; CardioVascular BioTherapeutics hasn't reported financial results to the SEC in three years.
These are just some of the locally based companies with publicly traded penny stocks that investors buy and sell on the Over-The-Counter Bulletin Board or the Pink Sheets.
Investors can find gold nuggets amid the penny-stock rubble, but analysts said it's easier to get burned than it is to make money.
"Anybody who wants to play these stocks has to be willing to lose their entire investment," said Harvey Cohen, a retired executive who helped numerous small companies go public with stock offerings.
He was chief financial officer of Vegas Chips, a potato chip company that earned a listing on the Nasdaq and had its products carried by Vons supermarkets around 1990. But the company got bloodied trying to compete with big-name national brands and eventually was sold, Cohen said.
Investing in penny stocks is more akin to betting on roulette or playing the lottery than it is to buying and holding billion-dollar blue-chip companies with names known around the world.
"It's a huge risk," Cohen said. "Four out of five (penny stocks) have to be outright frauds."
In good times, penny-stock promoters try to appeal to people with extra money for investments, Cohen said.
"When times are bad, everybody hopes and dreams and they think they can turn $1,000 into $10,000 with a penny stock," Cohen said. "This has to be money you can afford to lose."
Jag Mehta, a chartered financial analyst and adjunct professor of finance at the University of Nevada, Las Vegas, invests in some small-cap stocks, but he warns that investors must do continuous in-depth research to find worthy companies.
"Generally, I tell people to stay away from penny stocks," Mehta said. "They are companies you know little about."
Instead, Mehta suggested that casual investors invest in mutual funds that hold small-company stocks. He recommends Pinnacle Value Fund (ticker: PVIX), Wasatch Micro Cap Fund (ticker: WMICX) and Wasatch Microcap Value Fund (ticker: WAMVX).
But investors with the expertise and diligence to research small-cap companies can find gems that Wall Street analysts haven't noticed, Mehta said. He screens data from the American Association of Individual Investors to find small-cap stocks that have solid financials.
He mentioned one jewel he found: Elron Electronics Industries (ticker: ELRNF.PK, Pink Sheets), an Israeli company with $60 million in cash.
"This company has been in business for the last 49 years," Mehta said in an email. "It pays extraordinary large dividends every time it has a large amount of cash collected. It is an unusual company."
On the other hand are penny stocks like McGhan's MediCor Ltd., the breast implant manufacturers.
McGhan, 77, is serving a 10-year sentence for wire fraud at the Bastrop Federal Correctional Institution in Texas.
A lawsuit filed in January by the Securities and Exchange Commission blames McGhan and his son, Jimmy Joe McGhan, also of Texas, for diverting $54 million of real estate investors money into MediCor. The elder McGhan was MediCor's chairman; his son was MediCor's chief operating officer.
The money came from investor clients who entrusted Henderson-based Southwest Exchange with money from the sale of real estate so they could delay income taxes on capital gains. Donald McGhan also controlled Southwest Exchange.
MediCor, which had shares traded on the Over-the-Counter Bulletin Board, filed for bankruptcy in 2007 after Southwest Exchange was closed and MediCor lost is primary source of money. MediCor was dissolved in November.
Las Vegas seems to attract medical companies. Samaritan Pharmaceuticals (ticker: SHPC.PK, Pink Sheets) and CardioVascular BioTherapeutics (ticker: CVBT.PK, Pink Sheets), both of Las Vegas, have penny stocks. Neither has filed any recent financial reports to the SEC, however, so it's difficult to know how well they're faring.
In a telephone interview, Samaritan Chief Financial Officer Eugene Boyle was repeatedly asked why the company didn't regularly make public reports of financial results and refused to answer. Boyle said the Las Vegas Review-Journal should find a securities attorney and ask that attorney about Samaritan's lack of recent financial statements.
Samaritan's last 10-K or annual report filed with the SEC showed that $100 invested with the company at the end of 2003 was worth $3.15 at the end of 2008.
In a February 2008 statement, the Las Vegas company said its sales revenue was growing but failed to disclose how much sales grew or quantify total sales.
CardioVascular last reported to the SEC on financial results for the nine months ended in September 2008. CardioVascular lost $4.7 million during that span. The company reported $574,000 in assets and a shareholder deficit of $12 million. The voice mail for CardioVascular spokeswoman Allison Caplan was full and she didn't respond to an email.
Securities lawyer Ira Levine of Levine Garfinkel & Katz said companies with stock traded on the Over-the-Counter Bulletin Board are required to file regular financial reports, as provided in the Securities and Exchange Act of 1934.
Some companies with stocks traded on the Pink Sheets aren't required to file financial reports with the SEC, he said. However, Pink Sheets companies must file regular reports if they have more than $10 million in assets and more than 500 investors, he said.
Samaritan and CardioVascular shares are traded on the Pink Sheets.
CardioVascular in December licensed Phase II diabetic wound-healing data from Merck Sharp & Dohme Corp., a subsidiary of Merck & Co., to use in developing pharmaceuticals.
Other penny-stock companies in Southern Nevada include MK Automotive, American Wagering and Power Efficiency Corp. All three companies have shares trading for less than a dollar.
Power Efficiency Corp. (ticker: PEFF, Pink Sheets) makes controllers for electric motors, including those used for escalators. Chief Financial Officer BJ Lackland said the company's equipment has been installed at the Las Vegas Convention Center, McCarran International Airport and U.S. Capitol Visitor Center.
The company lost $3.3 million last year, down from $4.2 million in the prior year. Revenues totaled $577,000, up from $293,000 in the prior year. The company said it had a $2.7 million cash deficiency at year-end 2010 and has reported recurring losses from operations.
"Our auditors have stated that these factors raise substantial doubt about our ability to continue as a 'going concern.' " the company stated in its annual report.
Power Efficiency's annual report said it needs to develop new products, find new customers and boost sales to existing customers to become profitable. The company is trying to raise additional capital.
Before investing in a company, Cohen said he insists on having audited financial reports, preferrably from a major national or regional firm. BDO USA, a national firm, audited the company's financial results.
However, even audited financials may be bogus, Cohen warned.
The SEC in 2009 charged certified public accountant Michael Moore of Las Vegas of securities fraud for issuing false audit reports for 300 penny-stock companies. Moore agreed to a final judgment enjoining him from future violations, to disgorge $190,000 and to pay a $130,000 penalty.
Cohen noted that Power Efficiency was thinly traded. The company had the 11,200 shares traded on March 21 and a closing price of 11 cents, and Cohen figured that transactions for the day totaled approximately $1,400.
"If the broker tells you to buy it, hang up and change your number," Cohen said, laughing.
MK Automotive of Las Vegas (ticker: MKAU, Over-the-Counter Bulletin Board) franchises auto repair shops that do business as Mike's Master Mechanics. Company spokesman Richard Groberg said MK Automotive has four franchised locations and operates six company-owned locations.
President Michael Murphy and Secretary-Treasurer Tracy Maurstad are married. The company started as a private corporation in 2002.
Mike Murphy and director Thomas Kubik own 87 percent of the company's outstanding common stock. The company reported $3.4 million in net sales for the nine months ending Dec. 31, down from $3.5 million in the same period of the prior year.
The company almost broke even with a $5,600 loss for the nine months ended Dec. 31, compared with a loss of $347,000 a year earlier.
Contact reporter John G. Edwards at jedwards@reviewjournal.com or 702-383-0420.