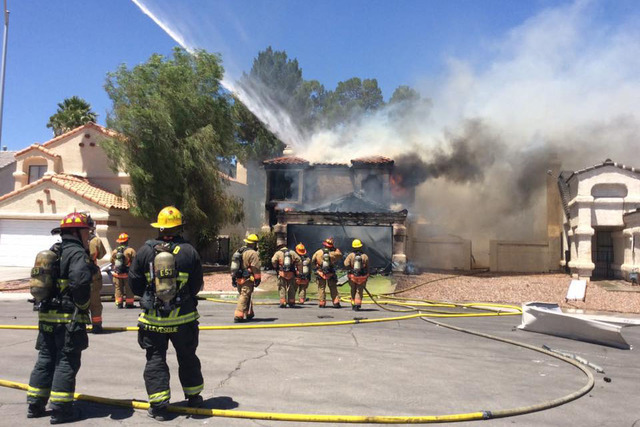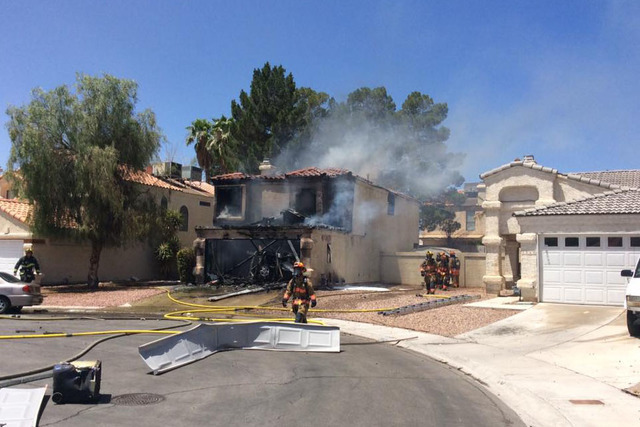 A fast-moving fire in a northwest valley home Wednesday morning triggered the subsequent explosion of stored ammunition and fireworks in the garage, officials said, causing an intense and active blaze that took crews more than an hour to extinguish.
The fire started about 11 a.m. in the 3944 Coconut Court home, near Rainbow Boulevard and Alexander Road. Only one person lived at the home, and he was not injured, Las Vegas Fire Department spokesman Tim Szymanski said.
When the fire started, the homeowner was upstairs, That's when the man heard a loud boom from below — "similar to bookshelves falling off the wall" — and went downstairs to check it out, Szymanski said.
By then, the garage was already engulfed in flames.
Those flames quickly leapt into the home's neighboring laundry room, then living room. The man grabbed his dog and ran into his backyard.
As crews were on the way, ammunition and fireworks that the man stored in his garage started exploding, feeding the flames, Szymanski said.
Though the man ran out back, he'd left his keys inside, so as the fire spread, he and his dog were trapped in the locked backyard. Firefighters rescued them both, then spent the next hour battling the blaze.
The fire was so intense that police had to block off nearby Alexander Road at one point because the dense smoke caused zero visibility for drivers, Szymanski said.
"Although there was an unusually large amount of ammunition and fireworks in the garage along with gasoline, fire investigators do not believe they were cause of the start of the fire," Szymanski said, adding that it "appears to be accidental in nature."
The blaze caused $200,000 in damage and destroyed almost everything inside, including the man's car, parked in the garage.
"Even after the fire was completely extinguished, it was still too hazardous for fire investigators to enter the house," Szymanski said. "A fence is being erected around the house to keep people out."
The homeowner did not have any local relatives, so Szymanski said Southern Nevada Red Cross volunteers are assisting him and his dog.
Contact Rachel Crosby at rcrosby@reviewjournal.com or at 702-387-5290. Find @rachelacrosby on Twitter.
UPDATE: House fully involved, flames thru roof, defensive operation, everyone out, no inj's TOC: 11:00AM PIO1 pic.twitter.com/Dubr4C8PJe

— Las Vegas FireRescue (@LasVegasFD) June 15, 2016