First portion of Centennial Bowl interchange opens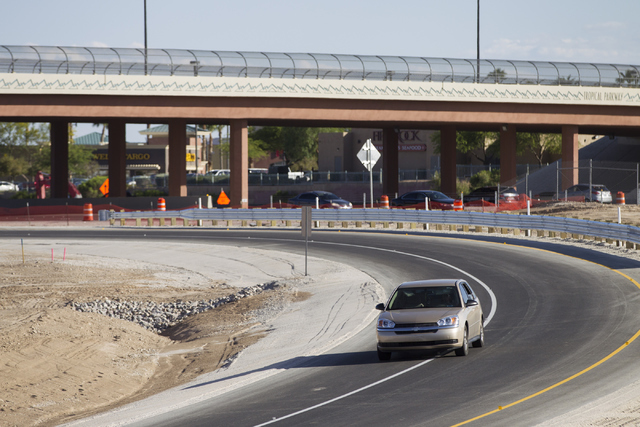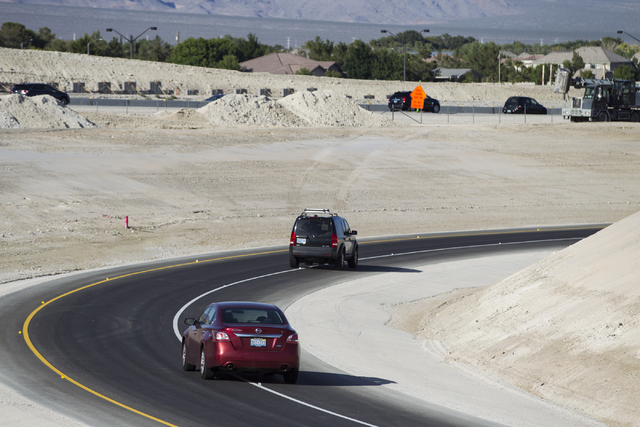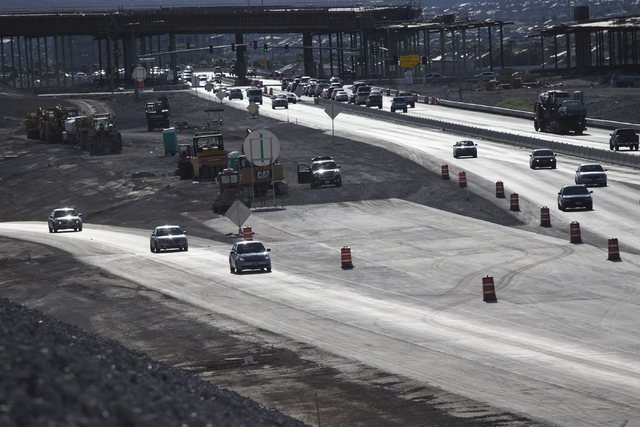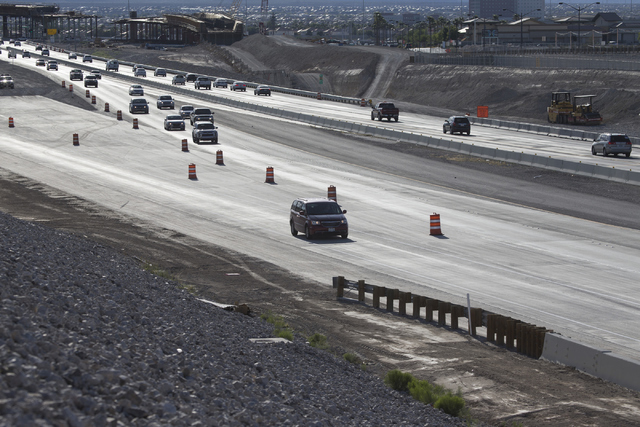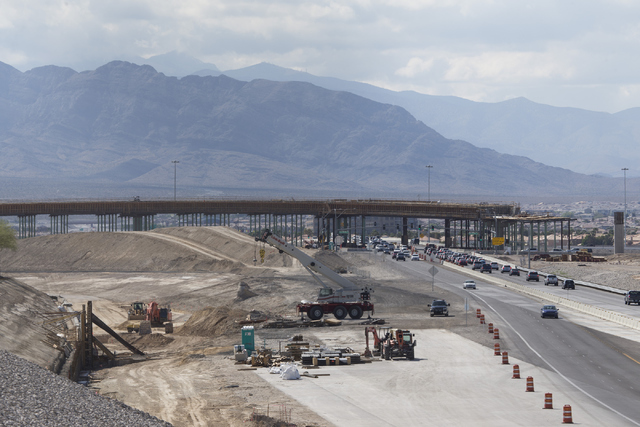 Some commutes to northwest Las Vegas got a little easier Friday when a new ramp in the $47 million Centennial Bowl project opened to traffic just in time for the long Memorial Day weekend.
Nevada Department of Transportation crews opened a ramp that will move traffic from northbound U.S. Highway 95 to the eastbound 215 Beltway late Friday afternoon.
It's the first portion of a freeway interchange that is expected to become the second busiest in the state behind the Spaghetti Bowl crossing of U.S. 95 and Interstate 15. Transportation officials say about 107,500 motorists use the Centennial Bowl every day.
The new ramp gives motorists heading east on the Beltway an easier and faster route. Eastbound traffic has been required to exit at a ramp connecting to Buffalo Drive and Sky Pointe Drive near the Centennial Crossroads Plaza shopping center.
New @nevadadot roads opening up near Centennial Bowl just in time for Memorial Day! #lvward6 pic.twitter.com/59WSwsRgTP

— City of Las Vegas (@CityOfLasVegas) May 27, 2016
Motorists exiting there had the option of using a cloverleaf loop ramp to go west onto the Beltway or onto Sky Pointe, which eventually connects to the Beltway at a signalized intersection. Those exit options will remain open.
Now, traffic should move freely on the single-lane ramp without a stop at the Sky Pointe signal. Traffic using the new swoosh-shaped ramp will be required to yield the right of way to existing eastbound Beltway traffic.
The second big piece of the interchange is still several months away from completion. A large portion of a flyover ramp that will take westbound Beltway traffic to southbound U.S. 95 is built, but completion isn't planned until early 2017.
That's the two-lane, 2,365-foot flyover that arcs 60 feet high over the six lanes of U.S. 95 and is supported by 10 8-by-6-foot columns that are anchored 80 feet deep.
Work began on the Centennial Bowl project in summer 2015 with crews first installing a series of drainage tunnels beneath the surface. The ramp that opened Friday was considered one of the easiest portions of the project because it was off the main highway and required no road closures.
Portions of U.S. 95 had some lane restrictions in recent months as crews prepare for a collector-distributor network that will make entrance and exit to and from the main highway easier.
Even when the $47 million project is completed next year, the interchange will still lack some critical roadway. A separate project to build a ramp connecting southbound U.S. 95 to the eastbound Beltway was left out of the current project because it wasn't deemed a critical need and there wasn't enough funding available to do it.
The planned new Centennial Bowl improvements will likely be a selling point for the November public vote to extend fuel revenue indexing for another 10 years. A three-year indexing plan that has raised the fuel tax by 10 cents a gallon ends in December unless voters approve the extension in November.
Transportation officials say if the extension is approved, the full interchange might be done within four years. If it isn't, it could take 16 years to accumulate the funding necessary to build the rest of the project.
While streets around the Centennial Bowl project have been closure-free for most of the past six months, some night closures are scheduled next week.
Sky Pointe Drive will be closed between 9 p.m. and 5 a.m. Tuesday through Friday. The closure will occur between Sky Pointe and the ramp to the westbound Beltway to install a temporary support structure while a permanent bridge is built for Sky Pointe over the Beltway. The northbound U.S. 95 to the westbound Beltway will remain open.
Contact Richard N. Velotta at rvelotta@reviewjournal.com or 702-477-3893. Find @RickVelotta on Twitter.
RELATED
Centennial Bowl could see completion by 2017
Centennial Bowl interchange project starts