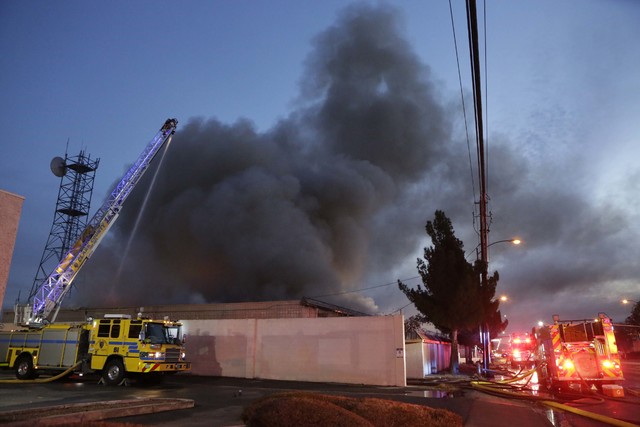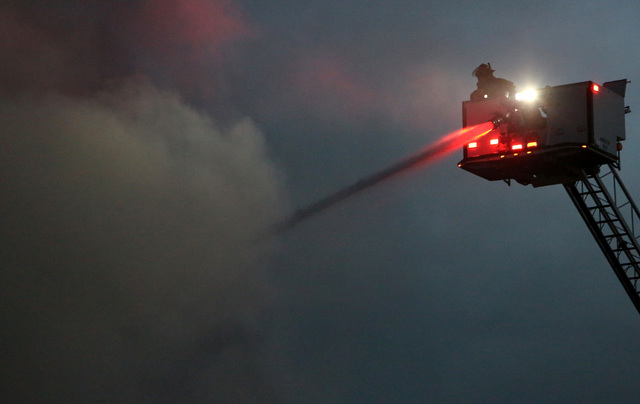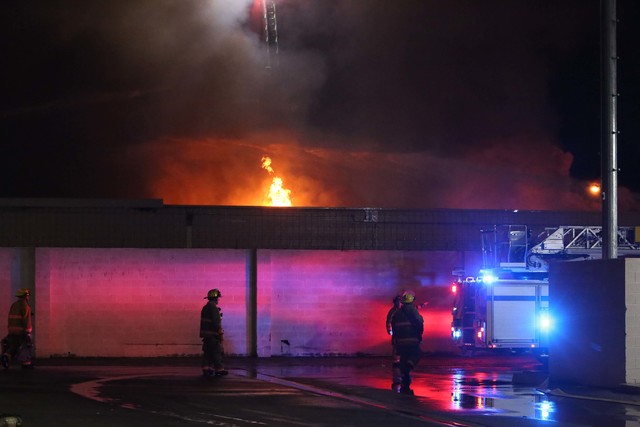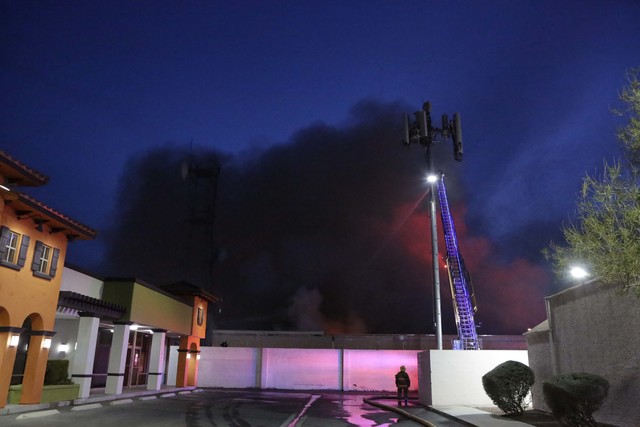 Clark County and Las Vegas fire department crews spent 13 hours battling a large fire in the southeast Las Vegas Valley that broke out early Wednesday morning.
Clark County Fire Department personnel conluded fire suppression activities to the vacant 3350 E. Desert Inn Road buildling about 3:50 p.m., according to the department.
When firefighters initially arrived about 3 a.m., they could see flames shooting from the center of the two-story section of the building, Clark County Fire Department Battalion Chief Thomas Touchstone said.
The outer portion of the building was fortified with concrete walls and heavy gates and doors. Fire crews had to cut through the gates and doors. By the time crews were able to assess how to attack the fire, they decided to fight it defensively, mainly because there was no "immediate life safety issues."
About 5:30 a.m., the roof of a building collapsed, allowing firefighters a direct line to fight the fire with water.
The abandoned NV Energy building hasn't been occupied for several years and is known to be a place of refuge for vagrants, Clark County Fire Department said in a statement.
Thick black and gray smoke shrouded the building as flames were visible from the roof.
Heavy, heavy smoke. Near Desert Inn and Pecos pic.twitter.com/Fotc69rzEZ

— Mike Shoro (@mike_shoro) December 14, 2016
At the time of the fire, Touchstone said there was no indication anyone was inside and that the building was a vacant hybrid one- and two-story structure.
Fire crews were somewhat familiar with the building, having inspected it previously as a possible fire hazard and because squatters had inhabited the building.
Angle from Desert Inn near Pecos pic.twitter.com/J08JfvcCKI

— Mike Shoro (@mike_shoro) December 14, 2016
After interior conditions were made safe to enter Wednesday afternoon, two separate searches were conducted with specially trained cadaver dogs, said Clark County Fire Department spokesman Jeff Buchanan. Both searches indicated no injuries and no deaths as a result of the 13-hour blaze.
Damages to the building have not been estimated.
Reporters Rio Lacanlale and Rachel Hershkovitz contributed to this story. Contact Mike Shoro at mshoro@reviewjournal.com. Follow @mike_shoro on Twitter.