Flood of problems slows massive sewer project
December 20, 2015 - 3:16 pm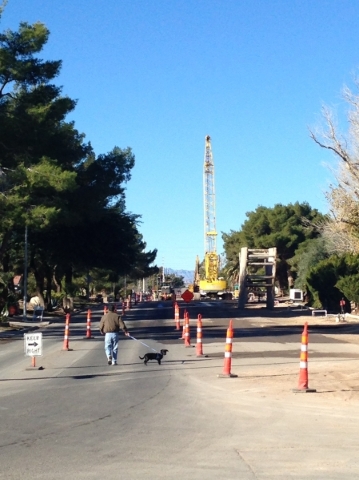 Forty feet below a busy intersection near McCarran International Airport, a $150 million sewer project is being swamped by a problem you might not expect in the nation's driest city.
A surplus of groundwater is pouring into the construction zone, slowing excavation and causing segments of reinforced fiberglass pipe 5-feet wide to float out of position.
Contractors along roughly two-thirds of the 13-mile work area are using pumps to keep their trenches and access shafts clear. Over a nine-month period this year, those pumps pulled almost 340 million gallons of groundwater from the shallow aquifer and dumped it into storm channels to flow downstream to Lake Mead.
That's enough water to supply more than 2,000 average valley homes for a year, but right now it's making things difficult for the massive construction project, which already is causing headaches for residents and business owners in the area.
"It's literally the shallow water table we're drilling through," said Tom Minwegen, general manager for the Clark County Water Reclamation District.
Work began late last year on the Paradise-Whitney Interceptor, a new main sewer line that will run along a jagged line stretching from Valley View Boulevard and Serene Avenue in the southwest valley to Nellis Boulevard and Flamingo Road in the east. The finished pipeline, some of it 6 feet in diameter, will cross beneath Interstate 15, the 215 Beltway and U.S. Highway 95.
"This is the biggest pipeline project this agency has ever done," Minwegen said.
It's so big, the district decided to break it into three sections, each with its own contractor, to "get the pain over with" all at once instead of stretching it out for almost a decade, Minwegen said.
Under the current contracts, two of the three sections are slated for completion by January 2017, and the entire project is supposed to be done by December 2017. Minwegen said it's unclear how the current struggles will affect that schedule.
The biggest trouble spot is at Sunset Road and Eastern Avenue, which has been a cone-strewn mess since early in the year and is expected to remain that way for at least a few more months.
District spokeswoman Kim Adler said she has been fielding calls from businesses in that area that are desperate to see the orange signs and barriers disappear.
"Their frustrations are totally understandable, and we're working with the contractor to get out of there as quickly as we can," Adler said.
Minwegen said district staff has been meeting with the contractor to discuss the "poor performance and progress" at Sunset and Eastern and find a way to move things along.
"We know we're impacting the traveling public and the businesses," he said. "Believe me, we are not trying to sit idle here."
Adding to the public's frustration is the appearance of inactivity — lanes blocked off or whole stretches of road closed with no sign of construction. But Minwegen said the work is being done underground, much of it using remote-controlled tunneling machines that don't require an open trench. "(People) don't see the progress," he said, but progress is being made.
All the traffic cones and detours are certainly annoying to 36-year Las Vegas resident Judy Combs, but she said what really bothers her is all the "clean, clear water" she sees flowing from the construction area into the storm channel along Rawhide Street near her east valley home.
"I'm not the greatest conserver, but when you watch water running for three months and you know it's going to waste, it hurts," Combs said. "If I wasted even a tenth that much water, I'd be in jail. Or at least (given) a ticket."
Technically, Minwegen said, the water isn't being wasted. It eventually makes its way downstream to the Las Vegas Wash and on to Lake Mead, where it becomes part of the water supply for the community and the region as a whole.
And workers have no choice but to pump it from the ground, he said. The new sewer line would be impossible to build otherwise.
Minwegen has some good news for Combs and others living near the work zone: No project like this should ever be needed again in their neighborhoods. The Paradise-Whitney Interceptor will more than quadruple the capacity of the existing sewage collection system in that part of the valley, providing more than enough room for growth no matter what gets built on the remaining vacant land there.
"Since you're doing such a large project," Minwegen said, "it makes sense to only do it once."
— Contact Henry Brean at hbrean@reviewjournal.com or 702-383-0350. Follow him: @RefriedBrean