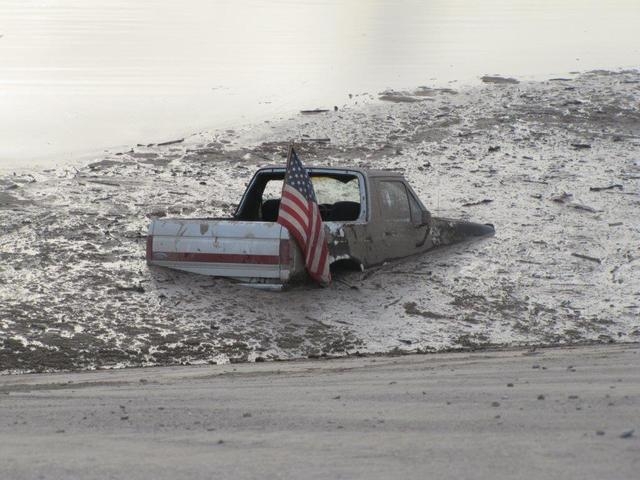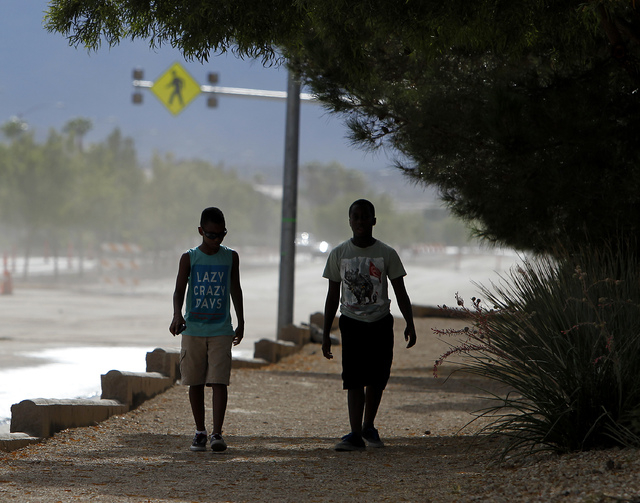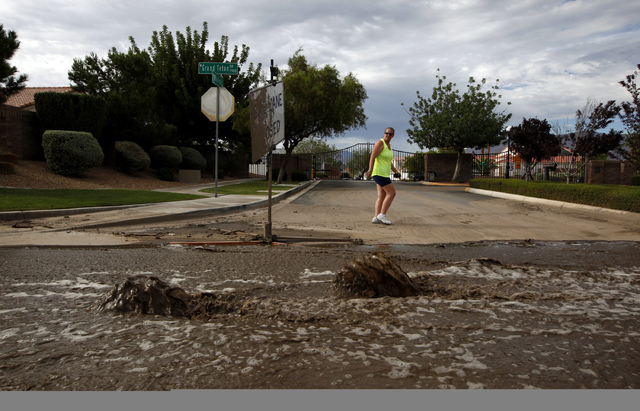 An inch and a half of rain fell on Mount Charleston on Monday afternoon, which led to additional flooding on Grand Teton Drive, east of U.S. Highway 95, according to the Regional Flood Control District.
National Weather Service meteorologist Eric Outler said the monsoon conditions are expected to last through the week. Following Sunday's pattern, rain didn't fall until just before 9 p.m. Monday. Instead of the east valley seeing the first showers, the southwest side of town got the evening's first storm.
Nearly an inch of rain was recorded in the southwest in about 15 minutes. A flash flood warning was issued for the area until 11:15 p.m.
The weather service had issued a flash flood warning for the eastern Carpenter 1 burn area on Mount Charleston on Monday but it ended before 5 p.m.
Erin Neff, a spokeswoman for the flood control district, estimated it takes about three hours for that water to run down into the valley.
On Sunday, floodwater rose up to 8 feet high in the Kyle Canyon Detention Basin, and two trucks got stuck in the rushing water and mud. The water wants to go to Lake Mead, and Grand Teton is a natural route for it, Neff said.
People need to be cautious on the roads during monsoon weather, she said.
The weather service's measuring station at McCarran International Airport recorded only trace amounts of precipitation from Sunday's storms, but Outler said other parts of the valley, particularly Henderson, got about three-quarters of an inch.
While the Flood Control District is working to construct storm drains and other flood systems, they don't have storm drains completely in place to lead the water all the way to Lake Mead.
Neff said the project to relieve the Grand Teton area of its flooding issues is proceeding on schedule, but it's not scheduled to be completed until May.