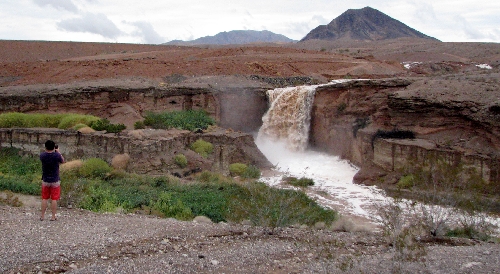 A nearly 100-foot waterfall sprouted on the east side of Lake Las Vegas during Wednesday's storms, but there's no need to rush out and buy sandbags.
"It was a planned event," said Steve Parrish, engineering director for the Regional Flood Control District. "It wasn't something that really surprised anybody. And it's doing what it's supposed to be doing."
Parrish can remember only one other time when a waterfall spewed from the Henderson lake. Normally, water flows from the Las Vegas Wash into two large pipes under the lake and back out into the wash downstream of the dam.
"But during storm events, those two pipes can't handle the larger flows, and so what they do then, to keep the lake from overtopping the dam, they have some spillways they put in that they open up," Parrish said.
From there, the water goes back into the wash and drains into Lake Mead.
"It's just a way of protecting the dam," Parrish explained.
He said the flood control district neither constructed nor maintains the system, which is part of a private development.
While the waterfall looks impressive, Parrish warned that the area is unstable.
"I would certainly stay away from it while it's flowing," he said.
He later added, "We want you to stay away from every wash – not just this one."
Parrish noted that authorities continued to search Thursday for a 17-year-old boy who was last seen Wednesday in the Pittman Wash in Henderson.
The National Weather Service reported that more than 1½ inches of rain fell in a one-hour span Wednesday in Henderson.