Food trucks compete for Vegas locations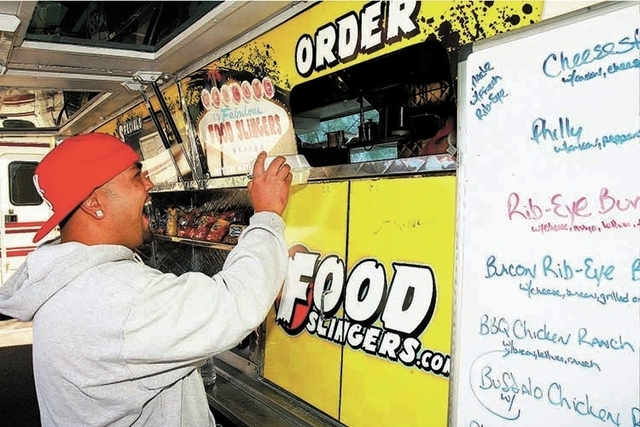 There are all kinds of lotteries and this one is for food truck operators who want to vie for four downtown spots.
To be a winner, operators must register for the lottery by 5 p.m. Monday.
The excitement will build when the winners are announced at 9 a.m. Thursday at Las Vegas City Hall.
Registration occurs at the city of Las Vegas Parking Services Office, 500 S. Main St. Office hours are 7:30 a.m. to 5:15 p.m. Monday to Thursday and 9 a.m. to 5 p.m. Friday and Saturday.
The drawing is restricted to companies currently licensed to operate mobile food vending trucks inside the Las Vegas city limits. Entries will be limited to one per company. There is a non-refundable fee of $50 per licensee to enter the lottery.
The mobile food vendor license is not a privileged license and can be obtained online at www.lasvegasnevada.gov/business or by contacting business licensing at 702-229-6281.
Spaces available through the lottery include 200 Lewis Ave. in front of the Regional Justice Center; 335 Ogden St. at the corner of Fourth Street and Ogden; 388 Promenade Place (for one food truck and one dessert truck in the city parking lot for Discovery Children's Museum in Symphony Park); and the 1900 block of Goldring Avenue (for one food truck and one dessert truck near University Medical Center Trauma Center and the Children's Hospital of Nevada).
For more information on the lottery, call 702-229-6863.
Contact Jane Ann Morrison at jmorrison@reviewjournal.com or 702-383-0275. Find her on Twitter: @janeannmorrison.