Former Colorado River Commission Director Jack Stonehocker dies
August 24, 2016 - 5:02 pm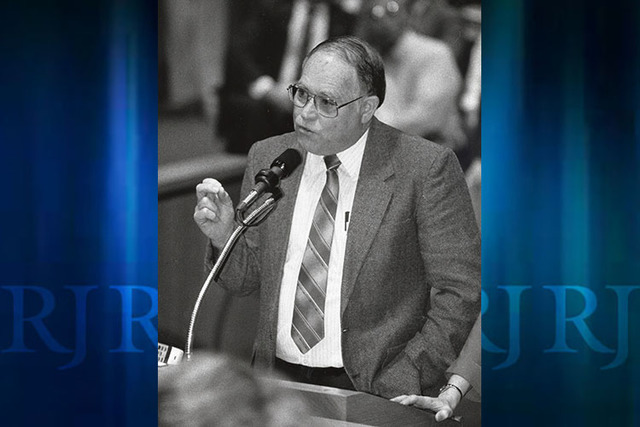 Jack Lee Stonehocker, who helped shape the valley's water and power supplies as director of the Colorado River Commission of Nevada, has died at age 83.
Stonehocker led the state agency responsible for managing Nevada's share of Colorado River water and hydropower during a crucial period in the community's development.
During his tenure as commission director from September 1983 through January 1992, he oversaw a dramatic increase in the amount of energy the state got from Hoover Dam and helped negotiate the creation of the Southern Nevada Water Authority in 1991.
"Jack dedicated his life to protecting Nevada's water and power interests on the Colorado River," said former water authority chief Pat Mulroy, now a senior fellow at the Brookings Institution. "He was well respected among his peers on the river and by the federal agencies with which he dealt. Nevada is better off because of Jack's work and commitment."
Stonehocker died Aug. 11 at his home in Green Valley, according to a family obituary.
He was born April 10, 1933, in Coolidge, Arizona.
After serving in the Army during the Korean War, he married Colleen Pectol on April 14, 1956, at the Mormon temple in St. George, Utah.
According to his family, he worked as a technical engineering assistant at Sperry Utah Engineering Laboratory in Salt Lake City during the late 1950s, where he helped develop inertial guidance systems used in the nation's space program and missile defense.
In the early 1960s, he co-founded EDCOR (Electronic Development Corp.), which pioneered the cordless microphone.
Stonehocker was hired as deputy director of the Colorado River Commission on Nov. 26, 1979, and appointed director on Sept. 1, 1983.
The next year, he pushed for passage of the Hoover Power Plant Act of 1984, which doubled the amount of energy allocated to Nevada and provided the state with 63 percent more energy.
He later oversaw the assignment and transfer of Basic Management Inc.'s Colorado River water entitlement to the City of Henderson in 1990.
Stonehocker is survived by his wife, Colleen; three children, Scott Lee Stonehocker, Stephen Jack Stonehocker and Stacie Lynn (Jessie) McMurtry; and seven grandchildren.
Contact Henry Brean at hbrean@reviewjournal.com or 702-383-0350. Find @RefriedBrean on Twitter.