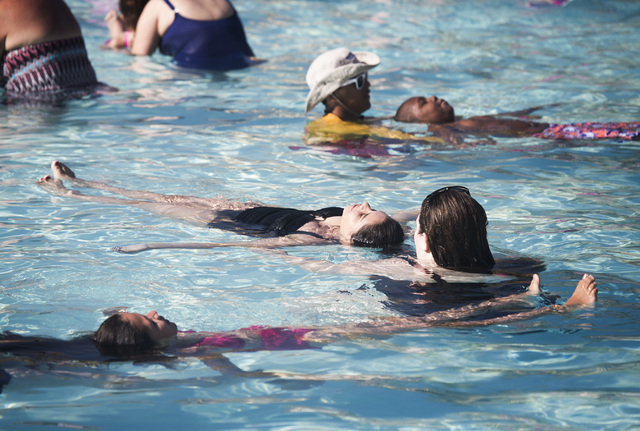 Wet n' Wild is known for its slippery slopes. But two former employees rode a crime wave straight into the tepid waters of the Clark County jail.
Las Vegas police arrested two ex-Wet 'n Wild workers and an accomplice for robbing the southwest valley amusement park of $116,000 in the early hours of Aug. 4.
Matthew Ward, 20, Nicole Vigna, 23, and Cornelius Brown, 21, are accused of breaking into the park's vault, according to their arrest reports.
Park employees immediately suspected the robbery was an inside job because the masked suspects had a vault access card and knew the safe codes.
There were two disgruntled employees that fit the description.
Vigna, an assistant manager, had quit her job just a few weeks earlier. She had access to the safe, employees told police.
Ward was fired from the park in March after being charged with fraud, the report said. Vigna and Brown, who was never a park employee, were dating.
According to police, Ward and Brown jumped the fence at 7055 S. Fort Apache Road about 5 a.m. and encountered security guard Alejandro Muro. After feigning they were "looking for somebody," they told Muro they were robbing the park.
During the robbery the men communicated with a woman on a hand-held radio, Muro told police. Detectives said Vigna was the woman.
Although they had an access card, the alarm in the vault room activated upon entry. They asked Muro for the alarm code, but the code the guard provided entered didn't work.
One man quickly kicked open a door to the safe room. The other man immediately entered the code to the safe and the pair loaded the cash into a black gym bag.
The men ran from the park, dropping several thousand dollars in the food court and next to the fence in their hurry to escape.
The entire incident was caught on the park's security cameras, the report said.
It only took police two days to find Ward. He was arrested in an Aria hotel room with $50,000, and police found Wet 'n Wild deposit slips and money bags in his car.
Ward told police he was in San Diego during the robbery, but a friend in his hotel room — an employee of Cowabunga Bay Water Park, and a former Wet 'n Wild employee — told police Ward robbed the park.
The friend said Ward had talked about robbing the park for months, but he didn't believe he'd do it. Ward's friend was not suspected in the robbery and wasn't arrested.
Brown and Vigna were arrested two days later.
Vigna admitted giving Ward the bank codes after he "hounded her" during Brown's birthday party a few weeks earlier, but she denied taking part in the crime.
They were each charged with robbery, burglary and conspiracy to commit robbery.
Contact reporter Mike Blasky at mblasky@reviewjournal.com. Follow @blasky on Twitter.