Former teacher contacted girl he kidnapped, prosecutors say
February 2, 2015 - 5:57 pm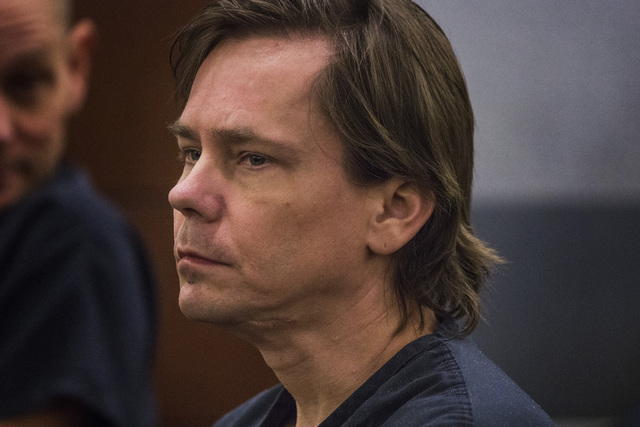 A former Las Vegas kindergarten teacher disobeyed a judge's orders to stay away from the 16-year-old girl he is accused of kidnapping for a weeks-long affair, prosecutors said.
When a judge reduced Melvyn Sprowson's bail last year to $150,000 from $650,000, he was ordered to have no contact with the teen, stay off the Internet and not contact anyone younger than 18. Sprowson posted bail and moved to Oklahoma with a family member.
Now prosecutors are asking the same judge to revoke Sprowson's bail while he awaits trial on charges of first-degree kidnapping, unlawful use of a minor in the production of pornography and child abuse, neglect or endangerment.
Last month, Sprowson reached out to the girl on Instagram, prosecutors said.
Sprowson "literally disregarded basically every condition this court placed upon him," prosecutor Jacqueline Bluth wrote. "The state is astounded at how bold the defendant's actions are. … The audacity of him to even attempt to contact her is mind-blowing."
Sprowson, now 46, is accused of having the girl send photos of herself to him and convincing her to spend two months at his home.
In late 2013, Sprowson posted an ad on craigslist.org titled "Lonely Millionaire," listing a phony age of 30, and the girl responded by telling him her age, according to court records. The two exchanged photographs before meeting at a rollerskating rink.
She later spent two nights at his apartment, and he gave the girl a "promise ring," court records state. The girl's mother took away her cell phone after discovering she had lied about where she was staying. But the girl emailed Sprowson and had him pick her up. He told her to bring her social security card and birth certificate.
In late August 2013, the girl's mother reported her as a runaway.
Sprowson planned to keep the girl at his apartment until she turned 17-and-a-half years old, so they could get married, according to the court records. He removed her from school and prohibited boys from entering his apartment while she was there, the records stated. When Sprowson did take the girl outside, he dressed her in a hat, glasses and baggy clothes.
He told the girl that "if they ever get into a position where they were found … she would just keep coming back," court records stated.
On Oct. 31 2013, police questioned Sprowson at Wengert Elementary School. He admitted to contacting the girl, but denied knowing her whereabouts. The next day, police knocked on the front door to Sprowson's apartment, and the girl answered the door.
Defense lawyer John Momot has said that the girl was as responsible for the affair as was his client.
Last month, the girl's mother called Henderson police after hearing her her daughter scream "he found me," according to prosecutors.
Sprowson had contacted the girl on the social media site using the nickname "audrey_6697," court records indicate.
"It's me Mel," he wrote. "I'll get in trouble if they find out I'm talking to you. Please don't say anything to anyone."
Sprowson told the girl he now lives in Oklahoma.
The girl reminded him that he had given her a sexually transmitted disease, court records stated.
Police later tracked the messages to an IP address from a Delux Inn in Lawton, Oklahoma.
Bluth called Sprowson "a risk to children in this community."
District Judge Stefany Miley is expected to hear arguments regarding Sprowson's bail Wednesday.
Contact reporter David Ferrara at dferrara@reviewjournal.com or 702-380-1039. Find him on Twitter: @randompoker
RELATED
Former teacher pleads not guilty to kidnapping, other charges