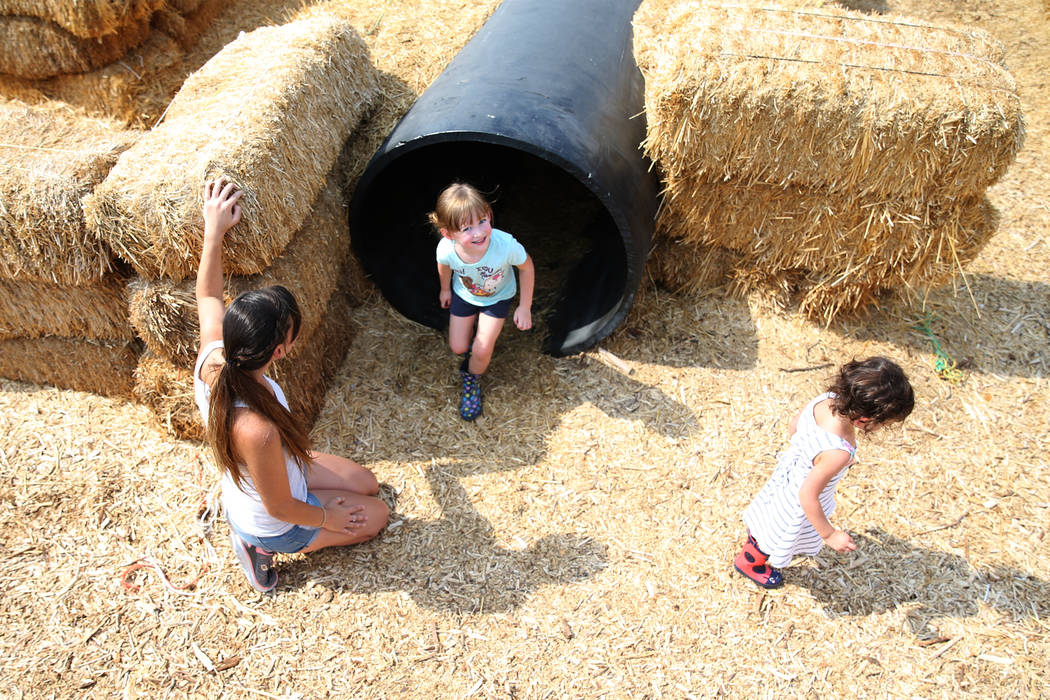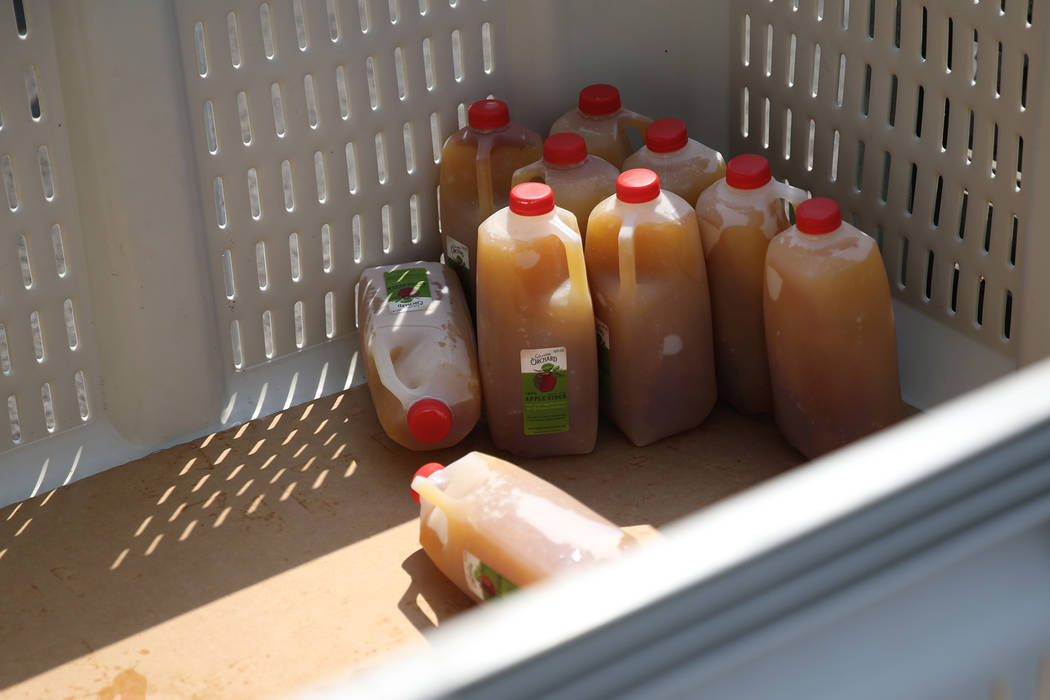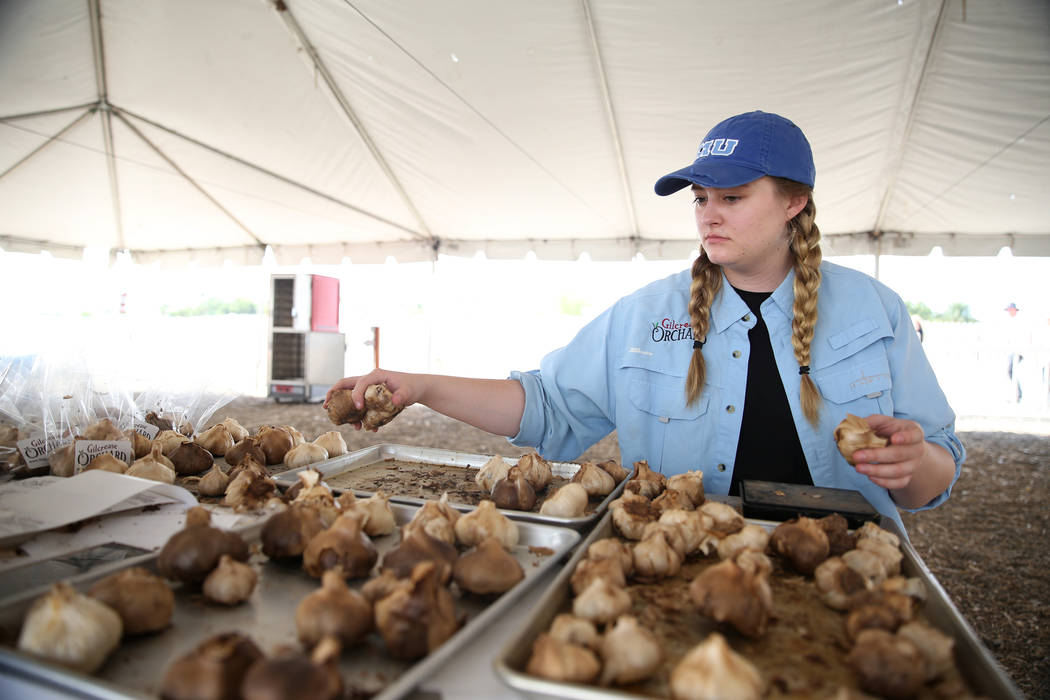 Fans of fresh produce pushed plastic wheelbarrows down rows and rows of leafy green plants Saturday morning, scavenging the earth for cucumbers, eggplant, squash and plucking peaches and pears from trees at Gilcrease Orchard.
Kristian and Katrina Regan played with their young daughters in a maze of hay bales nestled in the middle of the orchard. Soft clucking wafted from a coop of chickens nearby.
"We just miss home, which is Tennessee, so sometimes we come out here just to see some greenery and some trees and hay bales," said Kristian Regan, 30, patting the bale of hay he leaned against.
Kristian Regan, who is in the Air Force and is stationed at Creech Air Force Base, and his wife watched as their daughters, Allie, 4, and Savannah, 2, chased each other through the maze.
The Regans, who moved to Las Vegas in 2013, enjoy the northwest Las Vegas orchard most in the fall, when they can pick pumpkins and buy apple cider donuts.
"It's an orchard in the middle of the desert," Kristian Regan said of the 60-acre plot on the corner of North Tenaya Way and Grand Teton Drive. "It's kind of like a getaway."
Mark Ruben, who has helped run the nonprofit orchard for nine years, said it's difficult to grow crops in the desert. But the hard work doesn't bother him; he said he got into landscaping, and later farming, because he likes problem-solving and inventing.
Most recently, Ruben built a shade structure to protect tomatoes from the harsh sun.
"It did help, until the wind came and ripped them all off," he said. "I just keep trying to find ways to beat the system — to beat the weather."
The orchard opens and closes 30 minutes early during the summer so that customers can avoid picking produce during the hottest times of day. The orchard's regular hours – 7 a.m. to noon – will resume for the fall next Saturday.
Peaches will be available for harvest for about three more weeks, Ruben said. Fall crops — apples, pomegranates, sweet potatoes, carrots, kale, collards, green beans and of course, pumpkins — will be ready for picking in the first week of October.
"This is kind of the in-between season when we're starting to plant for the fall."
Ruben anticipates another busy autumn.
Gilcrease Orchard sells about 100,000 pounds in pumpkins. While the orchard doesn't record the number of pumpkins sold each year, Ruben estimates each one weighs 12-15 pounds. If the average pumpkin picked this fall weighs 13 pounds, the orchard will sell more than 7,500 pumpkins before the end of October.
In the meantime, the orchard sells black garlic bulbs – at 50 cents each, the bulbs are useful for making stir fries, soups, and sauces, and can be refrigerated for up to six months – and just finished bottling 7,500 gallons of apple cider, which is sold by the half-gallon or the pint.
While some wheelbarrows Saturday were heavy with plastic bags full of peaches, others held small children enjoying their last days of summer break.
"We came here so the boys can experience the orchard and pick their own fruit," said 36-year-old Jill Ajayi, who visited the orchard with her husband, Sunday Ajayi, and their two sons.
Ayotunde and Olamide, 3 and 4, lay in a yellow plastic wheelbarrow in the shade of a peach tree, munching on popcorn, their curly hair tucked beneath bucket hats. Like many visitors Saturday, the boys were excited for the orchard's fall offerings.
"We saw like a Halloween thing last time," Ayotunde saidthrough a mouth full of popcorn.
"The best time I like to come here is Halloween because they have all these pumpkins," Olamide interrupted. "You give it to your neighbor, carve a face in it, or what about making pumpkin pie with it."
Contact Kimber Laux at klaux@reviewjournal.com. Follow @lauxkimber on Twitter.