Funeral held for longest serving Black police officer in Las Vegas history
Updated March 9, 2023 - 8:15 pm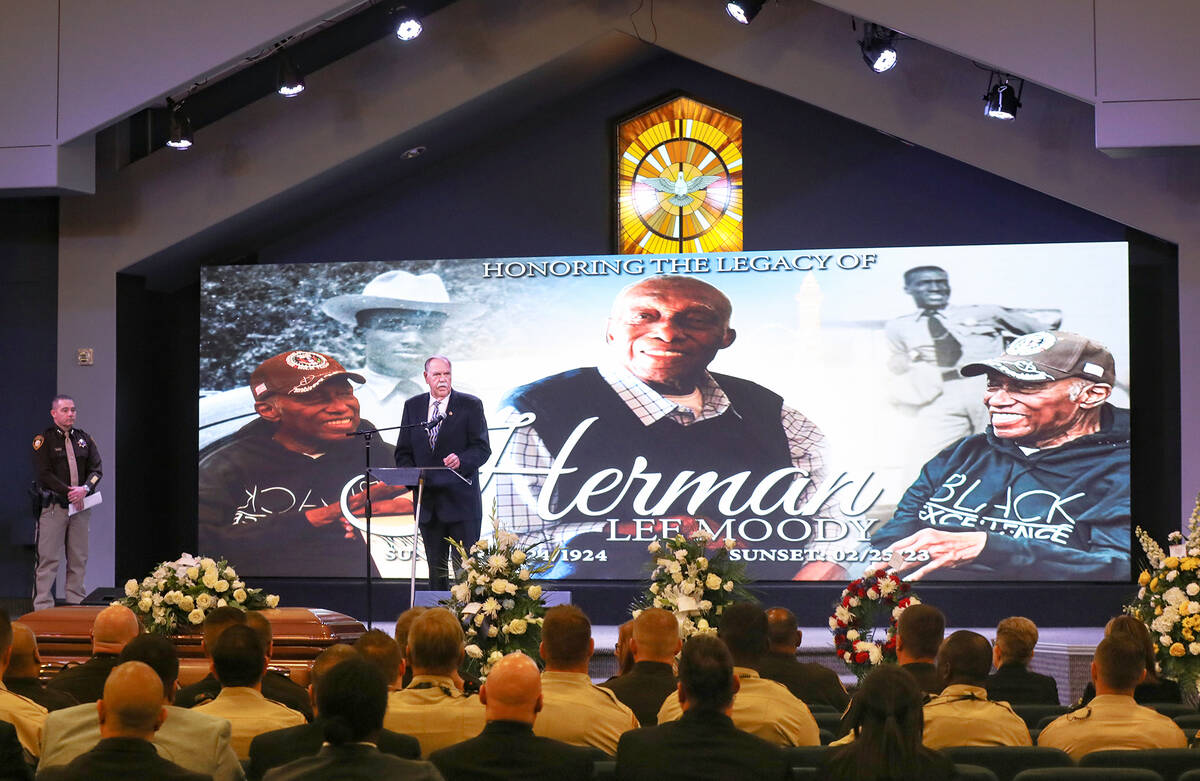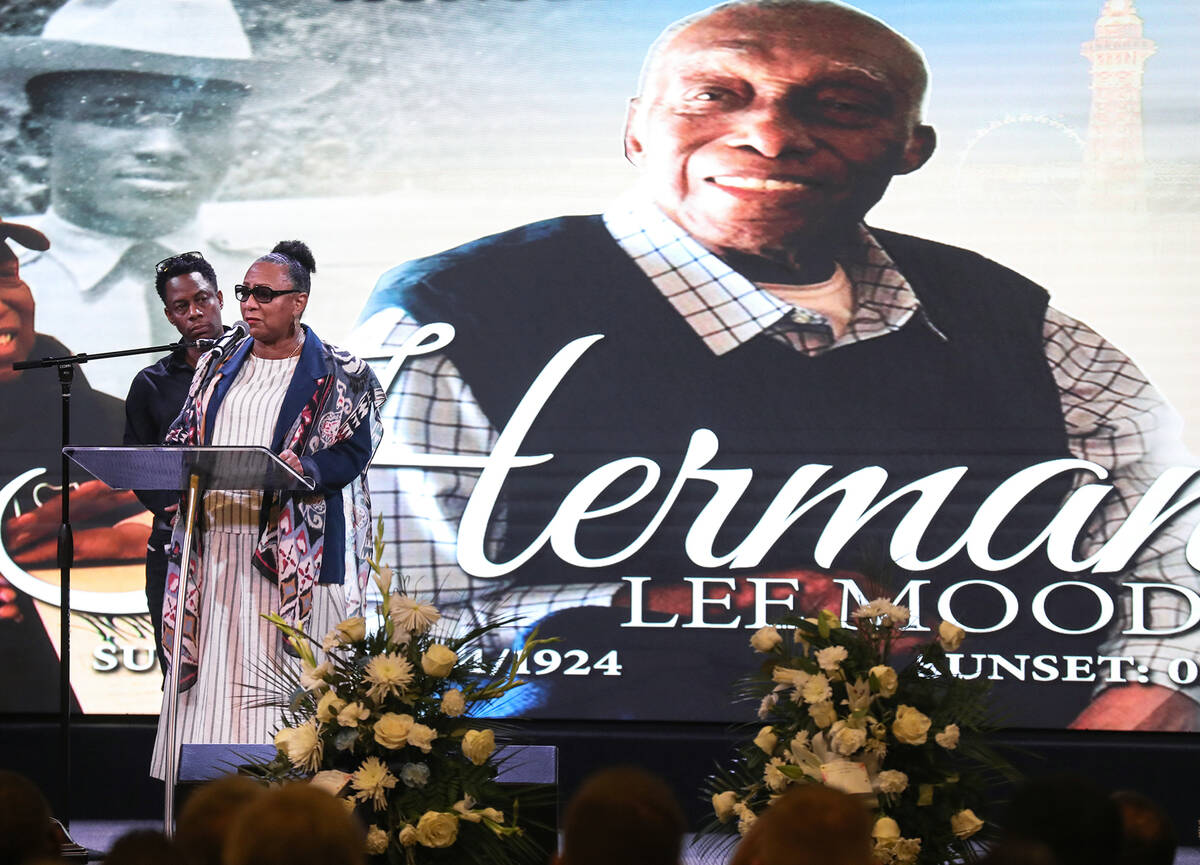 When former police Detective Herman Lee Moody, who died Feb. 25, first arrived in Las Vegas at age 14 in 1939, his family's car had broken down on their way to Oregon.
"There was nowhere for Black travelers to stay," Moody's niece Jackie Brantley said during his funeral Thursday in Las Vegas.
Moody quickly got a job as a porter downtown, left his family behind in their car and hours later impressed them when he brought back eight silver dollars.
"Needless to say, the Moody family ended up making Las Vegas their home," Brantley said.
About 200 people, including the Metropolitan Police Department's honor guard and about 20 uniformed officers, came to the Mountaintop Faith Ministries church, at 2845 Lindell Road, to honor the late 98-year-old Moody and his tenure as the longest serving career Black police officer in city history.
Moody succumbed to a brief illness at his longtime home in the city's Historic Westside last month.
On Thursday, Brantley recounted how Moody attended Las Vegas High School, where he excelled at basketball and baseball. After graduating, he enlisted in the U.S. Navy and was discharged in 1945. He returned home hoping to study engineering.
"However, the Lord had a different plan, that plan involved a career in law enforcement," she said. "When he became a Las Vegas police officer in 1946, he often said that one's reputation preceded you in a room, which spoke to his character."
Moody joined the old city police force in then-segregated Las Vegas and became its first African American motorcycle officer in 1949, served in the narcotics, theft and fugitive details and rose to the rank of detective.
Before his retirement in 1977, and still today, Moody was known as an inspiration to many officers of color who signed up and worked as cops.
As a Black man, Moody had to endure plenty of difficulties to maintain his career. In a 1976 Review-Journal story, he recalled that a few other Black officers and many white officers with less experience were promoted over him, even after he passed promotional exams.
His daughter Tracey Hayes told the Review-Journal that he also had to put up with racism from society at large, as well as from some of his own police colleagues.
"There's no question that he dealt with discrimination, with racism," Hayes said. "There's no question about that. And he would tell us about it. He did deal with that from the time he was hired on."
During the service, white roses decorated the cover of Moody's shining bronze-colored casket beside rows of stand up floral arrangements at the church's stage.
Those in attendance included Clark County Sheriff Kevin McMahill, Undersheriff Andrew Walsh, Latin Chamber of Commerce President Peter Guzman, Las Vegas City Councilman Cedric Crear, Clark County Commissioner William McCurdy II and former Sheriff Jerry Keller.
Just after 11 a.m., Pastor Rodger Gardner, from the stage, welcomed the long procession of Moody's extended family of children, grandchildren and great-grandchildren as they filed into the auditorium to take seats close to the family patriarch's coffin.
"Thank you for everything," Shannon Hopkins, Moody's granddaughter, said from the stage toward his casket. "The hard work. He was such a hard worker. And that's what we know, that's what we do. He instilled in us to serve, so I'm grateful just to be his granddaughter."
Walsh, the undersheriff, observed how Moody started his police career in a time when Las Vegas and the country was a different world.
"Think about that — in 1946, there really wasn't an appetite to see Black police officers in our city or any city in the United States," Walsh said.
At the close of the two-hour funeral, seven members of Metro's honor guard folded and presented American flags to Moody's family. A second unit fired a seven-gun salute in the church parking lot before the veteran officer's remains were loaded into a hearse.
Moody's casket will be buried with a graveside service on Friday, March 10 at 8 a.m. at the Southern Nevada Veteran's Memorial Cemetery, 1900 Veterans Memorial Drive in Boulder City.
Contact Jeff Burbank at jburbank@reviewjournal.com or 702-383-0382. Follow him @JeffBurbank2 on Twitter. Review-Journal reporter Brett Clarkson contributed to this story.