Funeral held for Metro officer killed in Las Vegas shooting — VIDEO
October 20, 2017 - 7:22 am
Updated November 2, 2017 - 6:57 pm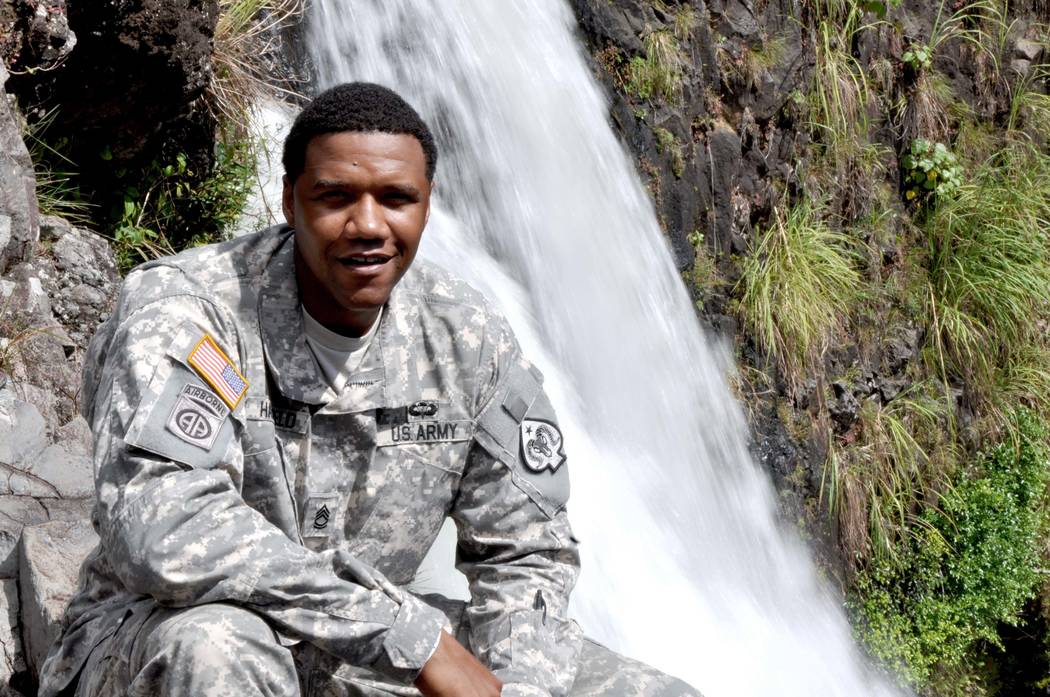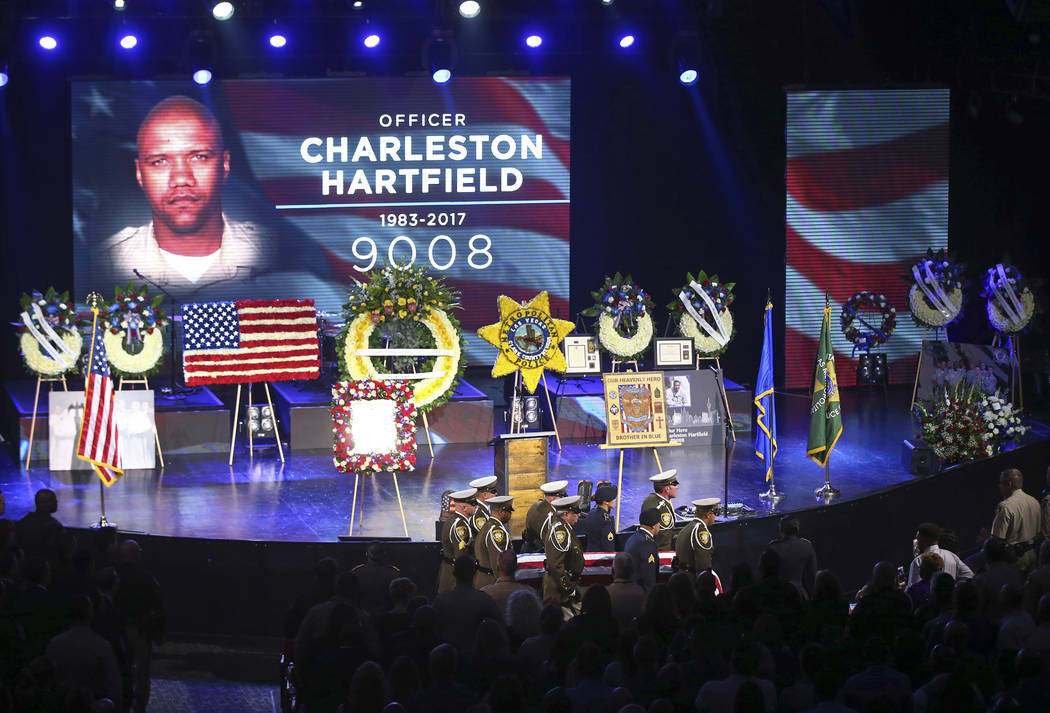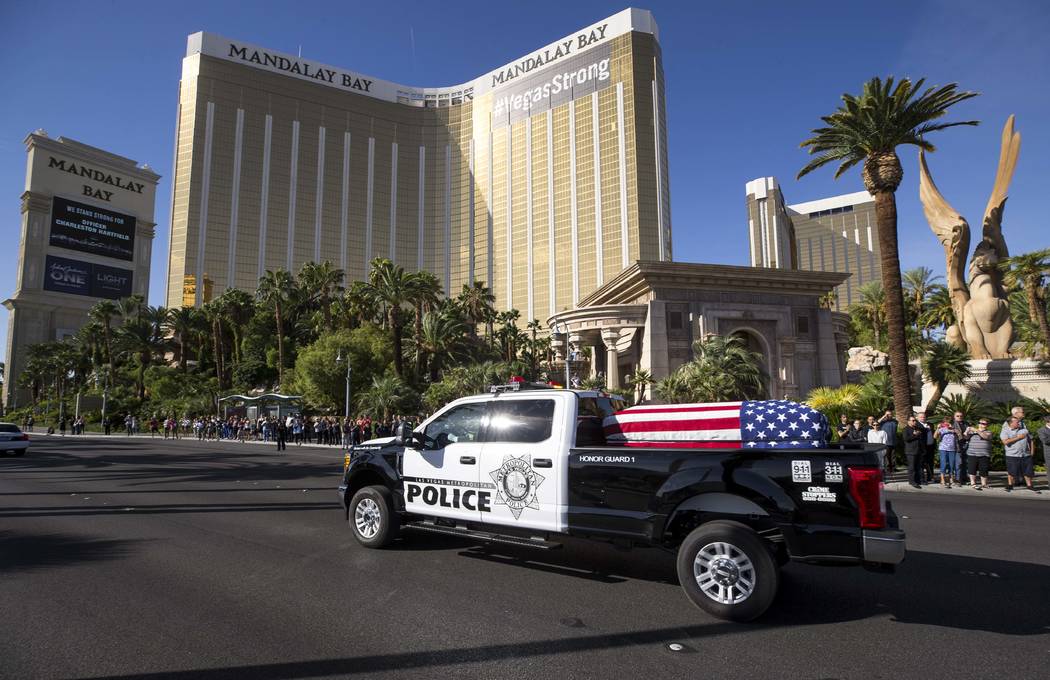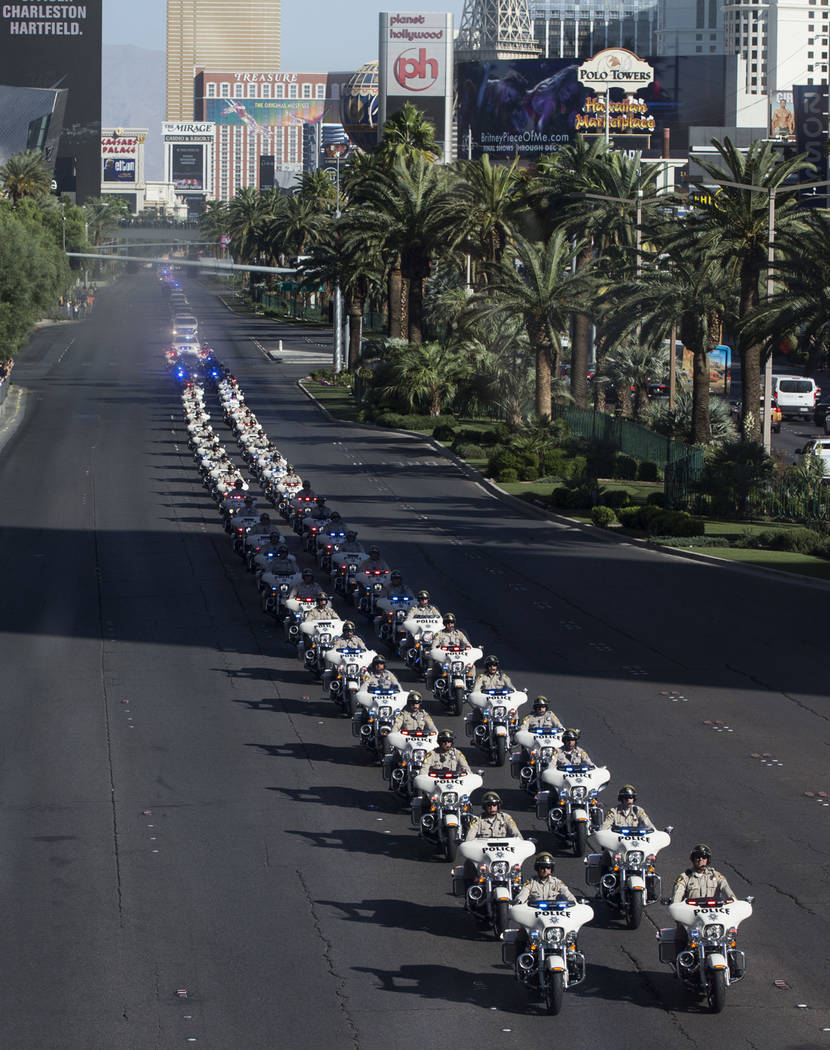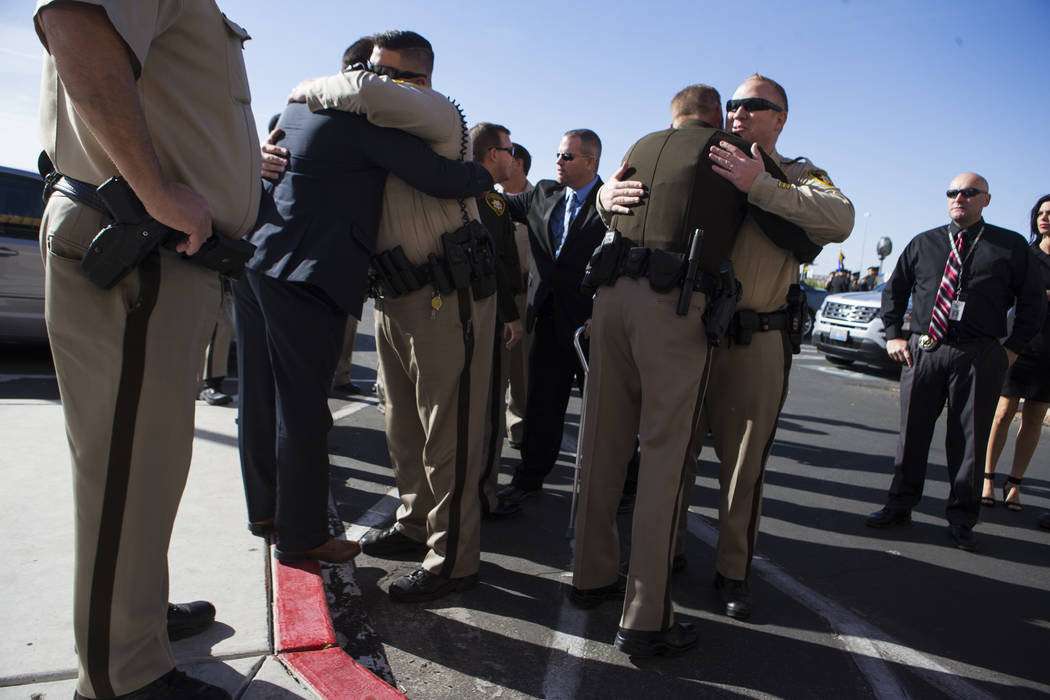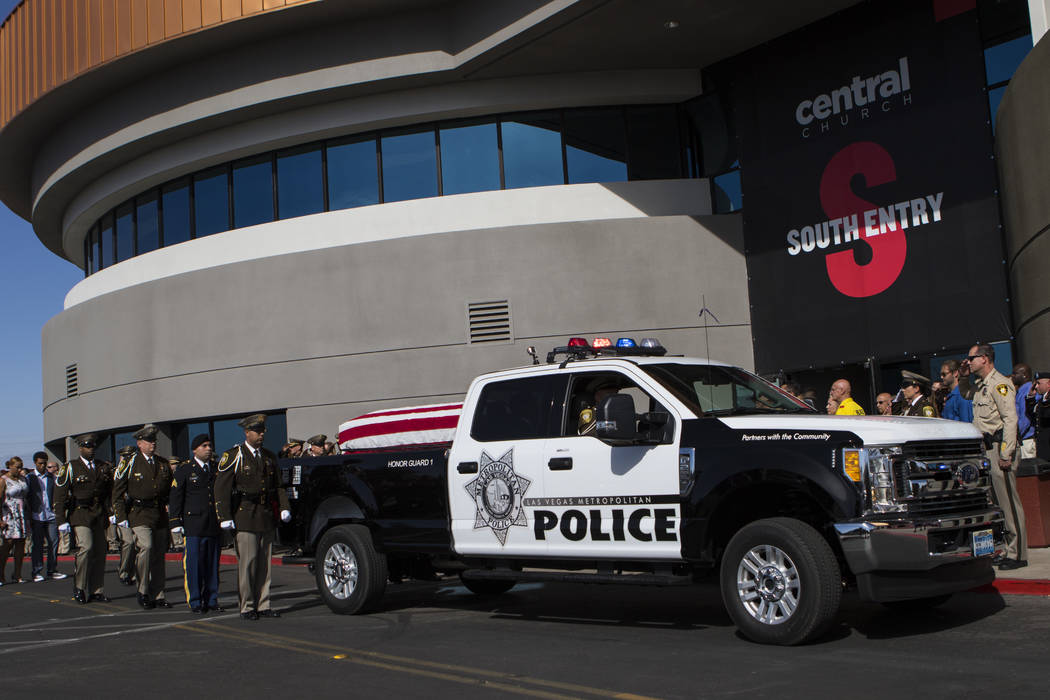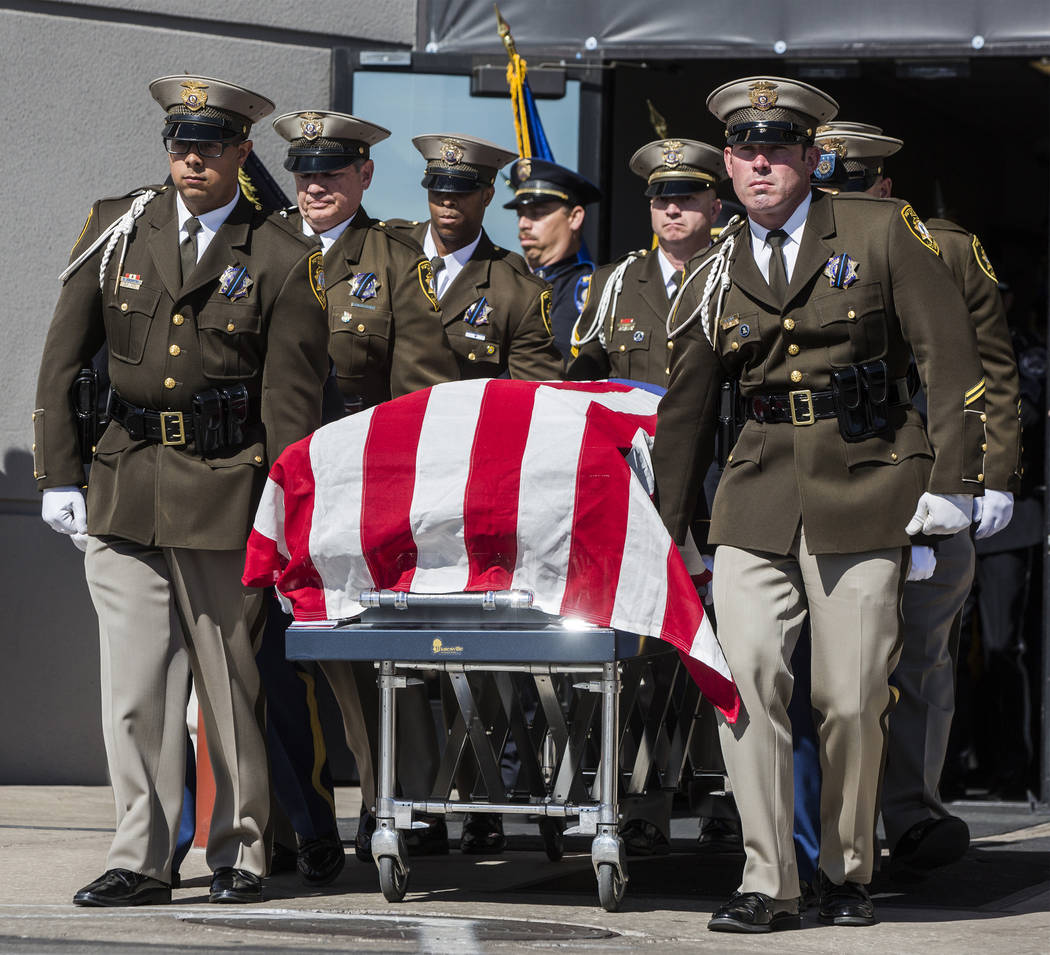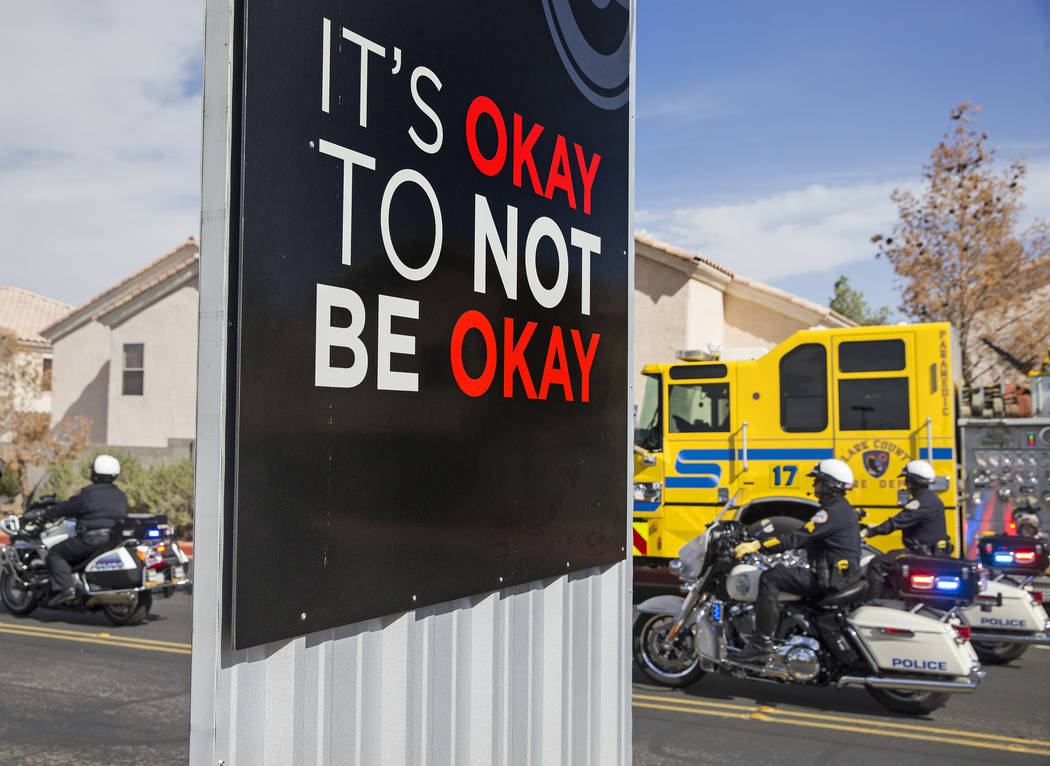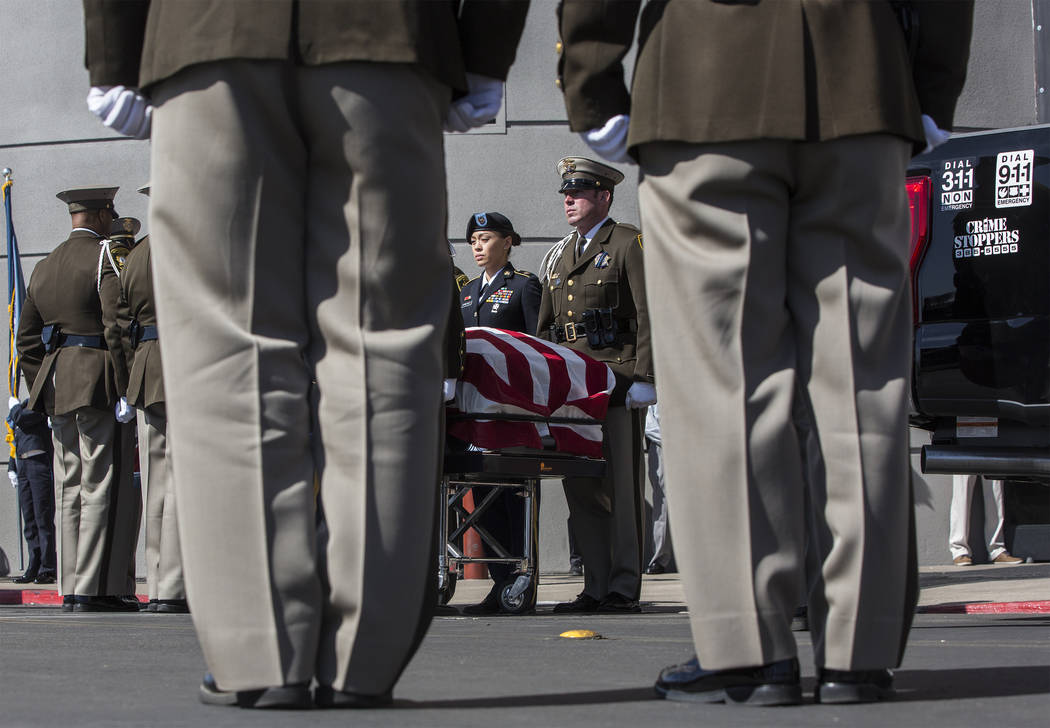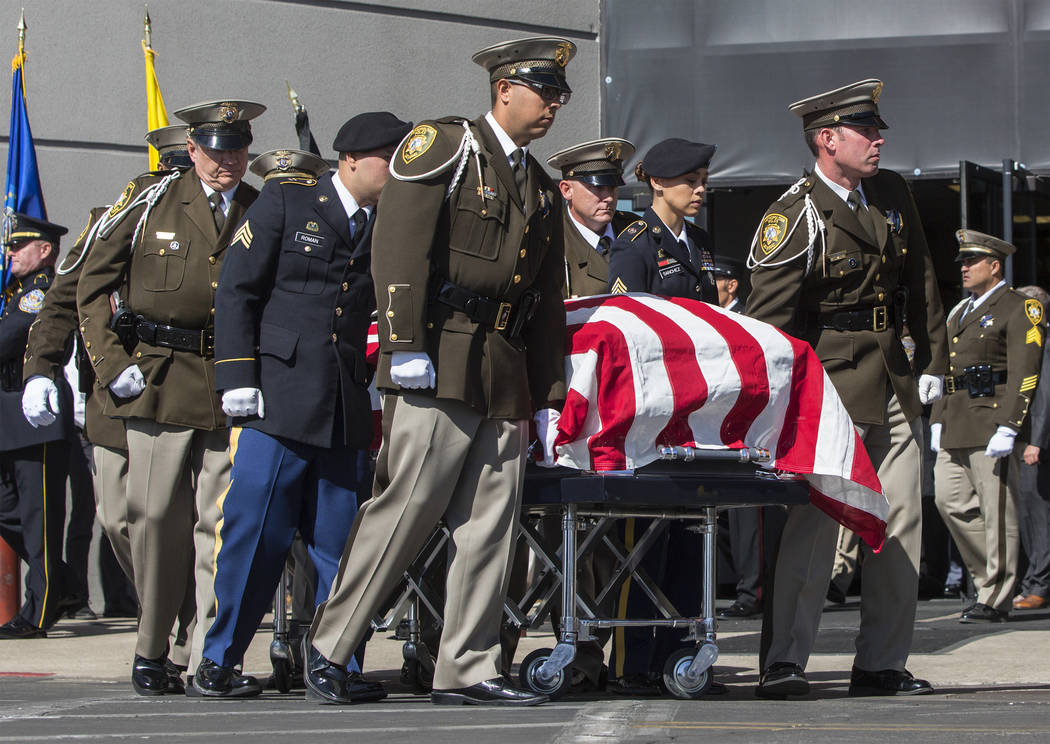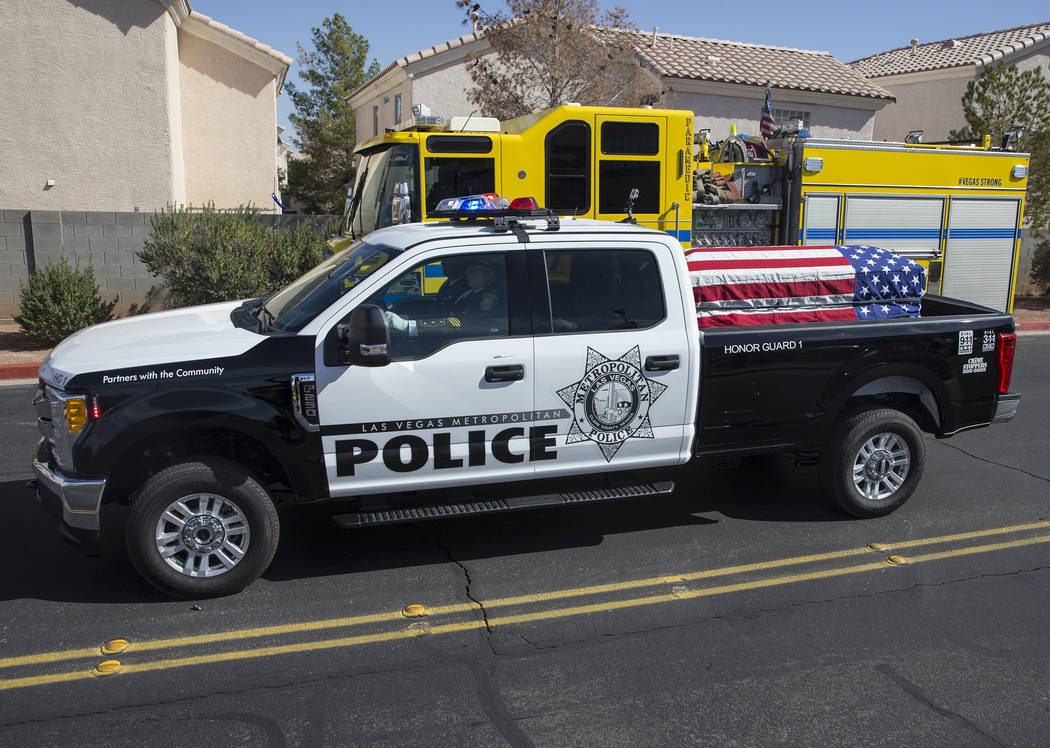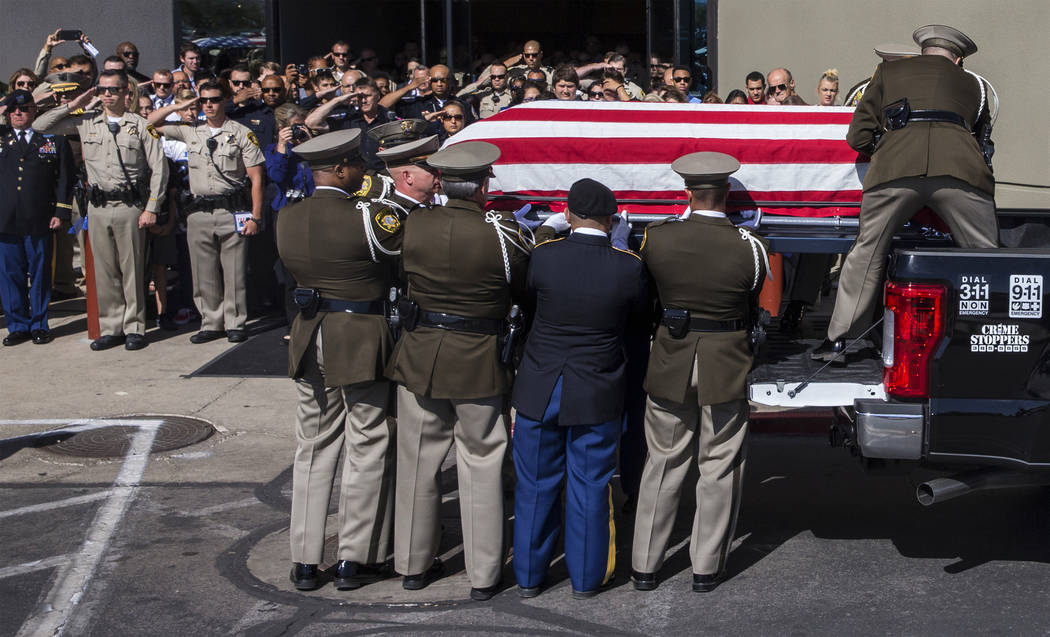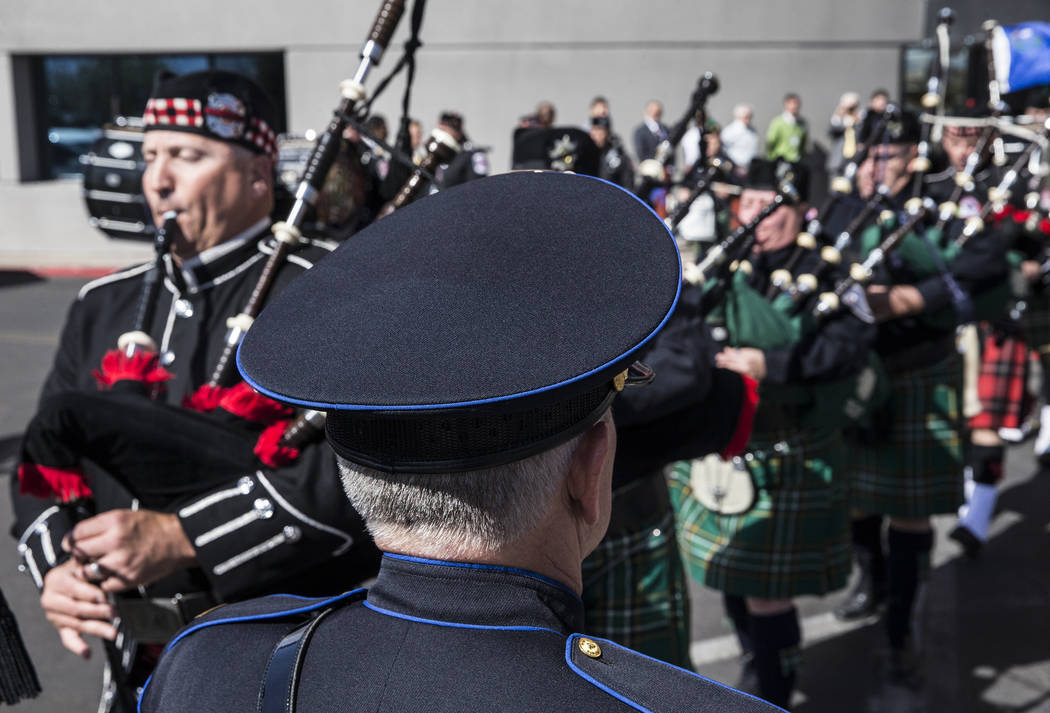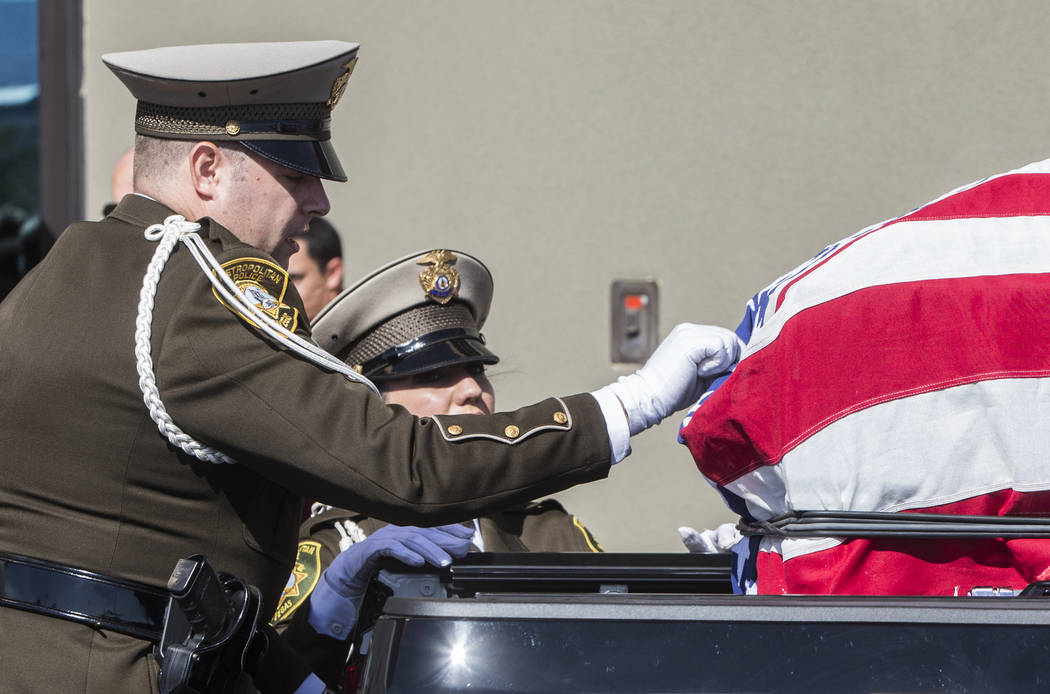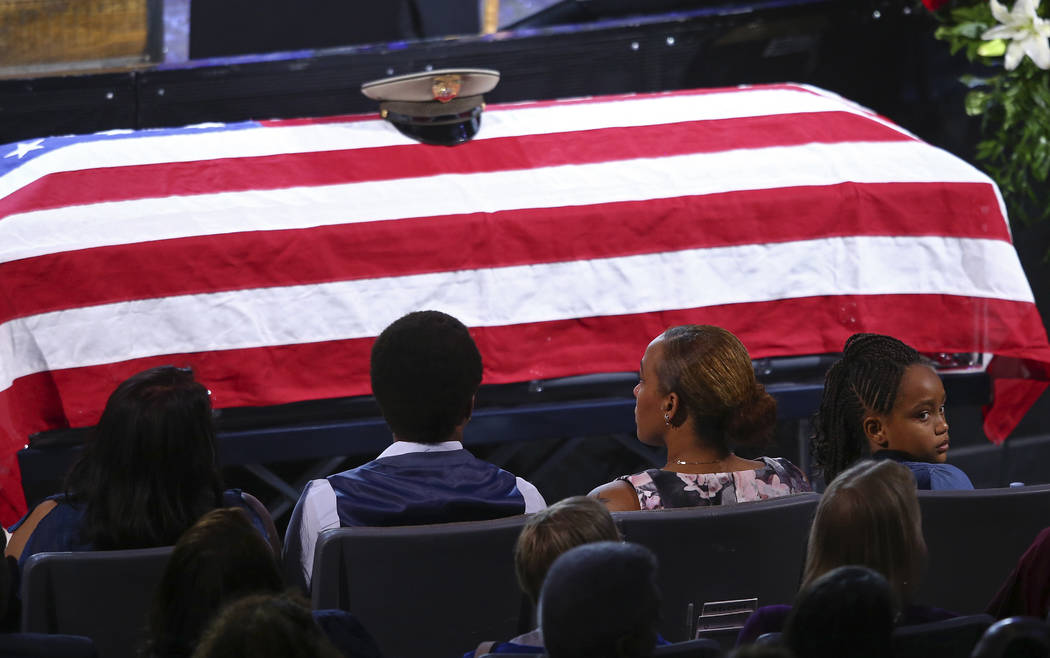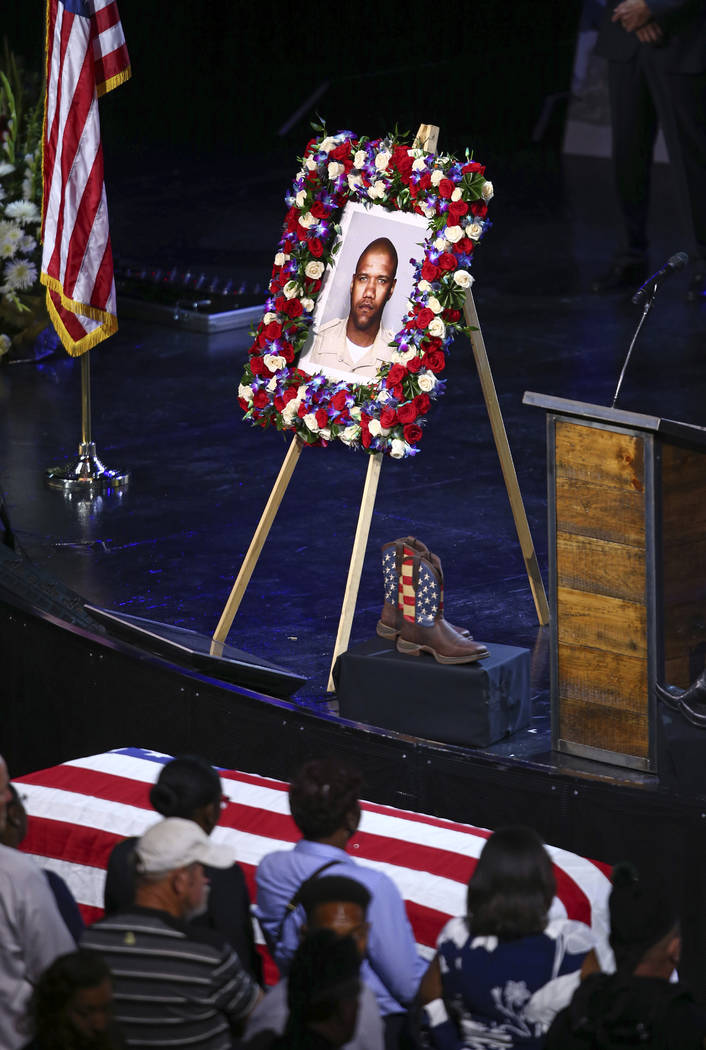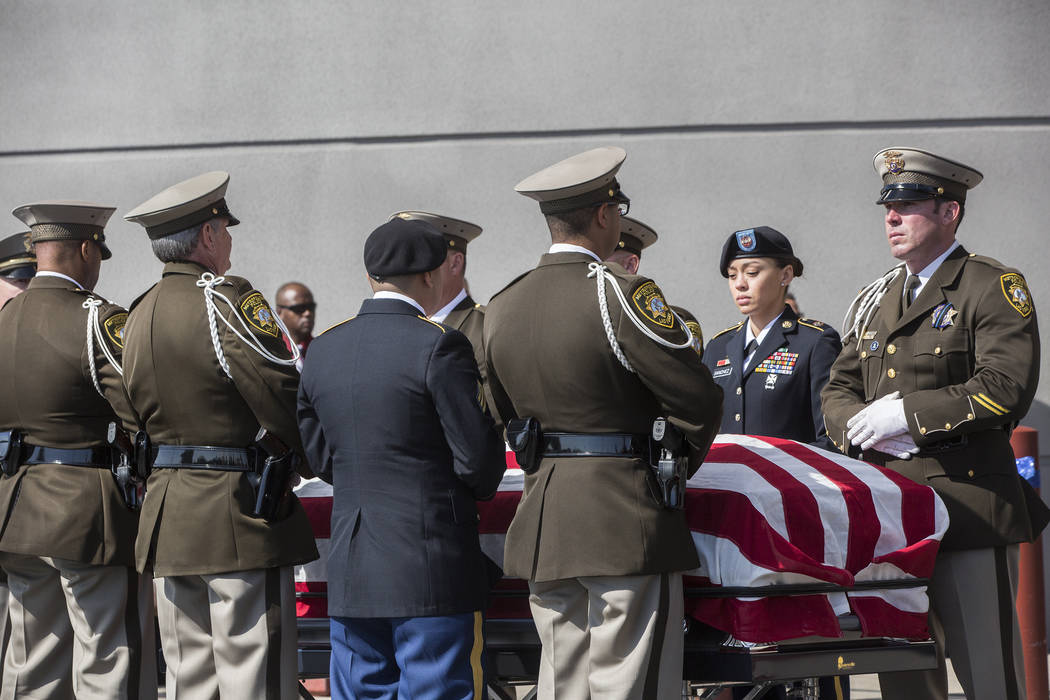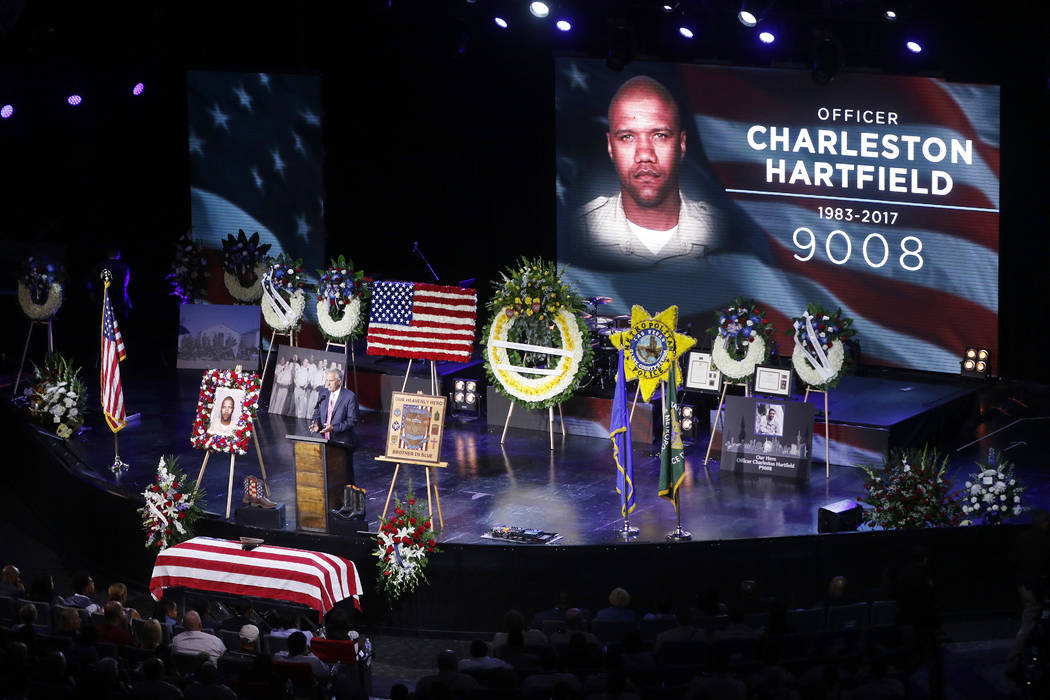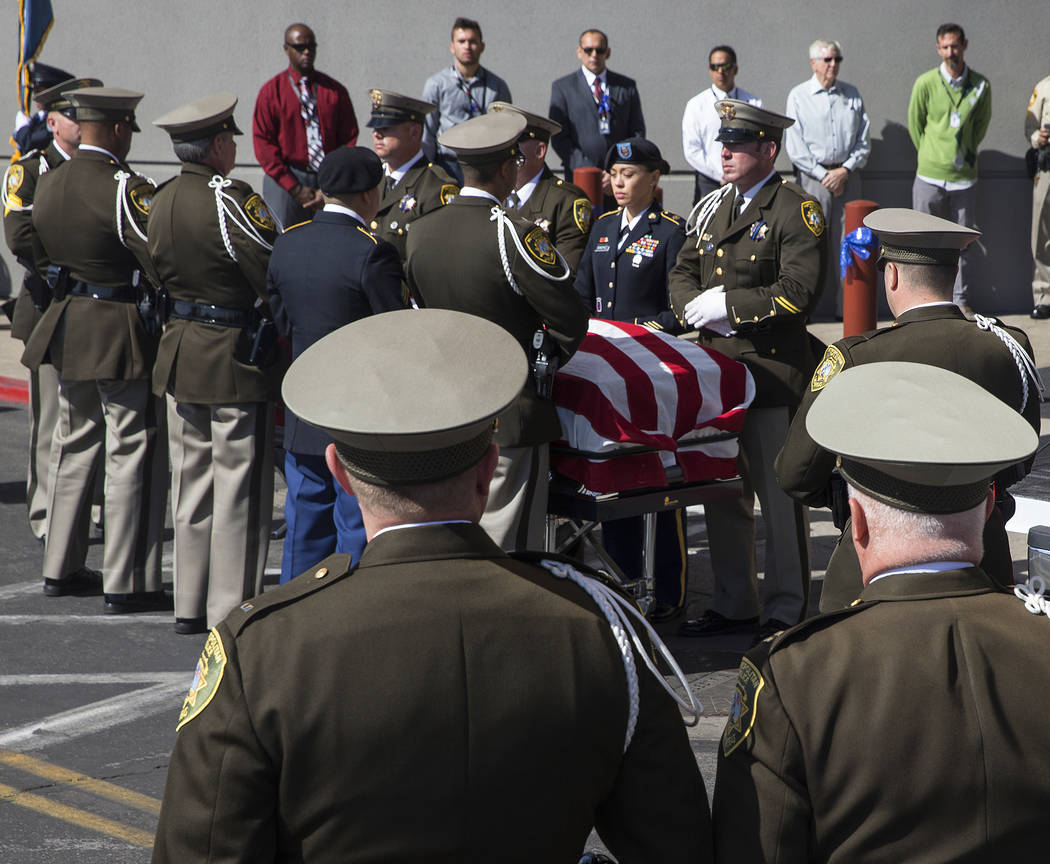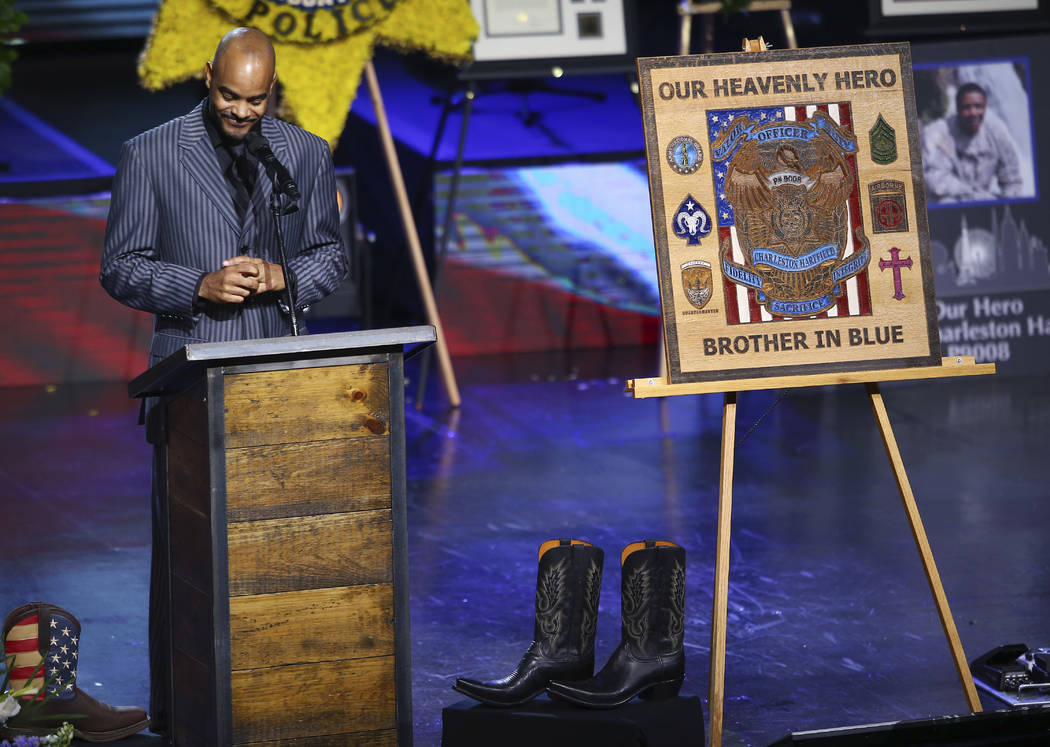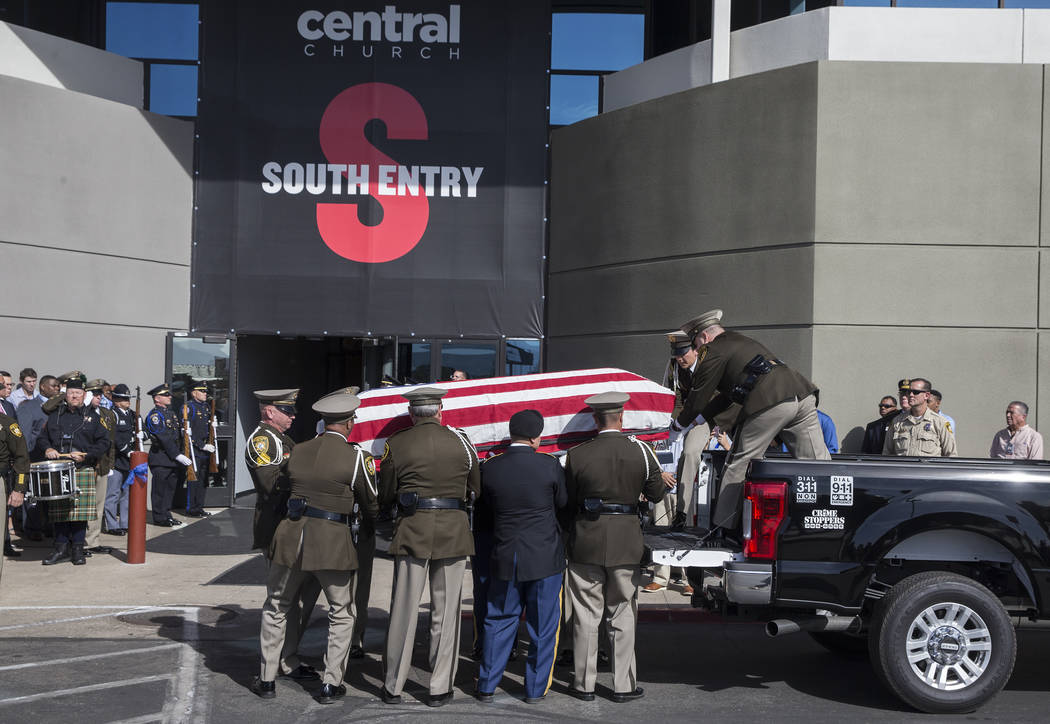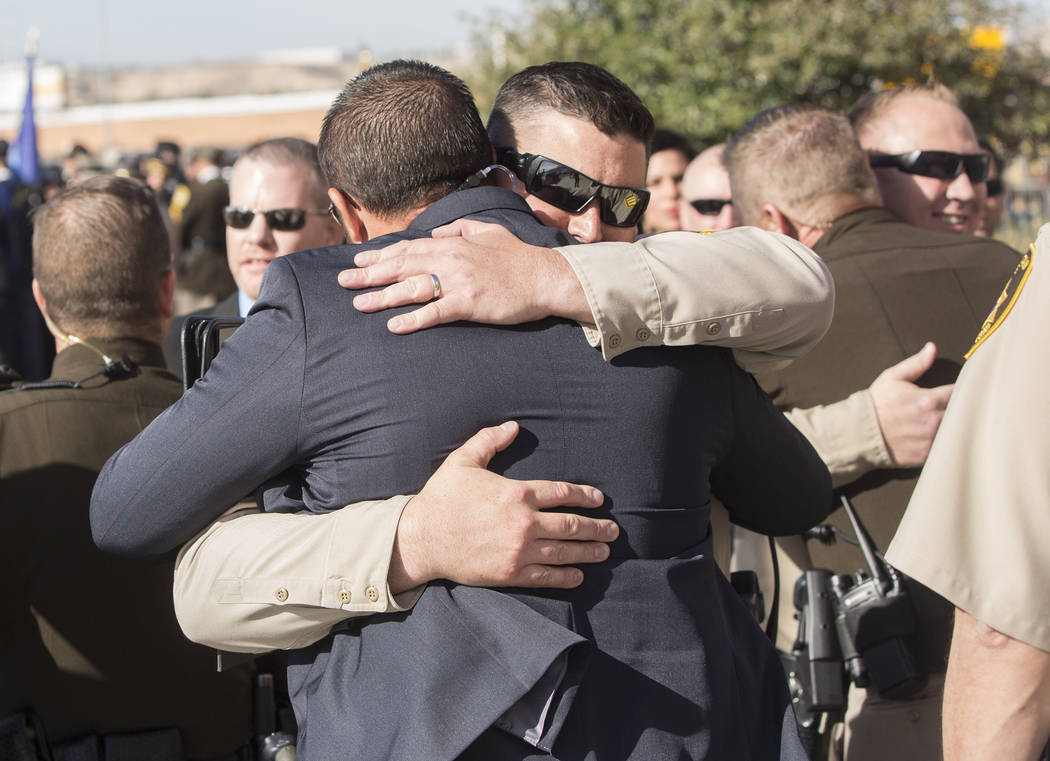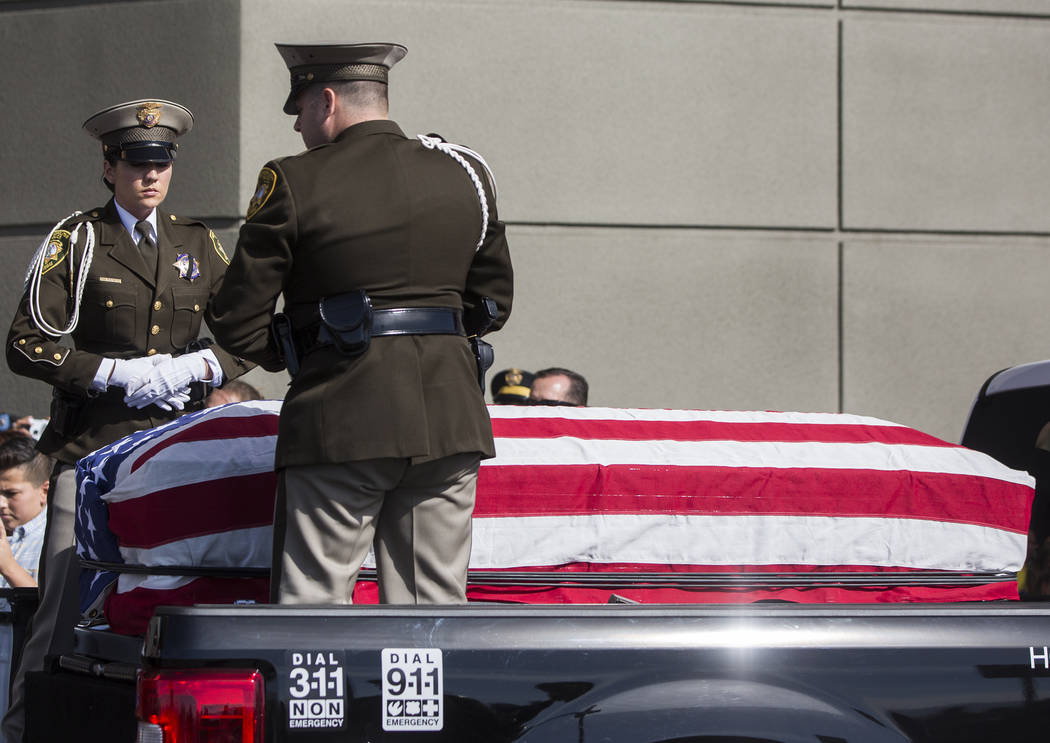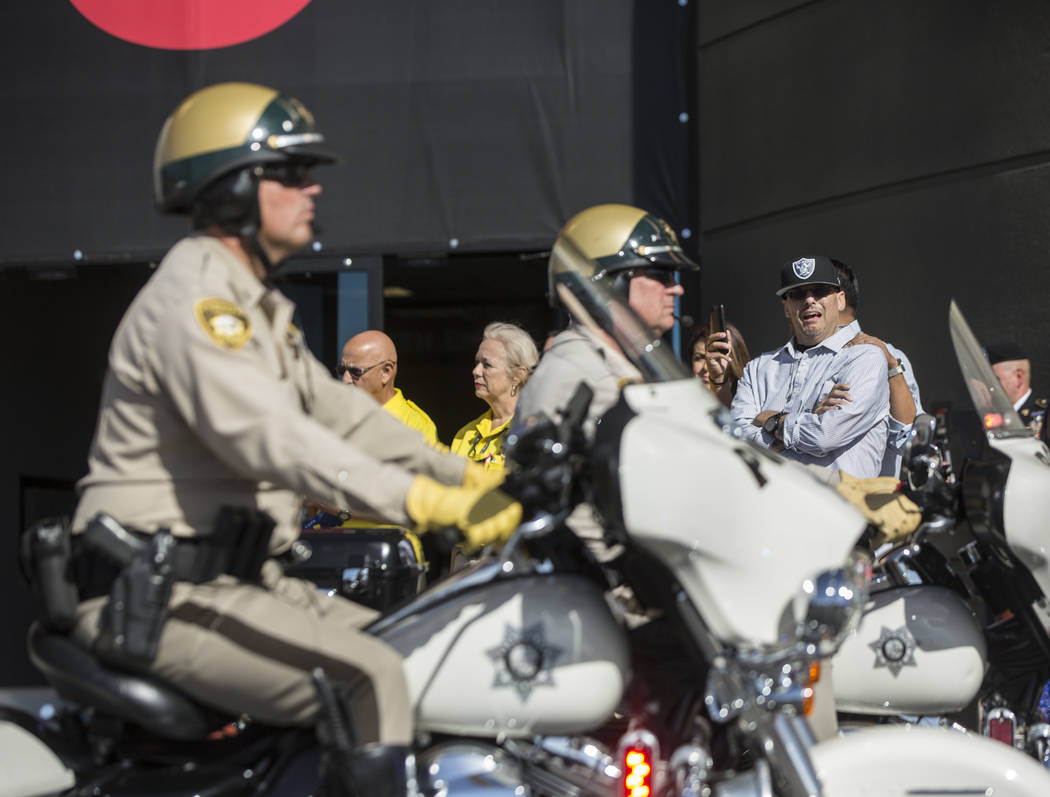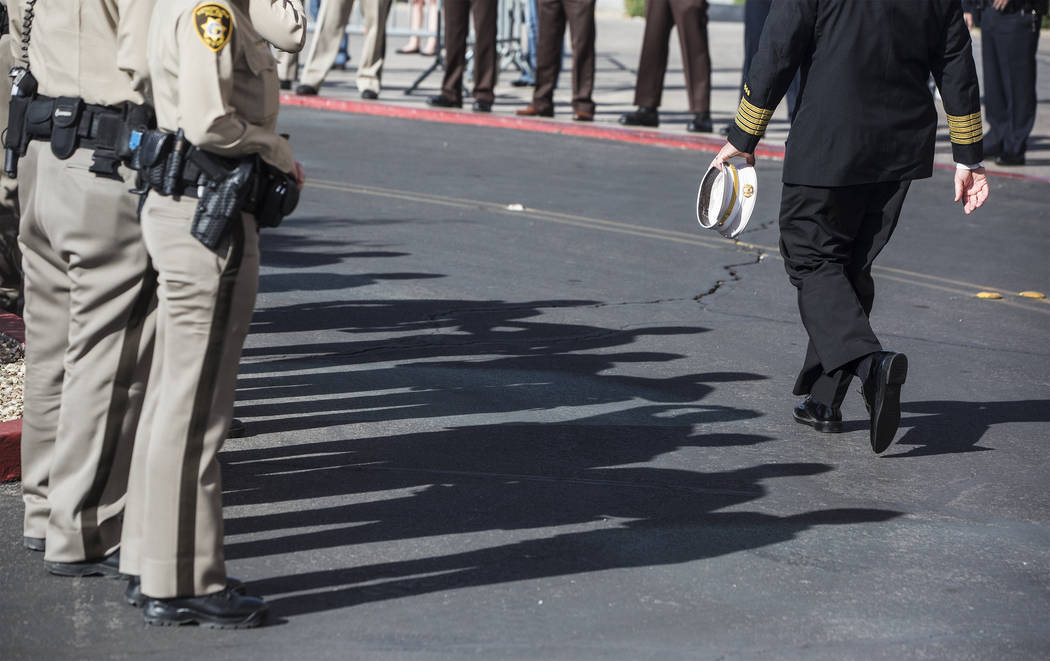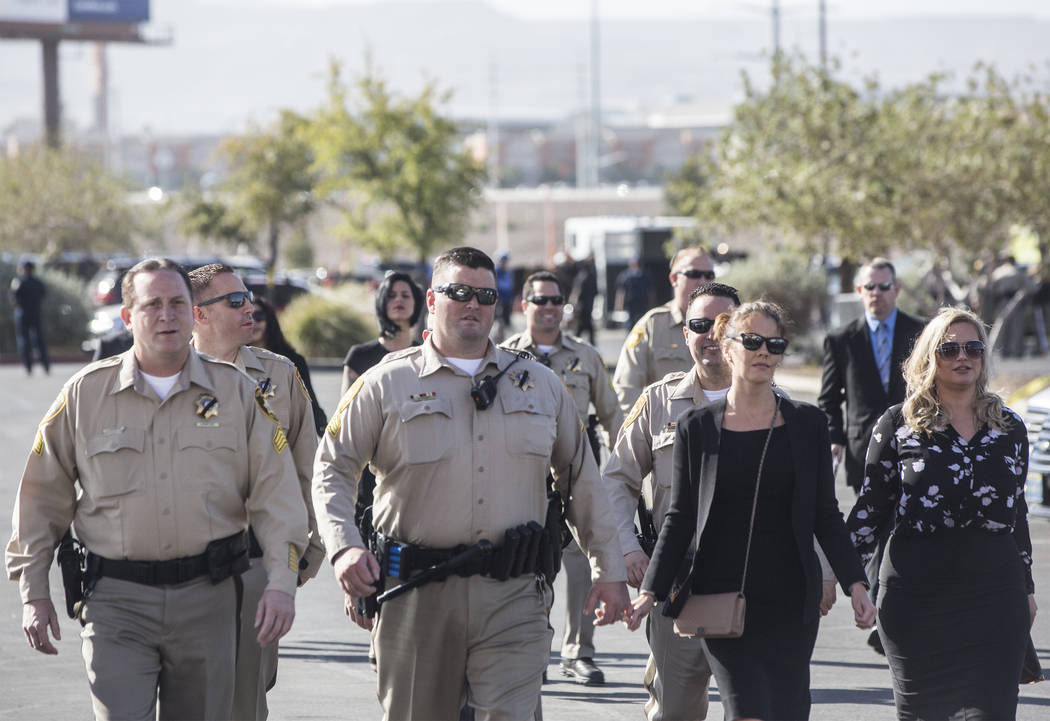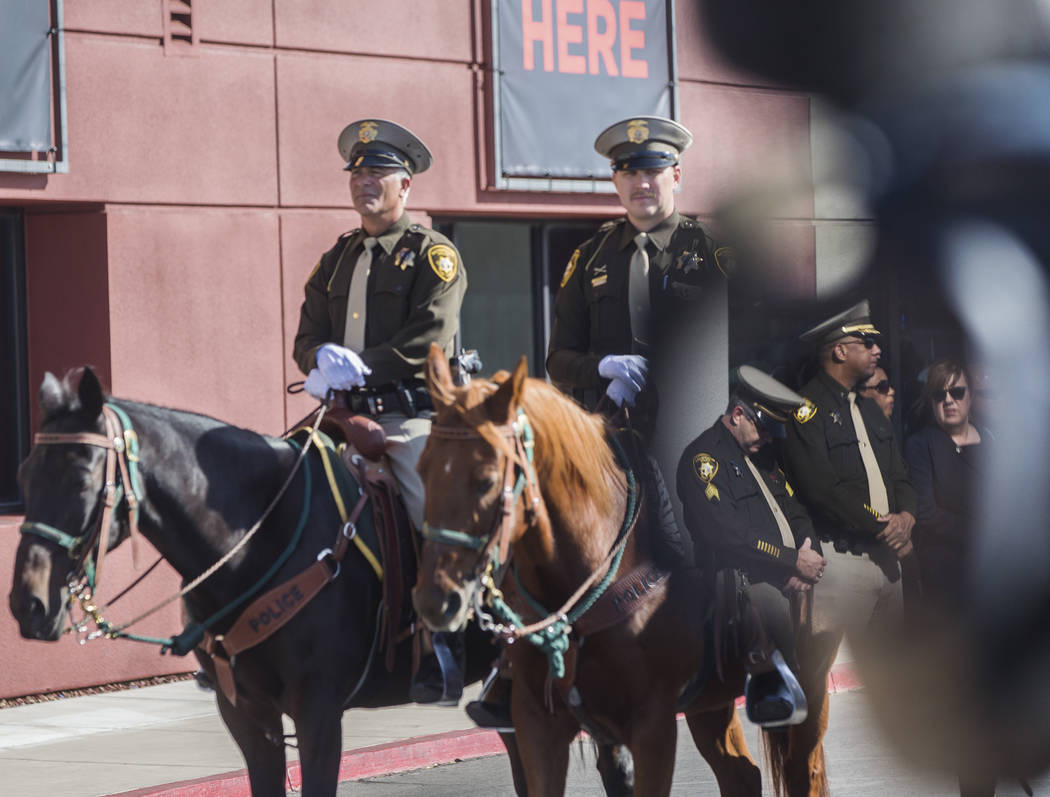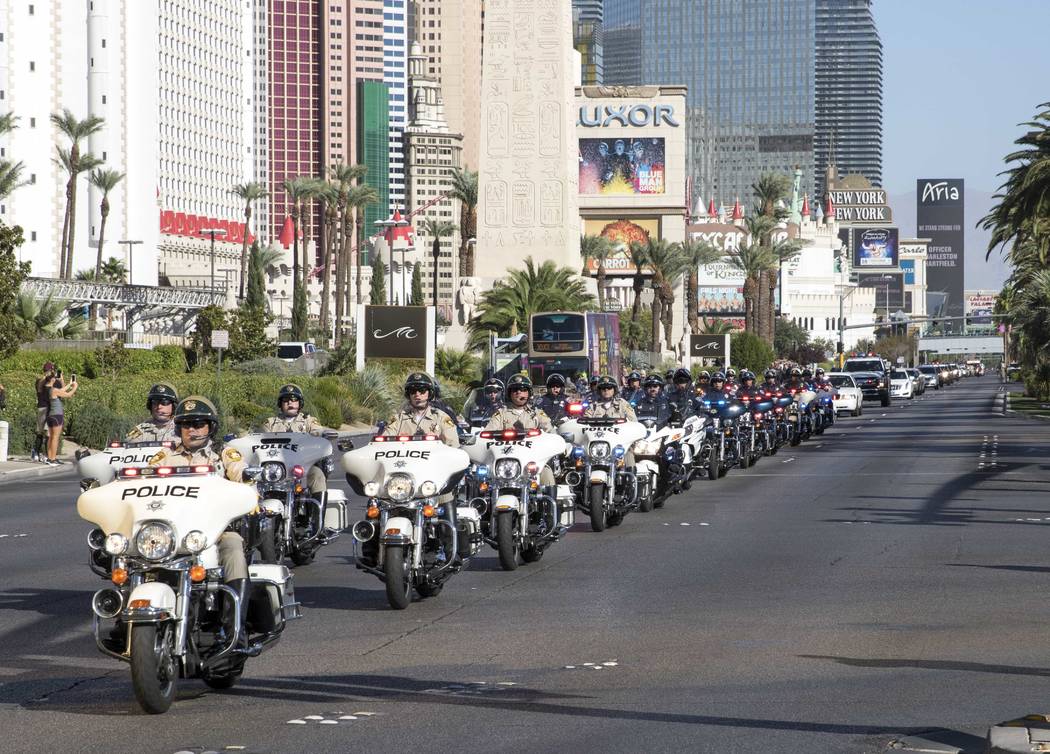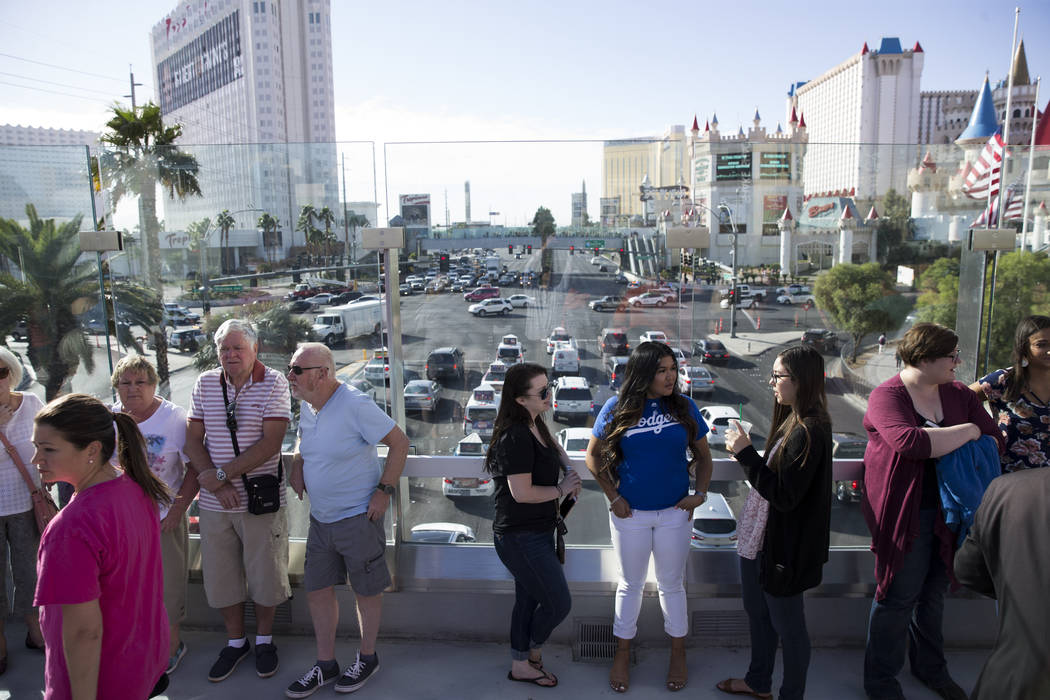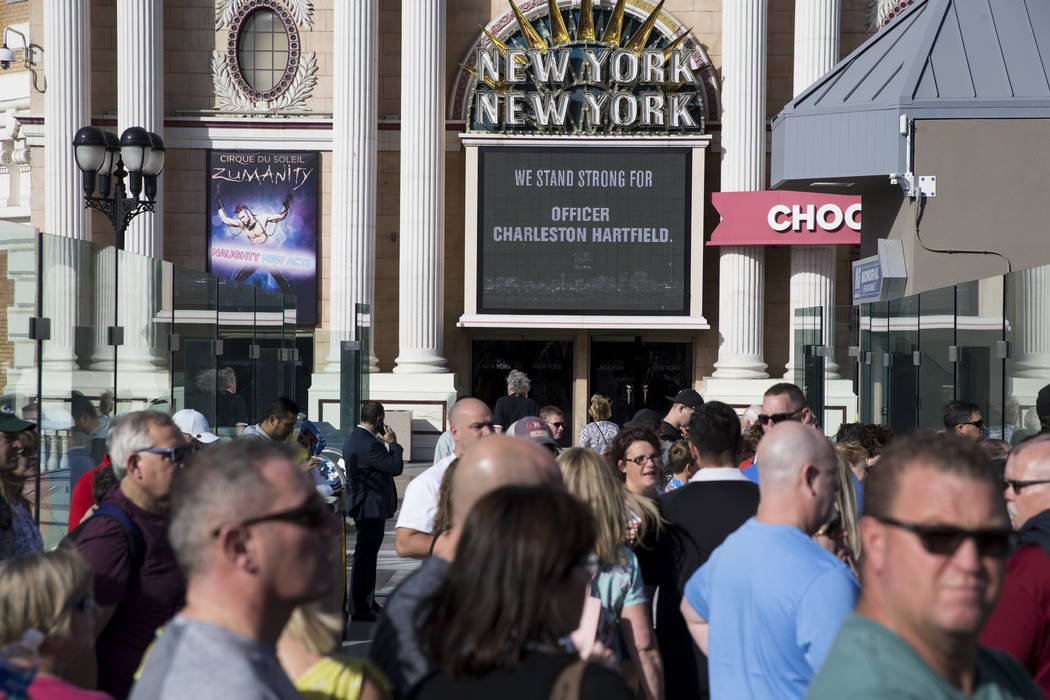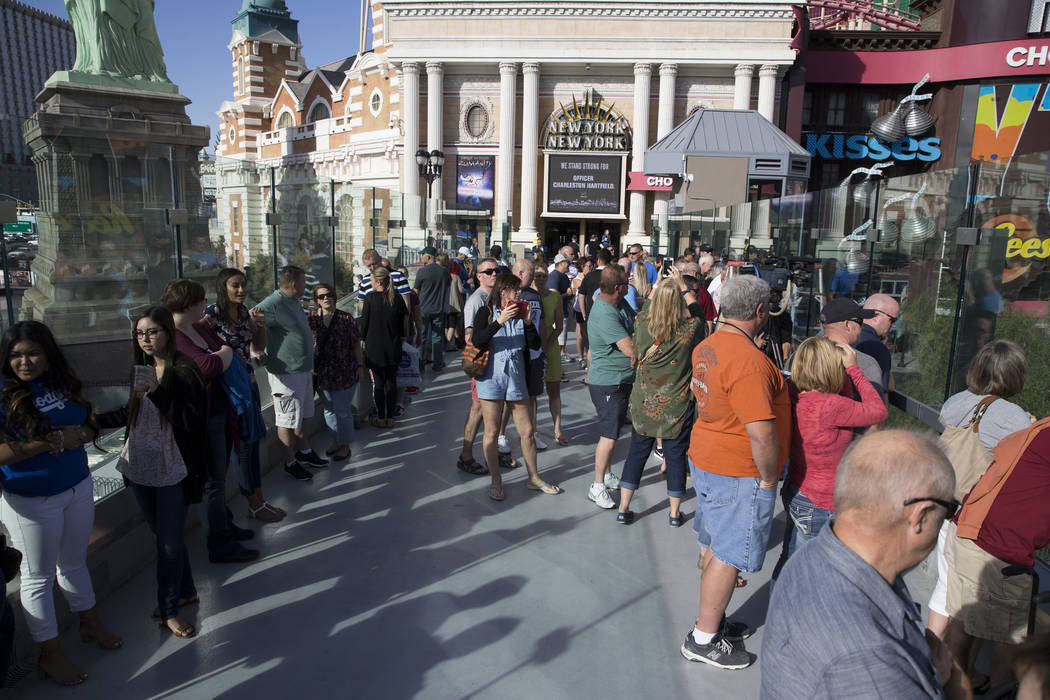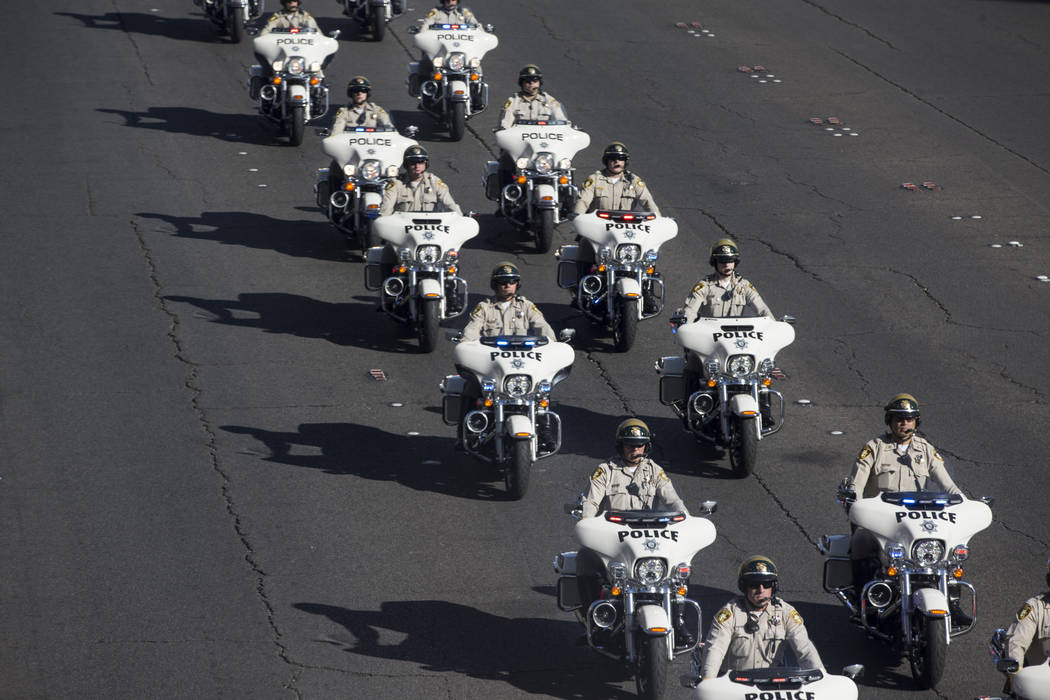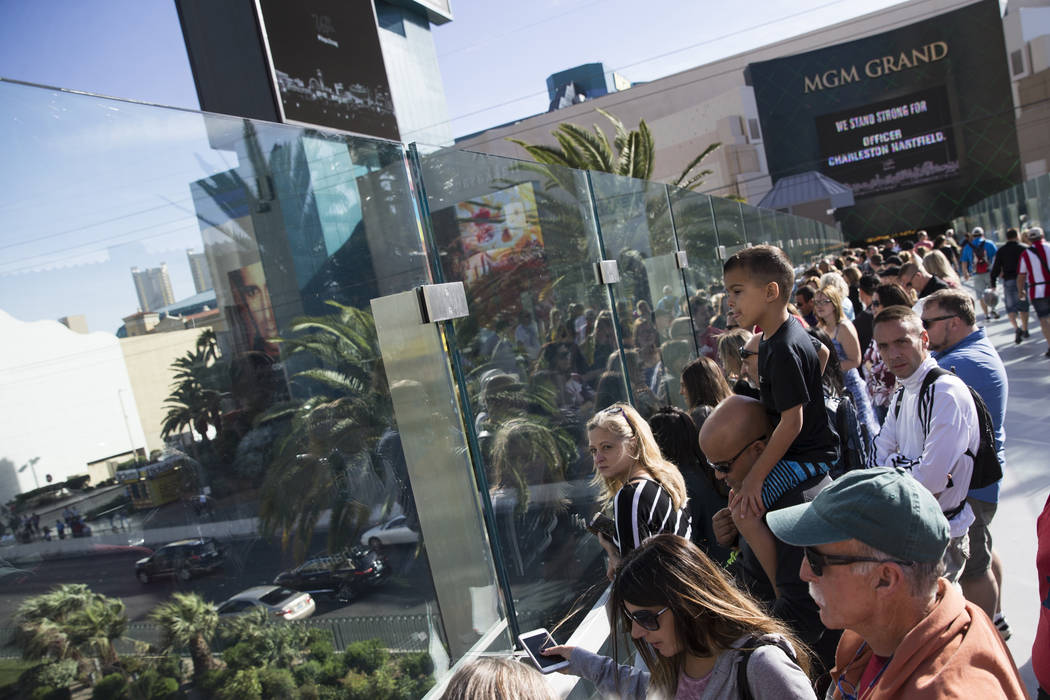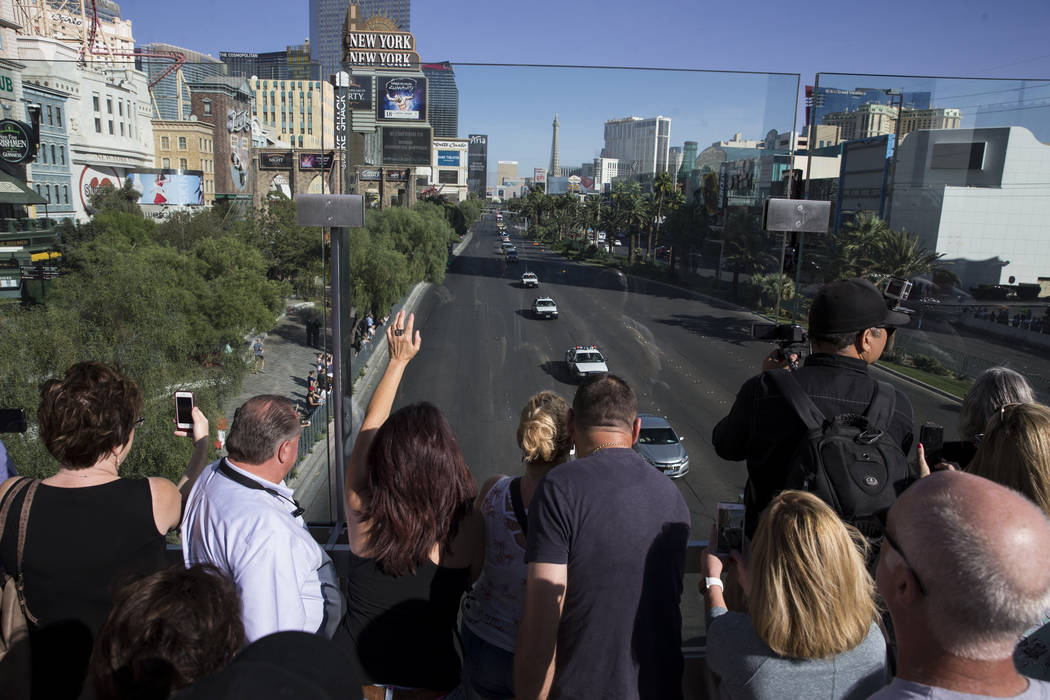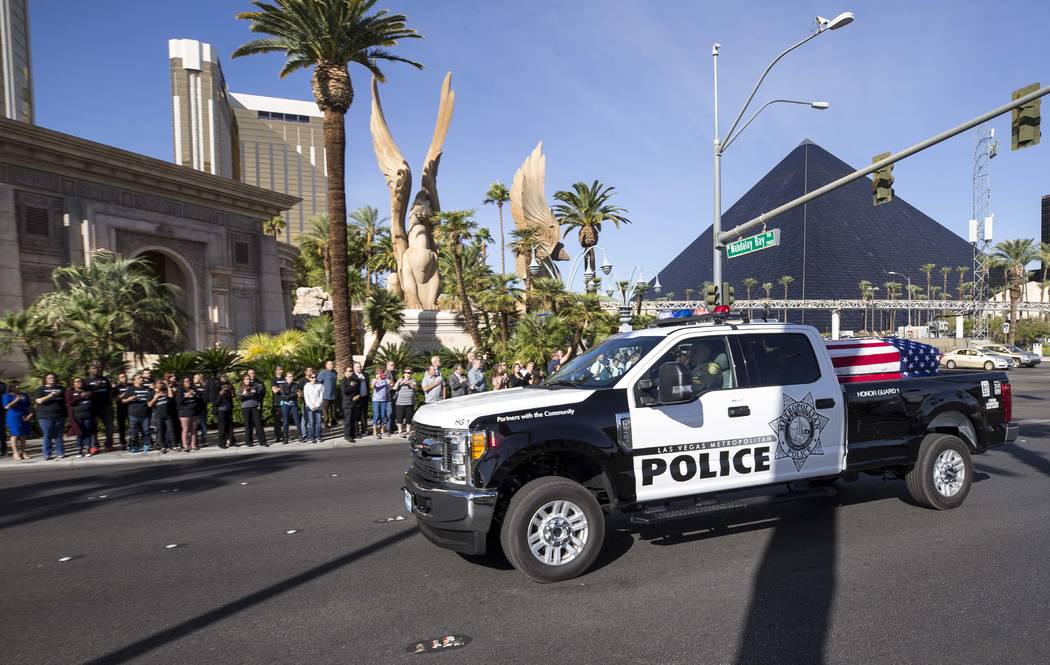 The black-and-white Las Vegas police truck pulled in front of Central Christian Church in Henderson, carrying a coffin draped with the American flag.
Veronica Hartfield held the hands of her two children, 15-year-old Ayzayah and 9-year-old Savannah. The widow followed behind the officers and military members heading toward the church.
Her husband, Charles "ChuckieHart" Hartfield, a Las Vegas police officer and 17-year veteran of the U.S. Army in the 82nd Airborne Division and the Nevada National Guard, was being laid to rest.
The policeman, military man and family man was always prepared, even when it came to matters of his own death, Pastor Jud Wilhite said.
A year ago, Hartfield created a computer file titled "Charleston Hartfield Memorial Service."
He addressed his wife: "Veronica, if you're reading this, I've been called home," Hartfield wrote. "Please do not allow anyone to wear black; black is totally depressing."
He got to the facts: Johnny Cash and Nina Simone should be played at the service. And everyone should remember him how he was.
"I would like everyone to enjoy themselves. And remember me for who I was. The truth only. None of that stuff about how great I was. Only real stories."
Hartfield was one of 58 people killed at the Route 91 Harvest festival when a shooter on the 32nd floor of Mandalay Bay peppered the concert venue with bullets, injuring more than 500 people. The 34-year-old was off duty at the time. He died trying to protect others from the shots.
The funeral was conducted by both the Metropolitan Police Department and the military.
More than 3,000 people filled the church. They all stood. Clicks of boots against the pavement outside broke the silence. Bagpipes played and a trail of drums echoed from behind.
The pews were sprinkled with blue-and-white jerseys worn by members of the Henderson Cowboys, his son's youth football team. They came to remember their coach.
Local and out-of-town law enforcement and military personnel also paid their respects.
Onstage, flowers surrounded a picture of Hartfield. A plaque with the words "Our heavenly hero" and "Brother in blue" stood. Pastor Mike Ellingsen read a letter from his wife, Veronica.
Their love story began during freshman year of high school, on Oct. 22, 1997. They drove each other crazy every day. Over 20 years, they built a life. He provided her and the kids with an "amazing life."
"You'll never know a value of a moment until it becomes a memory," she wrote. "Chuckie, I loved you 20 years ago, and I still do. You are my always and forever."
Chris Stockton, a cousin, described him as a man who could put two words together and make it one word. An educated man who liked reading about old warriors of the nation, like Tecumseh. They often joked about their military rivalry.
Stockton, whom Hartfield called "Little Chip," was a Marine. Stockton remembered Hartfield saying he didn't join the Marines because he couldn't pass the test.
"What test?" Stockton asked.
Hartfield told him: "Well, I couldn't fit my head in the jar."
"He was one of the funniest dudes I knew," Stockton said.
The 6-foot-5 man with a commanding stature was also the youngest of three children, family said. He had a list of goals that he would work on conquering.
He even wrote a book that was published this year, "Memoir of a Public Servant." The last thing he wanted to be regarded as was a hero.
"It's evident by the presence that's here, by driving here, by the way the city has responded," his brother, Carl Hartfield, said, "that he did more than I could ever do in a lifetime."
Hartfield's sister, Denita Oyeka, told her niece and nephew that they should emulate their father's drive and desire and that he will be right beside them.
His colleagues in the military described him as a thoughtful mentor and a sergeant who would rather be suffering with the soldiers than relaxing. He was one of those people you read about but didn't know really existed. A big man with an even bigger heart.
"His loss is a kick in the stomach to the Nevada National Guard," said Brig. Gen. Zachary Dozier. "He epitomizes everything good about being an American, a soldier, a police officer and a father. His loss is devastating."
Dozier also granted Hartfield a posthumous promotion to first sergeant. Rows of men and women in blue stood silently as Dozier read Hartfield's new rank. People dabbed their eyes with tissues, and the family stared ahead at the flag-draped casket with a brown hat sitting on top.
Clark County Sheriff Joe Lombardo was the last to speak. That night, in a hail of gunfire,"Charlie had his last moments," Lombardo said. Hartfield sprang into action as he had been trained to do.
Hartfield was an officer who viewed the bumper of his patrol car like the pews of an abandoned church. Sometimes there was confession. Sometimes there was counseling.
One night, he stopped a man who appeared drunk. He was a combat veteran distraught over his friend's suicide. And that night, he met an officer who had been through similar experiences.
"Find your purpose, be of service and inspire others to action," Lombardo said. "That's how Charlie changed the world."
A photo slideshow of the fallen officer played. As he asked, the sounds of Nina Simone and Johnny Cash filled the silent church.
Contact Briana Erickson at berickson@reviewjournal.com or 702-387-5244. Follow @brianarerick on Twitter.