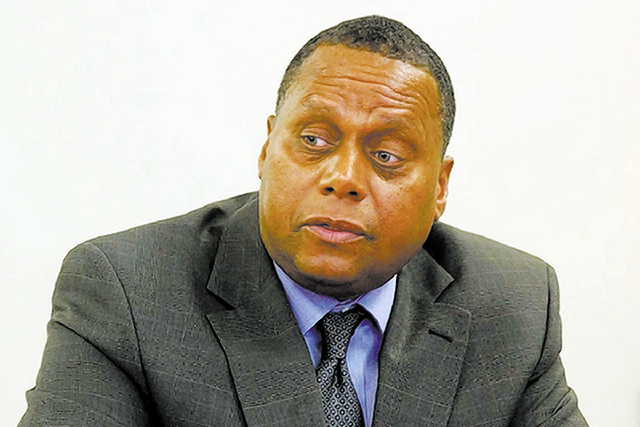 Southern Nevada Regional Housing Authority workers have filed a formal complaint against the housing agency over what they see as an illegal extension of employee furlough days.
The complaint, filed with the Employee Management Relations Board on Friday, seeks to block an agencywide extension of twice-monthly furlough days first OK'd by the housing authority's board of commissioners in December.
Housing authority board members last month decided to renew those furloughs starting Oct. 30, voting 9-1 in favor of extending mandatory unpaid vacation days for hundreds of workers in an effort to balance the agency's $137 million budget.
Attorneys with the Service Employees International Union — which filed the labor board complaint on behalf of nearly 200 housing agency employees — argue that the furlough extension constitutes an unnegotiated "unilateral change" to the SEIU's contract with the agency.
Union officials and agency leaders have spent the better part of two years trying to hammer out a new contract. The two sides met for 30 formal bargaining sessions in the run-up to a Sept. 29 vote on furlough renewals.
The SEIU complaint accuses housing agency attorney Theodore Parker of misleading housing board members on the status of those contract negotiations before last month's vote.
SEIU attorney Michael Urban did not return requests for comment on the labor board filing.
Governor-appointed state labor board commissioners are not expected to pick up the case until spring
Meanwhile, housing authority workers will continue to try and hash out a new deal with the agency.
SEIU spokeswoman Rebecca Theim said mandatory unpaid vacation days have already cost housing agency employees upward of $763,000 in lost wages, which translates into a roughly 9 percent pay cut.
She declined to comment on whether union workers had any chance of successfully challenging those furlough days before the labor board weighs in on the case.
"They're clearly looking for leverage as they head into our Oct. 3 bargaining," Theim said after the furlough extension vote, "and the lone dissenter, Commissioner Marco Rauda, said that.
"Everything's negotiable … but it sure looks like they did this to have something to hang over our (heads) when we return to bargaining Oct. 3."
Rauda declined to comment on his vote to oppose furlough extensions.
Housing board Chairman the Rev. Dave Casaleggio did not return requests for comment on the move.
Board action to renew agencywide furloughs came within months of a controversial $329,000 annual pay bump for housing agency attorney Parker, one of those named in the labor board complaint.
It came only weeks after the board — faced with a $1.4 million projected budget shortfall — signed off on an equally controversial $3,382 annual salary hike and a matching bonus for housing authority Executive Director John Hill.
The housing authority, which is charged with administering and maintaining public housing for more than 7,600 Southern Nevada residents, has spent plenty of time in the headlines in its three years under Hill.
An agencywide audit conducted by federal Housing and Urban Development officials in April found housing officials spent operating funds on bottled water and other ineligible expenses, all while failing to follow federal guidelines on reporting the purchases.
Auditors also dug up "significant deficiencies" in the authority's inventory procedures, shortcomings that resulted in the loss of a dozen appliances valued at $5,500.
A June U.S. Labor Department investigation found the agency failed to record and pay for pre- and post-shift hours worked by 77 current and former employees, a violation of federal labor law that cost the authority at least $425,000 in back pay.
Hill did not return requests for comment.
Each of the housing authority's 13 board members is appointed to a four-year term by elected leaders in Las Vegas, Henderson, North Las Vegas and Clark County.
Contact James DeHaven at jdehaven@reviewjournal.com or 702-477-3839. Find him on Twitter:@JamesDeHaven.