Golden Knights, Animal Foundation teaming up for Pomeranian adoptions
December 16, 2017 - 2:58 pm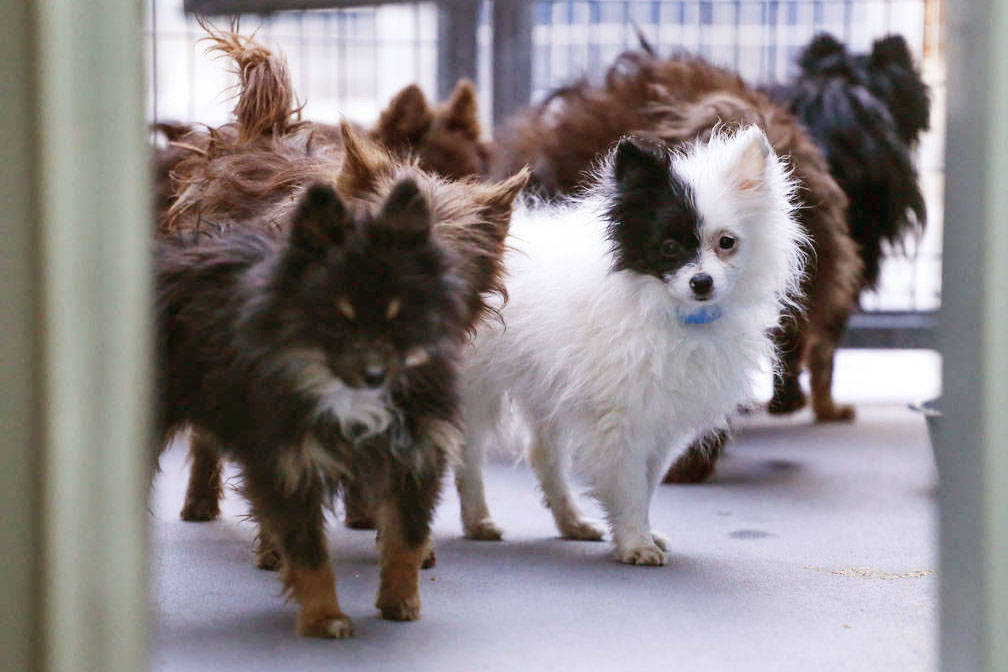 The Vegas Golden Knights are joining with the Animal Foundation to help a truckful of rescued Pomeranians get homes for the holidays.
The National Hockey League team and the Animal Foundation will hold a Pucks for Paws community event at 11 a.m. Monday at City National Arena to initiate adoptions for 164 Pomeranian dogs Las Vegas police and Clark County officials rescued from the back of a U-Haul truck in Sandy Valley on Nov. 30.
The event will feature a live auction of five dogs and the chance to adopt one of 10 additional dogs following the Golden Knights practice. Golden Knights players will assist in the live auction, and the Vegas Golden Knights Foundation will contribute money to allow for one free chance to adopt one of the dogs.
Discounted entries for additional chances to adopt start at $20. An online promotion to ease adoptions of the remaining majority of the dogs will launch at the same event.
Winners will be chosen at random. All winners must be present to win.
The entry fee will serve as the adoption fee for the drawn winners. Spay/neuter, microchip, up-to-date vaccines, a starter bag of food, 30 days of free pet insurance and a voucher for a complimentary wellness exam at participating veterinary hospitals will all be included thanks to money contributed by the Vegas Golden Knights Foundation.
When they were found, the 164 dogs had no food, water or ventilation. Many of the crates carrying the animals had three to five dogs in them, officials said. An Animal Foundation official said the dogs' ages ranged from 3 months to 12 years old.
The driver, who was not identified, was a woman from San Bernardino, California, whom officials described as a possible "backyard breeder." The woman reportedly loaded the dogs into the truck and left California after receiving a tip her property would be searched.
Anyone interested in adopting one of the Pomeranians should follow The Animal Foundation's social media accounts, including @animalfdnlv on Twitter or the group's Facebook account.
To learn more about The Animal Foundation or view adoptable pets online, visit animalfoundation.com. Call the foundation at 702-384-3333 for information.
Contact Matthew Crowley at mcrowley@reviewjournal.com Follow @copyjockey on Twitter.