Grandmother tosses children to safety in North Las Vegas two-story house fire
February 16, 2015 - 5:24 pm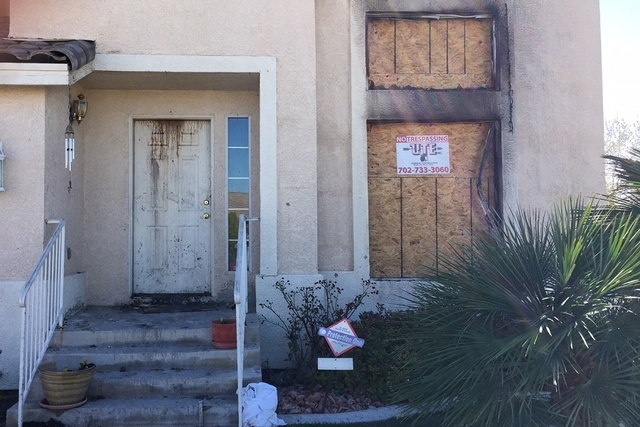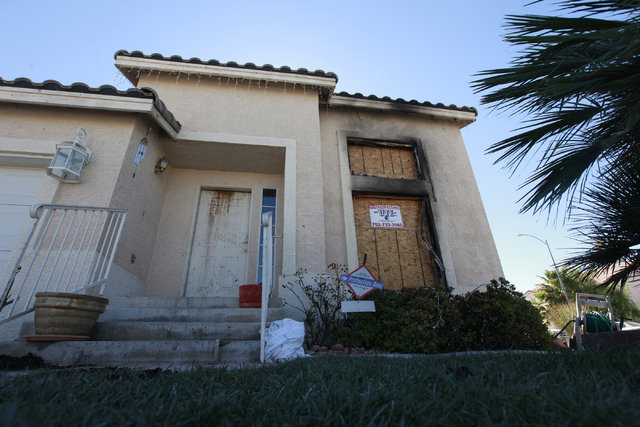 A North Las Vegas woman averted tragedy Monday when she dropped her grandchildren out a second-story window of a burning house and into the arms of her husband and a police officer.
North Las Vegas firefighters arrived at the home in the 900 block of Quicksand Lane, near the intersection of Gowan Road and Revere Street about 1:43 a.m. The home was engulfed in smoke and flames and the woman was screaming to firefighters from an upstairs window, the Fire Department said in a news release.
Firefighters used a ladder to get her down and extinguished the fire in about five minutes, the department said. Once on the ground, she told rescuers that she had already tossed the children to safety.
The grandmother said that once she realized there was a fire she took both grandchildren, under age 10, into her bedroom, closed the door and moved toward the window. A police officer and her husband, who made it out of the fire from the first floor, were outside and each caught a child.
The Fire Department hailed the woman's actions as "a perfect example of the grandmother doing exactly what she was supposed to."
Firefighters also rescued two small dogs that had inhaled large amounts of smoke. They were treated on scene and were running around within 10 minutes, the release said.
No significant injuries were reported.
It was not immediately clear what caused the fire. It's still being investigated.
The department classified the house as a complete loss, with damage estimated at $250,000. The American Red Cross of Southern Nevada was called to assist the family.
Contact reporter Cassandra Taloma at ctaloma@reviewjournal.com or 702-383-0381. Find her on Twitter: @CassandraTaloma.