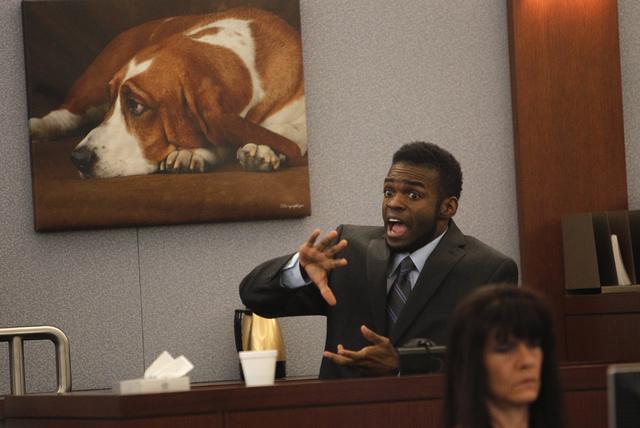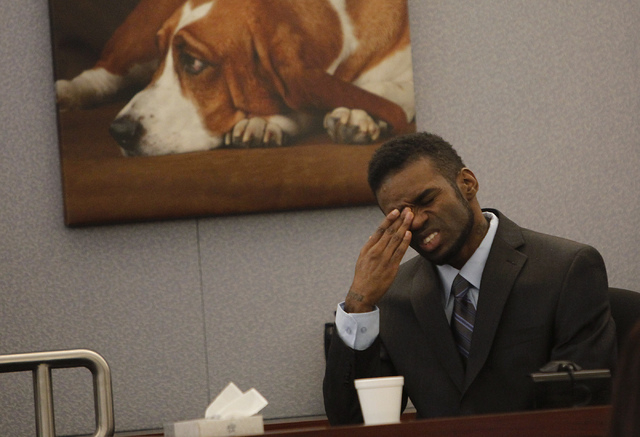 Jason "Blu" Griffith said the woman he's accused of killing had previously stalked, threatened and harassed him after the two ended their sexual relationship in spring 2010.
Griffith on Wednesday testified in his own murder trial that he had to call 911 six times because of domestic violence problems with "Fantasy" dancer Debbie Flores Narvaez.
In a June 2010 incident Griffith said he found a threatening note on his car after leaving his job as a dancer with the Cirque du Soleil show "Love" at The Mirage.
"I will kill you before I let another bitch have you. I will find you where ever you hide. Love always, your Destiny," he said.
Three lipstick kisses were also imprinted on the driver's door window along with "I love you!"
Griffith said he believed the note was written in Flores Narvaez's handwriting.
Griffith testified he ended his relationship with Flores Narvaez about May 2010 because she was too "clingy" and he was getting "cabin fever" because she was constantly coming to his house and wanting to spend time with him.
He described having to call 911 two times while the two were together because she refused to leave his home. Flores Narvaez once locked herself in his bedroom until Las Vegas police were called and made her leave.
During the confrontations, Flores Narvaez pushed Griffith and poked him in the face with her finger, he said.
Once when Griffith refused to respond to the overwhelming number of phone calls and text messages she made to berate him, she came to his home and banged on his bedroom window until it broke, Griffith said.
Griffith testified that when she was upset, Flores Narvaez would sometimes send text messages and call his cellphone hundreds of times in a single day.
The jury heard each of the six 911 calls Griffith made.
On one occasion, Griffith said police showed up to his house and were glib about his situation. An officer laughed at Griffith for complaining about "a hot girl" wanting to be with him, the defendant said.
After Griffith broke up with Flores Narvaez, they found out she was pregnant and the two agreed to an abortion. Flores Narvaez then demanded Griffith help her grieve, he said.
Griffith became emotional during three hours of testimony and began to cry when he mentioned Agnes Roux, a fellow Cirque du Soleil dancer he fell in love with after his relationship with Flores Narvaez ended.
But even after changing his phone number and ending his friendship with her on the social media website Facebook, Griffith reached out to Flores Narvaez in July for her birthday.
He bought her a special-ordered pair of Nike sneakers as a gift. She then invited him over to her home to see them.
Griffith, wiping away tears and pausing to compose himself, said he entered her home to find Flores Narvaez wearing the sneakers and nothing else.
The two began anew their sexual affair with the understanding that Griffith cared for Roux above Flores Narvaez, he said. Griffith and Flores Narvaez also considered bringing Roux into a three-way relationship, but that didn't develop, he said.
When asked why he went back to Flores Narvaez, Griffith said through tears, "She's not bad all the time."
While things were OK for a while, Flores Narvaez soon began harassing him again as he devoted more of his time to Roux, Griffith said.
Griffith said he feared Flores Narvaez because of these incidents.
On a couple of the 911 calls, Flores Narvaez can be heard screaming expletives at him in the background. She calls him a "coward" on one call.
For his part, Griffith sounds calm on the 911 recordings.
Griffith's testimony is expected to continue today.
Meanwhile, defense lawyers were dealt a blow when District Judge Kathleen Delaney denied their efforts to show the jury a video Griffith made of Flores Narvaez admitting that she egged his car, slashed his tires and committed other property crimes against him.
Defense lawyers said they planned on continuing to argue for the video's admission into evidence today.
Griffith's lawyers have said he acted in self-defense on Dec. 12, 2010, the night Flores Narvaez disappeared.
However, Griffith's former roommate Louis Colombo testified that fearing Flores Narvaez was about to call authorities after he grabbed her by the base of her throat, Griffith approached her from behind and choked her to death. Colombo said the defendant told him that while the two worked to hide her body.
In the following days, Colombo said he helped Griffith dismember the body and hide it in two concrete-filled tubs in a downtown home.
Contact Francis McCabe at fmccabe@reviewjournal.com or 702-380-1039. Find him on Twitter: @fjmccabe.